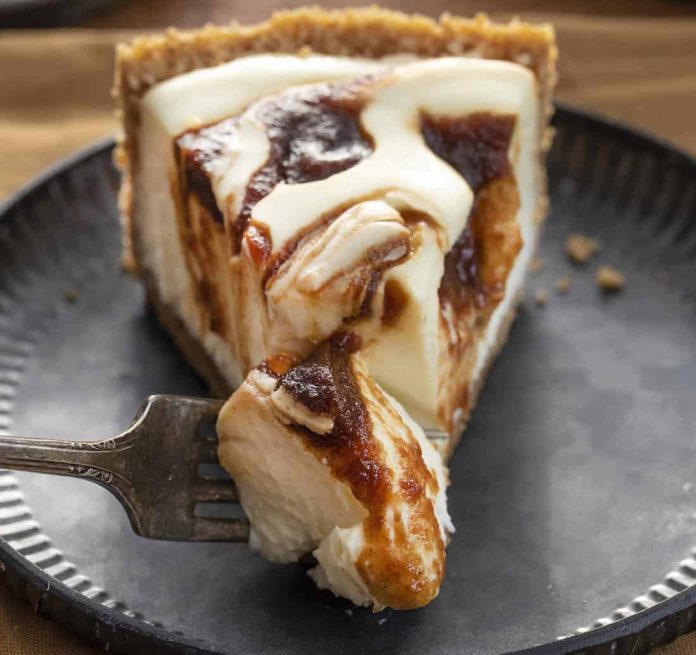 PREP TIME : 15 MINS
CHILL : 6 HRS
TOTAL TIME : 6 HRS 15 MINS
Apple Butter Cheesecake is a no-bake cheesecake made with a graham cracker crust filled with creamy cheesecake and an apple butter swirl.
Ingredients
Crust
▢16 full graham cracker sheets, crushed (about 3 cups)
▢½ teaspoon cinnamon
▢½ cup (1 stick / 113 g) unsalted butter, melted
Filling
▢2 packages (8 ounces each) cream cheese, softened
▢1 cup (200 g) granulated sugar
▢2 cups (476 g) heavy cream
▢¾ teaspoon fresh lemon juice
▢½ cup (120 g) apple butter
Instructions
Spray an 8-inch springform pan with nonstick cooking spray.
Crust
In a medium bowl, combine the graham cracker crumbs and cinnamon. Add the melted butter to the crumbs. Using a fork, mix well. (You want every crumb coated in the butter as this will be the glue that holds it together.)
Pour the graham cracker crumbs into the sprayed springform pan. Pat them flat with your hand and then use a kitchen glass to press flatter. Start at the center and work out to and up the sides. Set aside.
Filling
In a large mixing bowl, beat the cream cheese and sugar on medium speed with a hand-held mixer until creamy and smooth.
Add in the heavy cream and lemon juice and beat for 1-2 minutes, or until the mixture becomes fluffier.
Pour the cheesecake mixture into the prepared crust.
Top with dollops of apple butter. Using a knife or offset spatula, swirl the apple butter into the filling, being careful not to scrape the crust.
Refrigerate until the filling is firm and cold, about 6 hours to overnight, before cutting and serving.
Nutrition
Course: DessertKeyword: Apple Butter Cheesecake
Servings: 12
Calories: 427