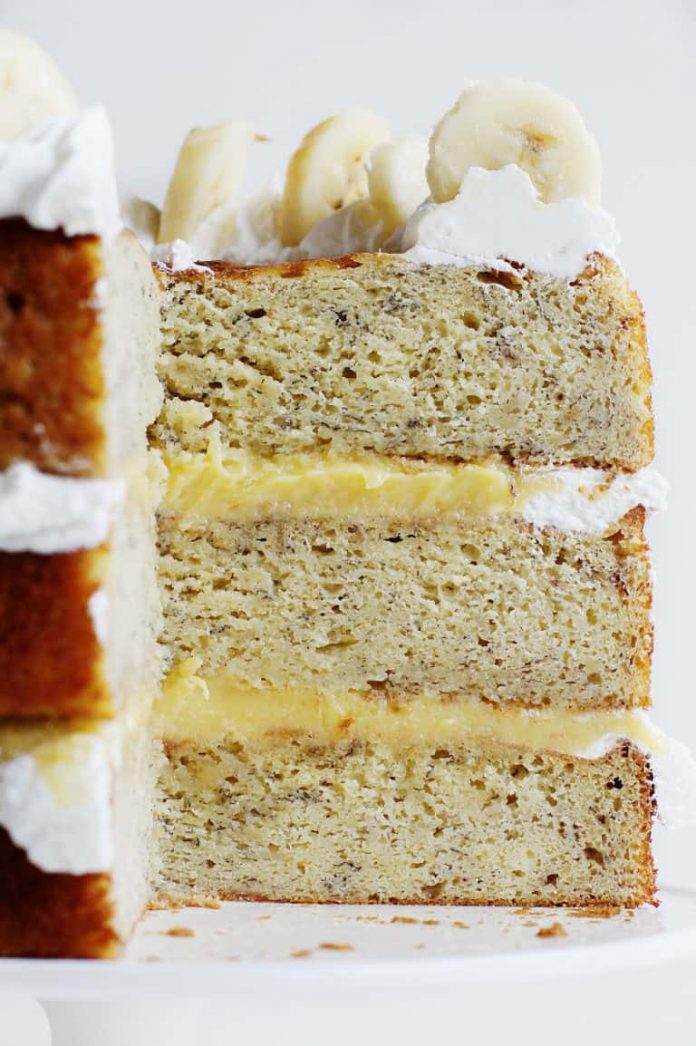 PREP TIME : 15 MINS
COOK TIME : 32 MINS
TOTAL TIME : 47 MINS
This banana cake with fresh banana curd is one for the archives… lovely and rich and the perfect combination of naturally sweet and satisfying!
COURSE: DESSERT
CUISINE: AMERICAN
KEYWORD: BANANA CAKE WITH FRESH BANANA CURD
SERVINGS: 6 SERVINGS
INGREDIENTS :
3 cups (375g) all-purpose flour
1 1/2 tsp. baking soda
1/2 tsp. salt
1 1/2 cup (450g) bananas
2 tsp. lemon juice
1 cup (227g) butter, softened
2 cups (400g) granulated sugar
2 tsp. vanilla extract
3 large eggs, room temperature
1 1/2 cups (360g) buttermilk, room temperature
INSTRUCTIONS :
Heat oven to 350°F. Prepare three 8-inch round cake pans.
In a medium bowl, sift together flour, baking soda, and salt. Set aside.
Put bananas, lemon juice, butter, sugar, and vanilla into stand mixer (or use a hand-held mixer) and mix until incorporated and smooth.
Add in eggs, one at a time, beating well after each addition.
With mixer on low, add flour mixture to banana mixture alternativly with buttermilk, beginning and ending with flour mixture.
CLICK NEXT PAGE BELOW TO CONTINUE READING …