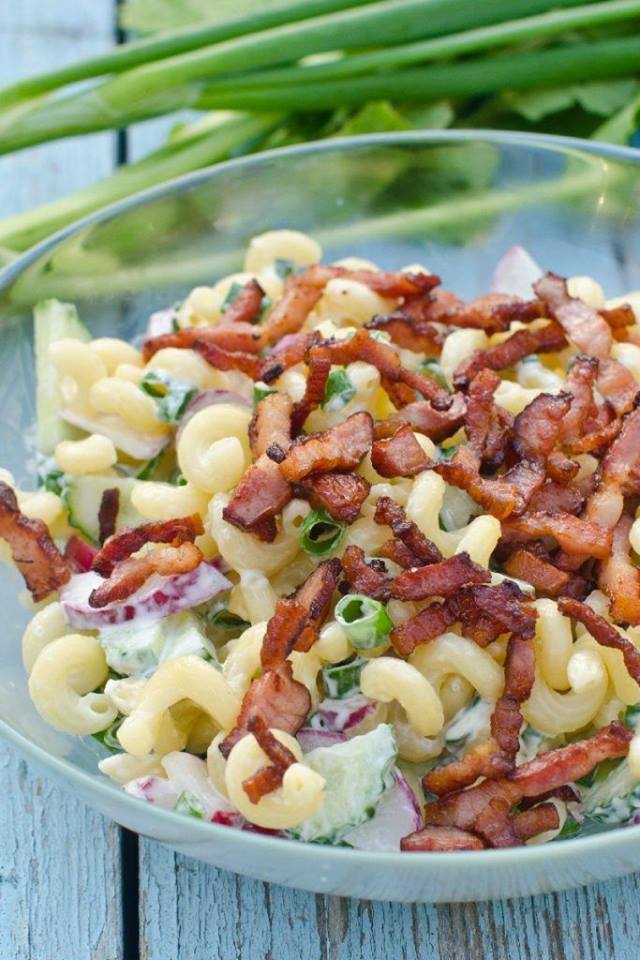 This fun Weight Watcher's BLT Pasta Salad is the perfect side to bring to your next 4th of July gathering.  A lighter version of a pasta salad with a spin on the classic BLT sandwich.
This BLT Pasta Salad is great for potlucks, BBQs, and get togethers!
When I asked you guys on Instagram whether you wanted to see this BLT Pasta Salad or The Best Pancakes Ever recipe, the response was an overwhelming vote for this BLT Pasta Salad.
Which tells me that you already have a stellar pancake recipe or that you know that the Fourth of July is right around the corner and you know you'll be asked to bring a side dish. How do I know that? Because I was just asked to bring a side dish to a BBQ next week.
It's the season of BBQs, potlucks, and get togethers. I never want summer to end. I love the casual entertaining, the late sunsets, and all the water. Pool and beach on repeat. It's my birthday next week and I'm a Cancer which apparently has the sign of water in astrology.
Ingredients
3⅔ cup large macaroni shells pasta, cooked
4 cup tomatoes, diced
4 slice bacon, cooked and crumbled
3 cup lettuce, thinly sliced
1 tsp sugar
2 tsp cider vinegar
½ cup fat free mayonnaise
⅓ cup light sour cream
1 tbsp dijon mustard
1 salt
1 pepper
HOW TO MAKE:
OPEN NEXT PAGE BELOW TO GET FULL RECIPE …