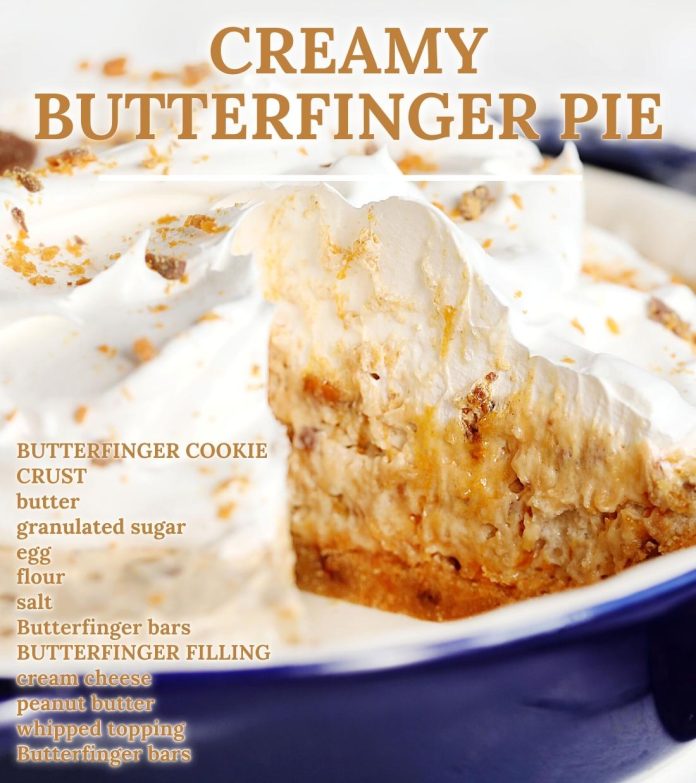 Butterfinger Pie is a tempting pie made with Butterfinger biscuit crust and Butterfinger cream cheese. Who knew Butterfinger Pie could be so delicious?
Butterfinger Pie Recipe
This recipe features a Butterfinger Biscuit Crust instead of a traditional pie crust. What makes this recipe unique is that it substitutes a Butterfinger Biscuit Crust for a traditional pie crust. The combination of Butterfinger cream cheese and creamy peanut butter filling is adventurous not only in texture but also in taste. It is crunchy and creamy at the same time.
This recipe fits into a 7-inch round pie plate; an 8- or 9-inch pan can easily be used without getting too much cookie dough on the sides of the pan.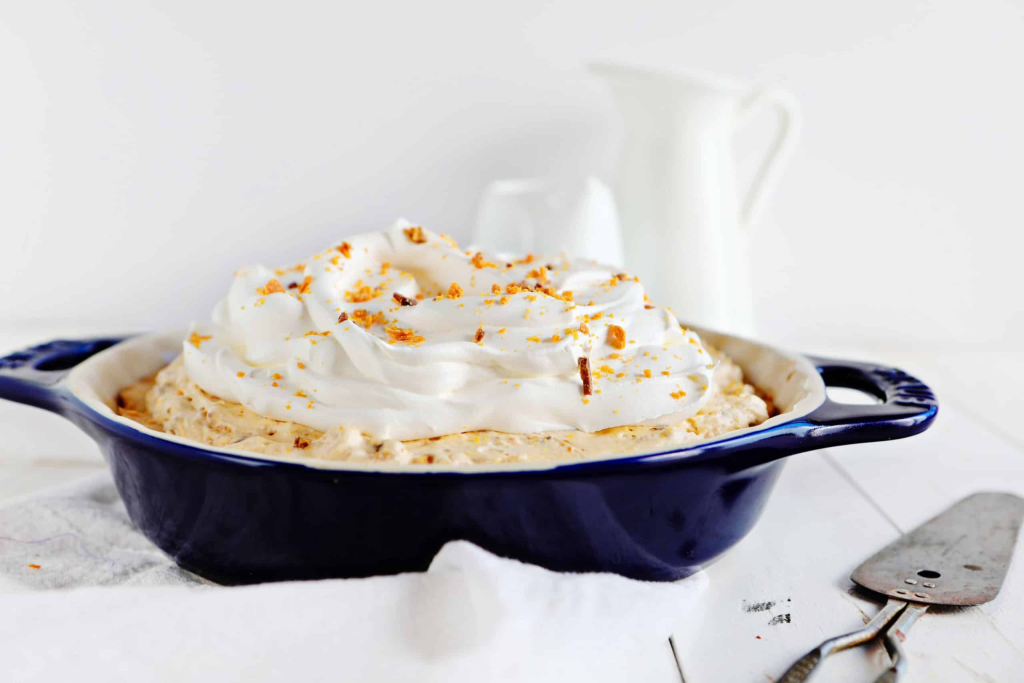 How to Make Butterfinger Pie
This Butterfinger Pie can be made with simple ingredients. The cookie dough and the filling, which is sweet and gorgeous on its own, can be made less sweet!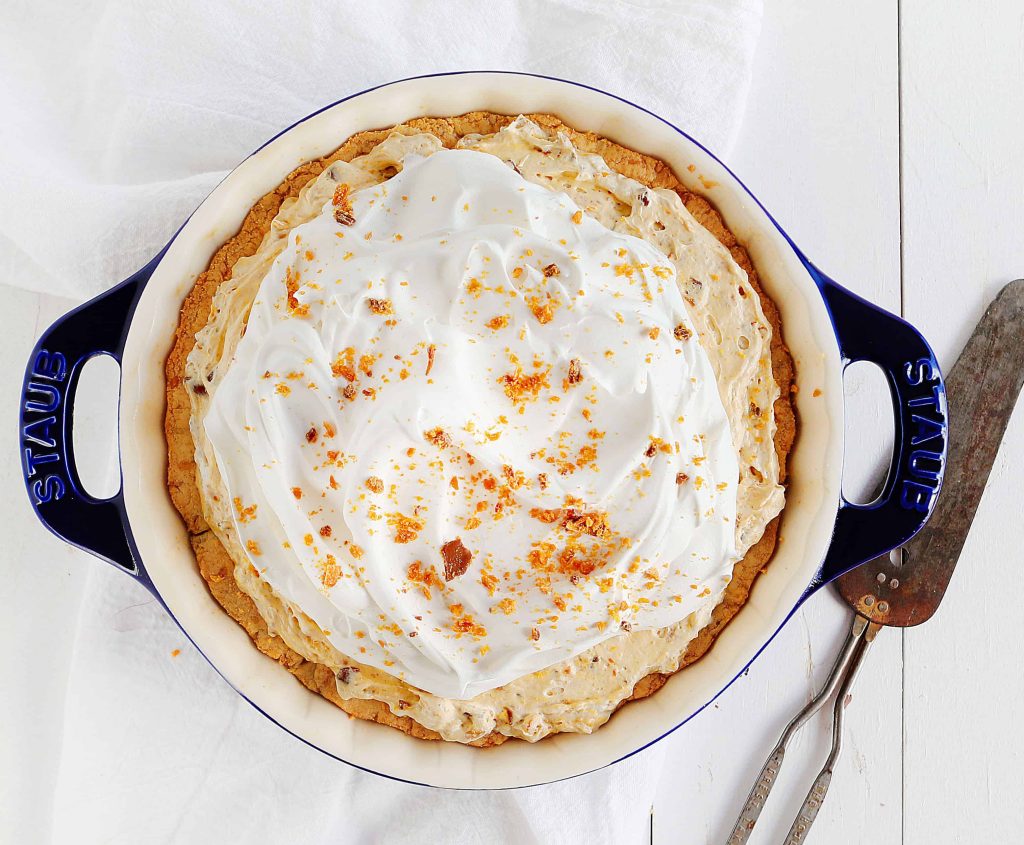 How to make Butterfinger Pie
To make the cookies: (Detailed instructions are at the bottom of the recipe card.)
Preheat oven to 350°F.
In the bowl of a stand mixer, using the mixer attachment, beat sugar and butter until creamy. Beat in the eggs until combined.
With the mixer on low, gradually add the flour and salt.
Mix with buttered fingers by hand. Dough will be very thick.
Pour the dough into the prepared pie plate. At this point, press up the sides as well to make it as even as possible.
Bake in the oven for 10-12 minutes or until lightly browned. Remove from oven. If the cookies are a little puffed, press them down evenly with a kitchen glass immediately after removing from the oven and let sit for at least 30 minutes before adding the filling. (The cookies should be at room temperature, not hot).
This recipe serves 8 and will keep fresh in the refrigerator for 2 days.
How to double this recipe.
To double the Butterfinger Pie filling, use a 9-inch pan and make sure the cookie dough covers the bottom of the pan, not the sides.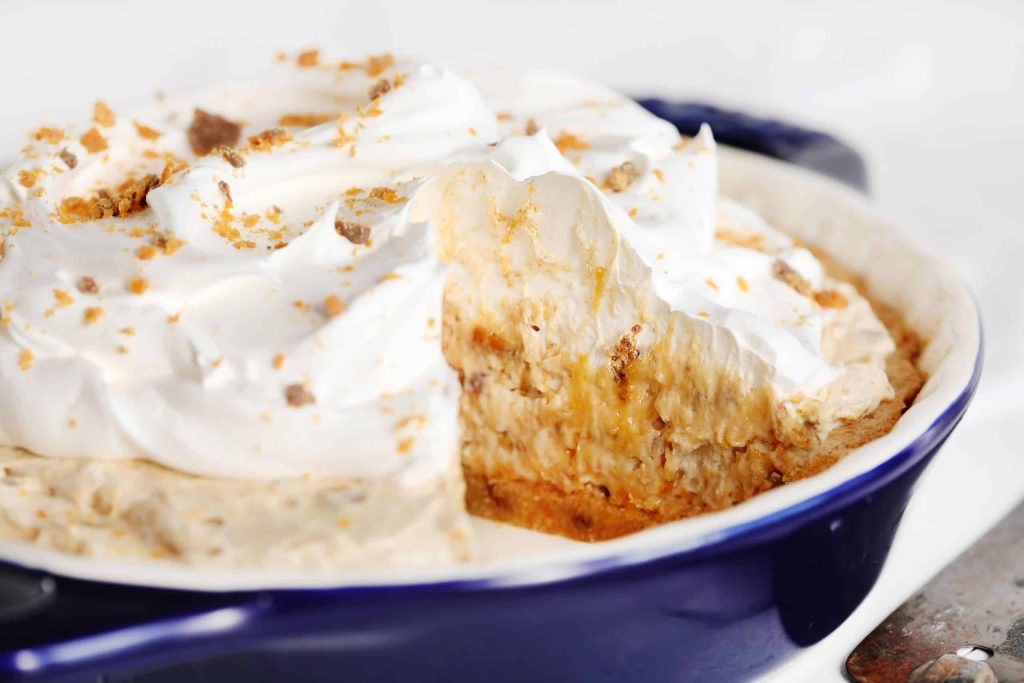 CLICK NEXT PAGE BELOW TO CONTINUE READING …