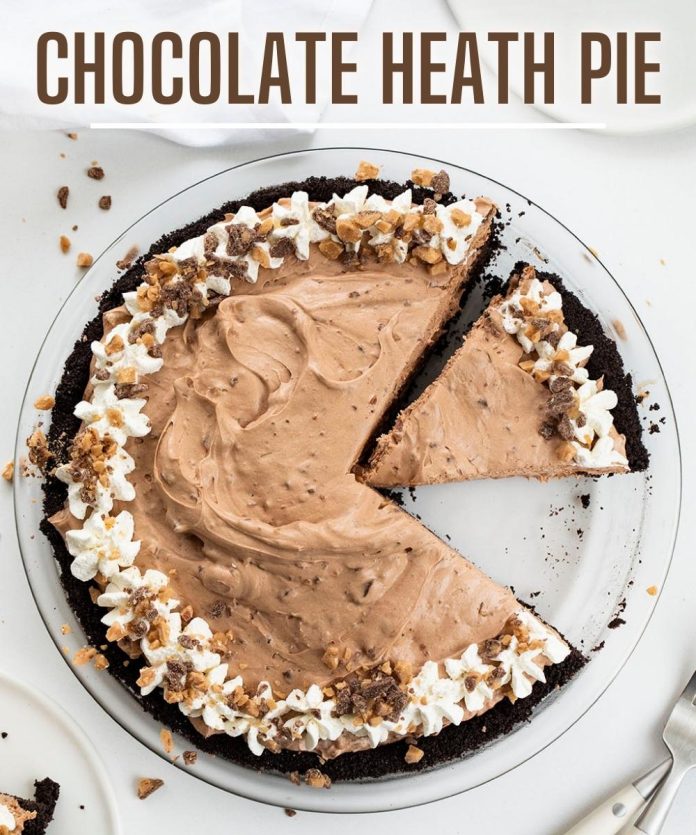 Chocolate Heath Pie is a no-bake dessert made with Oreo cookie dough, filled with chocolate cheesecake and toffee bits, topped with whipped cream and more toffee bits. See also our other no-bake desserts.
Chocolate Heath Cake.
This no-bake dessert makes you crave something sweet with every bite of chocolate. Plus, the addition of heather toffee pieces adds a subtle caramel flavor. The cake is topped with homemade whipped cream and topped with even more toffee. For a "grown up" version of this cake, try my Thyme Chocolate Cream Cake.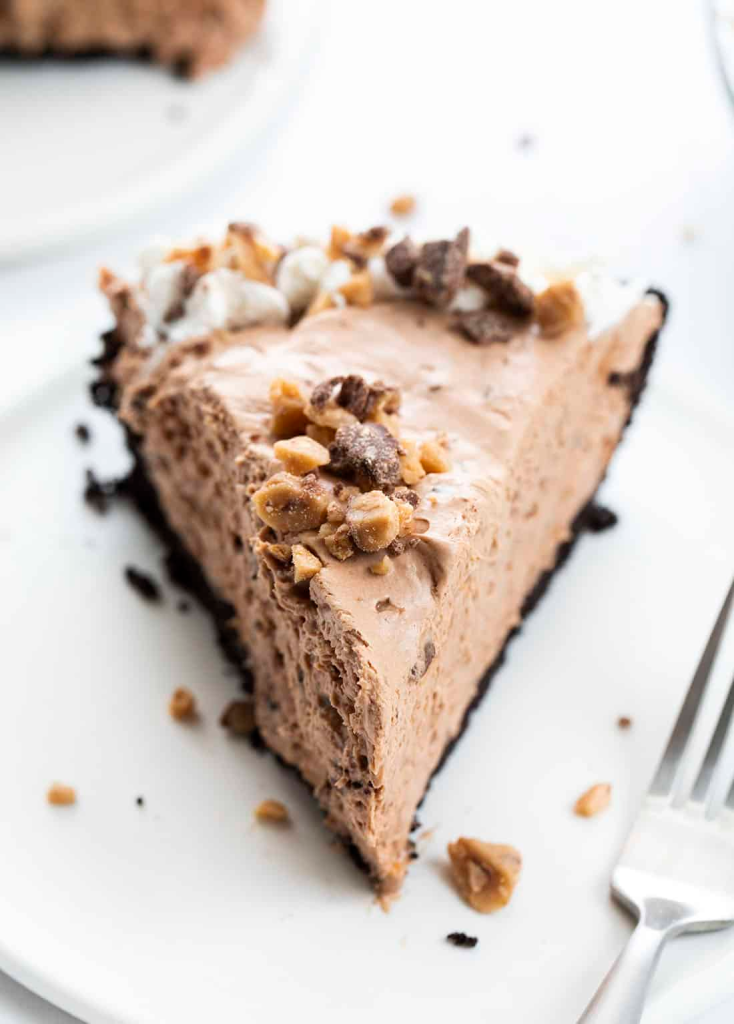 Ingredients for Chocolate Heath Cake.
Oreo cookies. Crumble 24 Oreo cookies to make a pie crust including the filling. A food processor works well to make fine crumbs.
Butter. Make sure there is enough butter to hold the cookie crumbs together. If the cookie crumbs seem dry, add a little more melted butter.
Cream Cheese It is very important to let the cream cheese come to room temperature before using. This will give you a smooth, creamy cheesecake texture.
Heath Toffee Pieces Look for milk chocolate toffee to add to the cheesecake filling and sprinkle over the cake.
Whipped topping. Whipped cream, such as Cool Whip, is used to make the cheesecake fluffy and light, so gently fold it in at the end. If you don't have it on hand, you can also make the whipped cream yourself. This can also be used on desserts.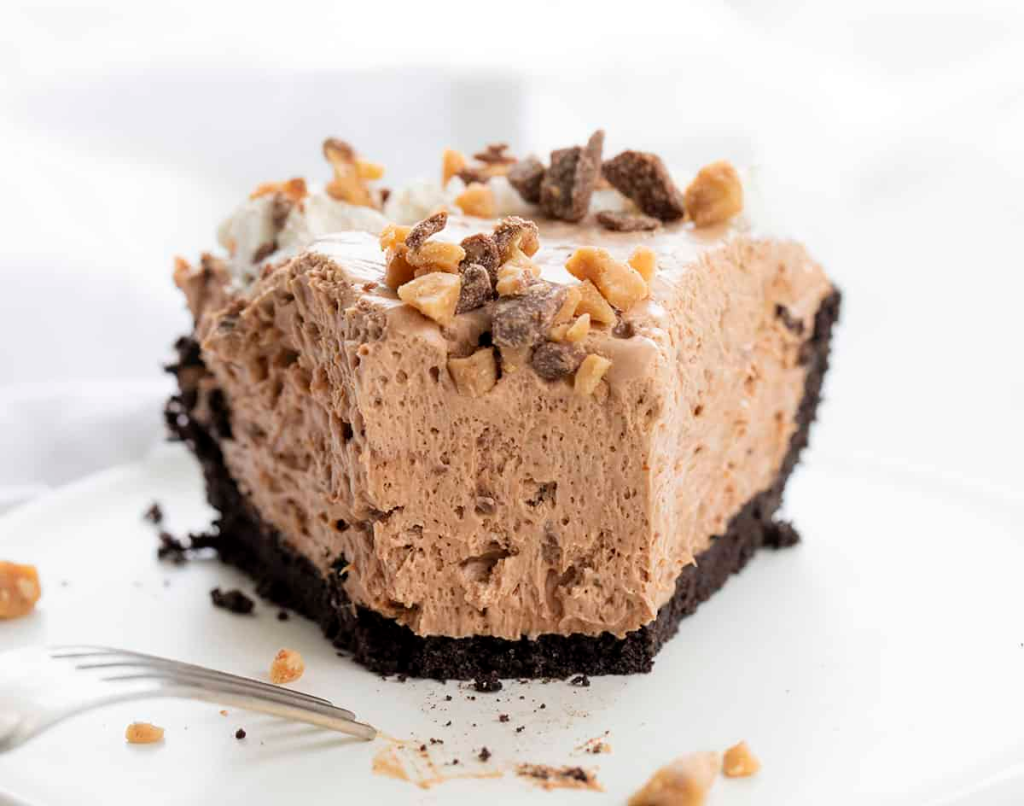 Can I freeze these unbaked cheesecakes?
Yes, you can! Just like a baked cheesecake, this cheesecake freezes very well. Wrap the cheesecake in plastic wrap without the toppings. Then wrap it in aluminum foil. Label the cheesecake with a date and store in the refrigerator for up to 6 months. To eat, remove from refrigerator (but do not wrap in plastic wrap) and thaw in refrigerator or at room temperature.
Chocolate Heath Cake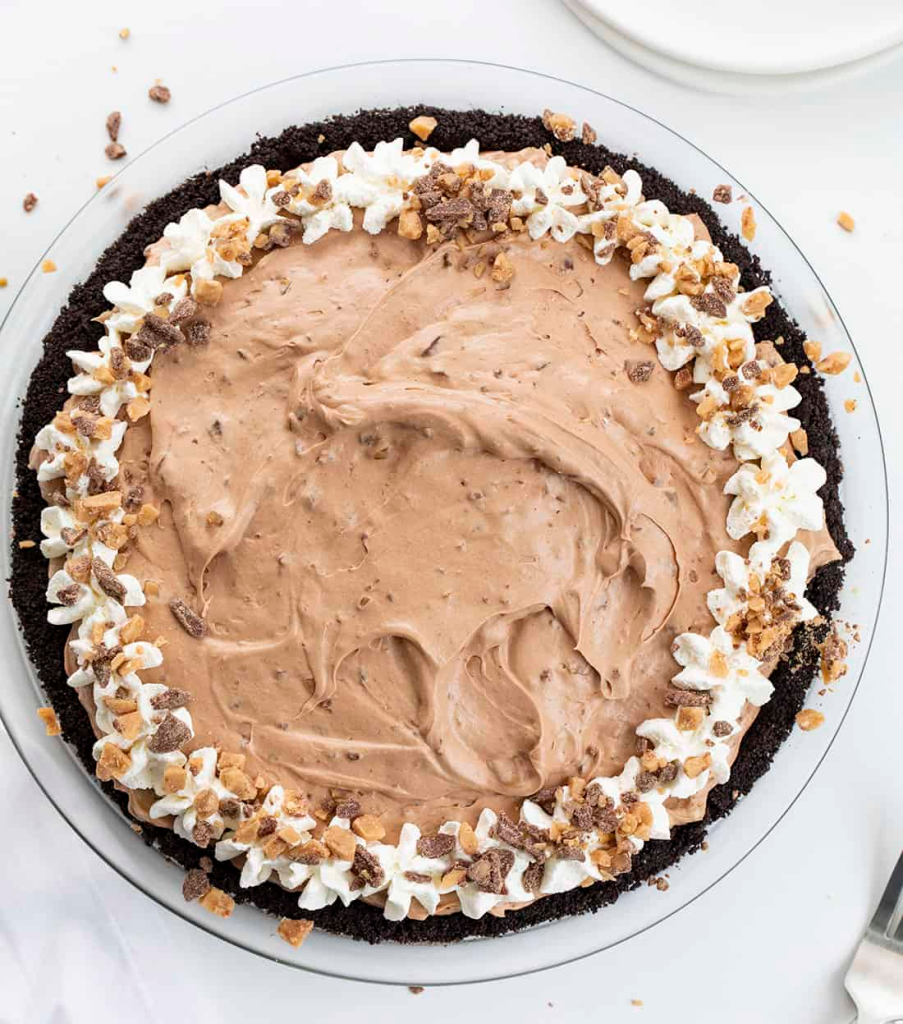 Preparation time 15 minutes.
Chill in refrigerator for 2 hours
Total time 2 hours 15 minutes
Chocolate Heath Pie is an unbaked dessert made with Oreo sponge cake batter, filled with chocolate cheesecake and toffee, topped with whipped cream and toffee bits.
Ingredients
Crust
24 Oreo cookies, crushed
¼ cup (½ stick / 57 g) unsalted butter, melted
Filling
16 ounces cream cheese, room temperature
1 ⅓ cups (173 g) confectioners' sugar
¾ cup (127 g) semi-sweet chocolate chips, melted
2 tablespoons Dutch-processed cocoa powder
1 pinch kosher salt
1 bag (8 ounces) Heath bits, reserving 2 tablespoons for topping
8 ounces (2 cups) whipped topping, plus more for garnish* (see notes)
Instructions
Crust
Add Oreo cookies to a food processor and crush until you have a fine crumb and very few larger pieces.
In a medium mixing bowl, combine the crushed Oreo cookies and melted butter and stir until evenly distributed.
Pour into a prepared 9-inch pie pan and firmly press to the edges and up the sides to form a pie crust.
Filling
In a large bowl, beat the cream cheese until it is light and fluffy.
Add in the confectioners' sugar, melted chocolate, cocoa powder, and salt. Beat until everything is combined.
Fold in the Heath toffee bits, reserving 2 tablespoons for the topping.
Gently fold in the whipped topping. Pour filling mixture into prepared pie crust, spreading it out to form an even layer.
Refrigerate for 2-6 hours, or until filling is firm and cold. Top with additional whipped topping and reserved Heath bits before cutting and serving.
Notes
*I piped out small whipped cream dollops with an 8B tip.
Nutrition
Course: Dessert
Keyword: Chocolate Heath Pie
Servings: 12
Calories: 526