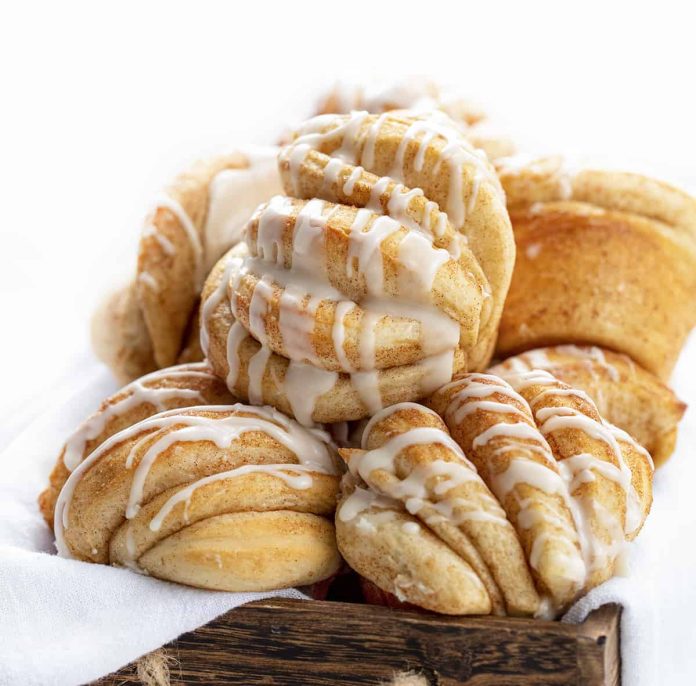 PREP TIME : 20 MINS
COOK TIME : 14 MINS
RISING TIME : 1 HR 10 MINS
TOTAL TIME : 1 HR 44 MINS
Cinnamon Butterflake Rolls are flaky rolls baked with cinnamon and sugar and topped with a vanilla glaze.
Ingredients
Dough
▢4 cups (512 g) all-purpose flour, or more if needed, divided
▢2 envelopes (about 4½ teaspoons) instant yeast
▢¼ cup (50 g) granulated sugar
▢1 large egg, room temperature
▢1 teaspoon kosher salt
▢1½ cups (367 g) whole milk, warmed (about 110-120°F)
Topping
▢2 tablespoons unsalted butter, melted
▢⅓ cup light brown sugar, packed
▢2 teaspoons cinnamon
▢¼ teaspoon kosher salt
Vanilla Icing
▢1½ cups confectioners' sugar
▢1-2 tablespoons whole milk, room temperature
▢1 teaspoon vanilla extract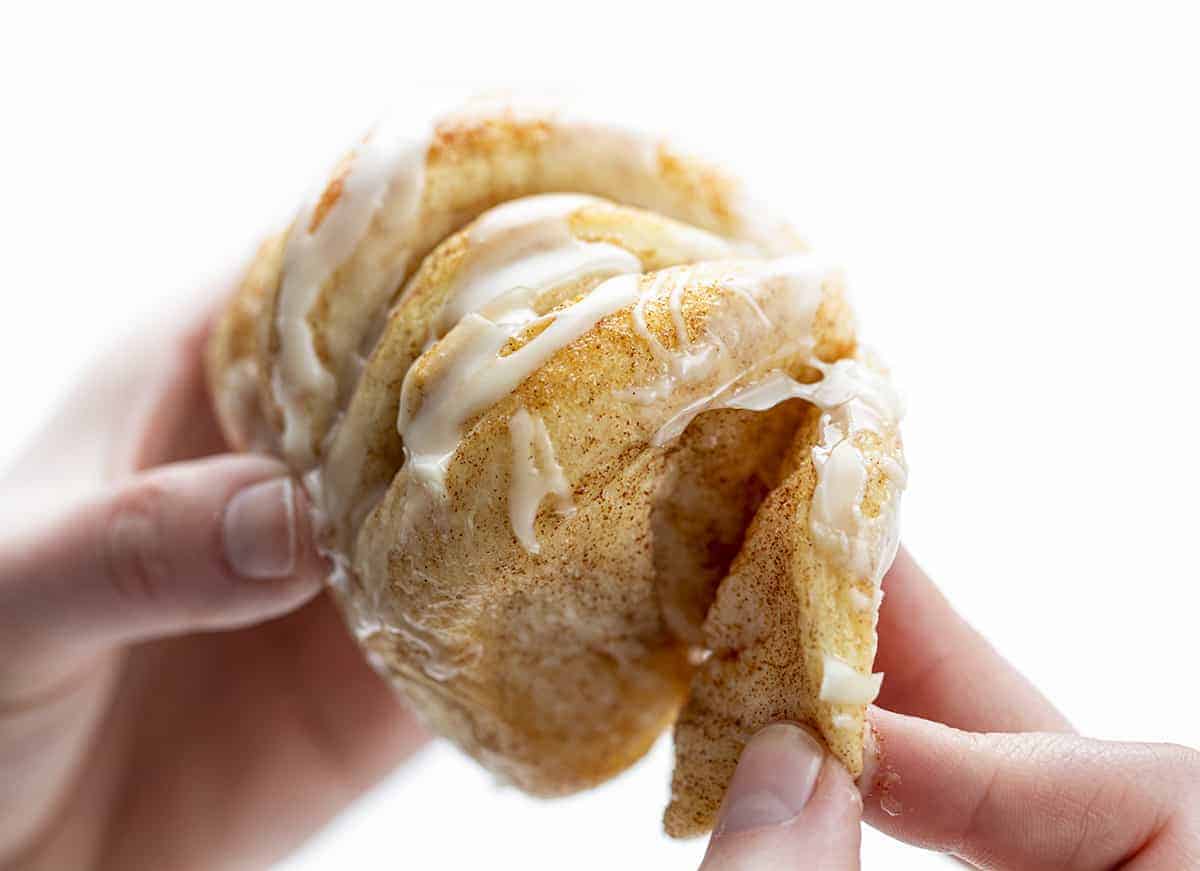 Instructions
Dough
Combine 3 cups flour, undissolved yeast, sugar, egg, and salt in a large bowl or in the bowl of your stand mixer fitted with dough hook.
Add warm milk to the flour mixture. Knead 2 minutes at medium speed, scraping the bowl occasionally if needed. Add ½ cup flour; knead for 2 more minutes.
Add the remaining ½ cup flour and continue kneading until the dough is pulling away from the sides of the bowl and very soft. (If the dough seems too wet you may need more flour. Add in ¼ cup increments until the dough has pulled away from the sides of the bowl while kneading.)
Spray a bowl with nonstick cooking spray. Place the dough into the bowl and cover with a clean towel. Let it rest 30 minutes, or until doubled in size.
Topping
When ready, roll the dough into a square that is about ½-inch thick. Brush the melted butter over the top of the dough so it covers the entire surface.
In a small bowl, mix together the brown sugar, cinnamon, and salt.
Spread brown sugar mixture over dough making sure it covers the entire surface.
Assembly
Using a pizza cutter, cut the dough into 12 strips of equal size, approximately 1½ inches wide.
Group and stack the strips into 2 separate sections (6 strips each stack). Cut each stack into 6 pieces for a total of 12 stacks of dough. Each stack will be a roll.
Place each stack into the prepared muffin tin on their sides, cut-side up.
Cover with greased plastic wrap and let rest 30-40 minutes, or until the dough doubles in size. (Each roll should be about 1 inch higher than the muffin tin.)
Preheat oven to 375°F.
Bake for 12-14 minutes, or until golden brown.
While the rolls are baking, mix together the icing.
Vanilla Icing
In a medium bowl, combine confectioners' sugar, 1 tablespoon of milk, and vanilla. Add more milk if needed to reach your desired consistency.
Drizzle the icing over the rolls while they are still warm. Enjoy!