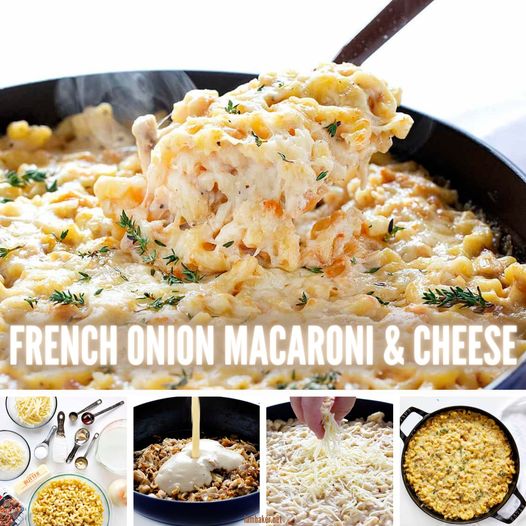 I've been on a French onion kick lately. It's been a while since I've made homemade onion soup, but lately I've been making onion dip, onion deviled eggs, skillet onion dip and my onion zucchini cake. I told you, there have been a lot of French onion dishes around here! I have to admit, the chicken onion mac and cheese is my favorite! The mac and cheese has really grown on me, as I like to say. The possible variations with the cheesy noodles are endless and fun! Best of all, this dish is filling and satisfying enough to be a meal!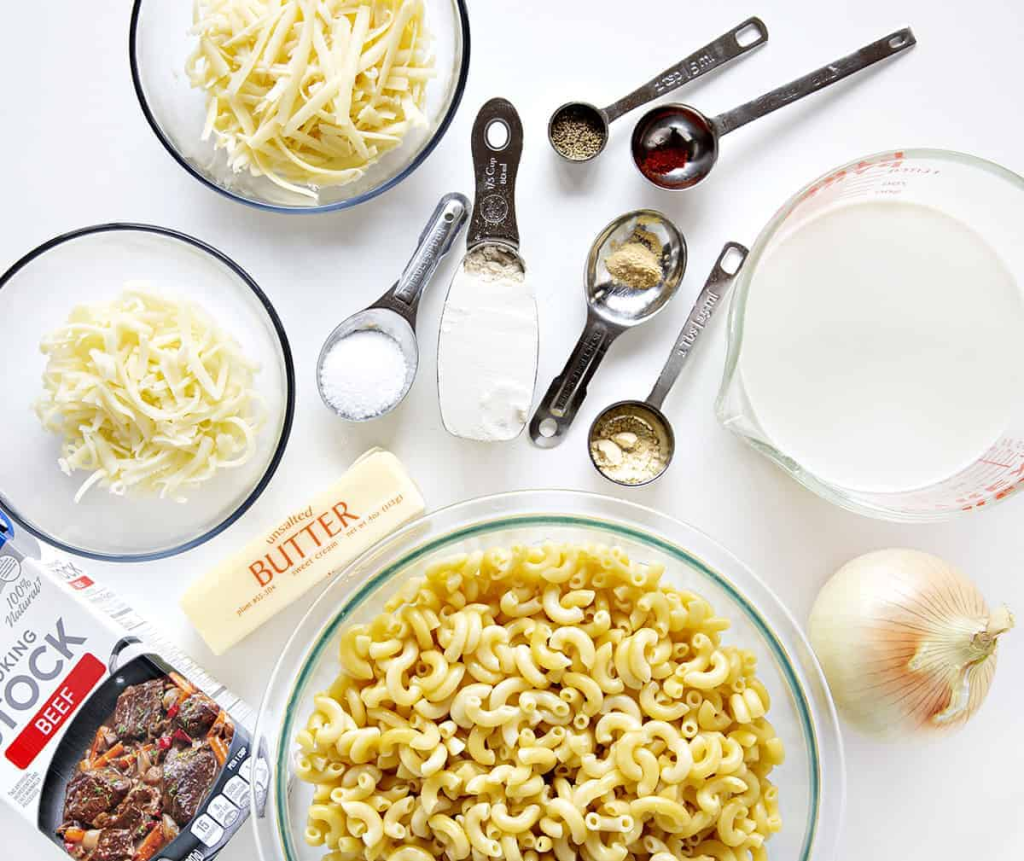 How to Caramelize Onions
The first step in this recipe that needs attention is the process of carmelizing the onions. Caramelizing onions is an amazing way to pull out the naturally sweet flavor of a very simple ingredient. Yellow onions have a natural sweetness that explodes when you slow cook them in butter or oil. The trick here is to take your time.
Heat a skillet to medium-high heat before you add the oil, butter, and onions. Cover the onions, and cook on low for 25-30 minutes.
After the onions have softened, increase the heat to medium and cook the onions until they are golden brown.
Remove the onions from the heat, cover them, and set them aside until you add them to the macaroni later.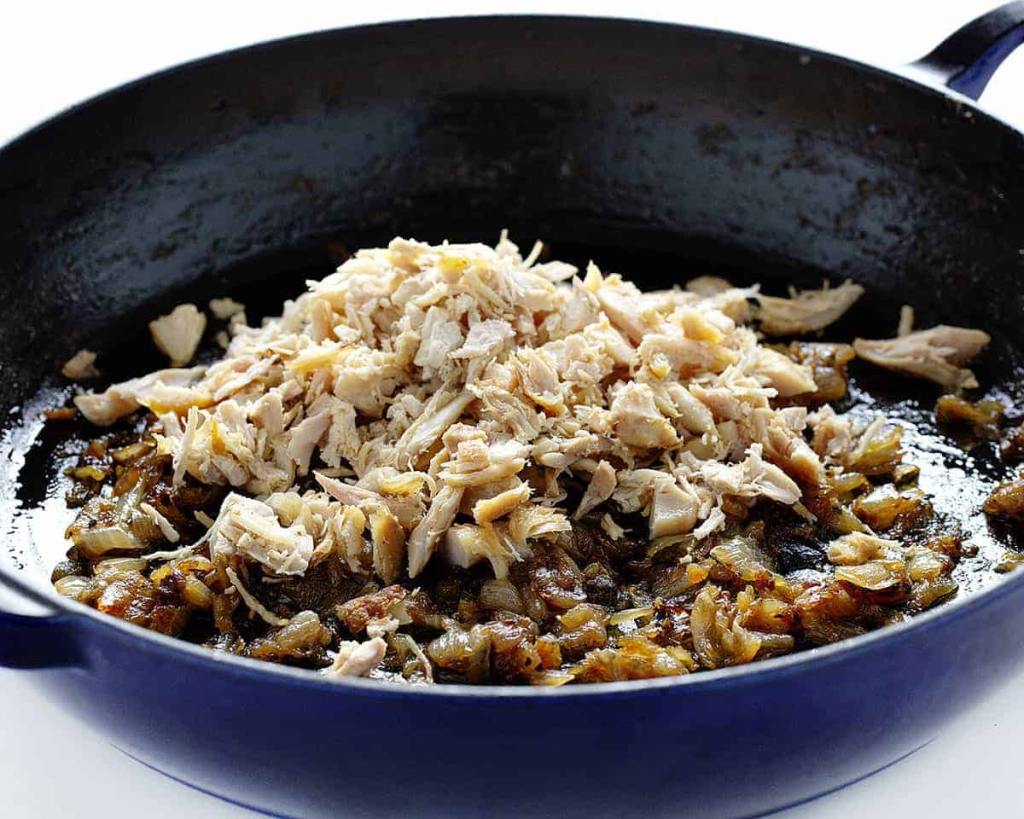 How to Get Creamy Macaroni and Cheese
I am on a mission to make sure no one has grainy homemade mac n cheese ever again… and in my research discovered this awesome tip. Do NOT put the pan back over the heat to melt the cheese. The ingredients in the pan are already hot enough to do the job of melting the cheeses.
If you get cheese too hot that is when you will end up with a grainy texture. After you have stirred in the cheese, pour the mixture over the cooked noodles, and watch the melting commence!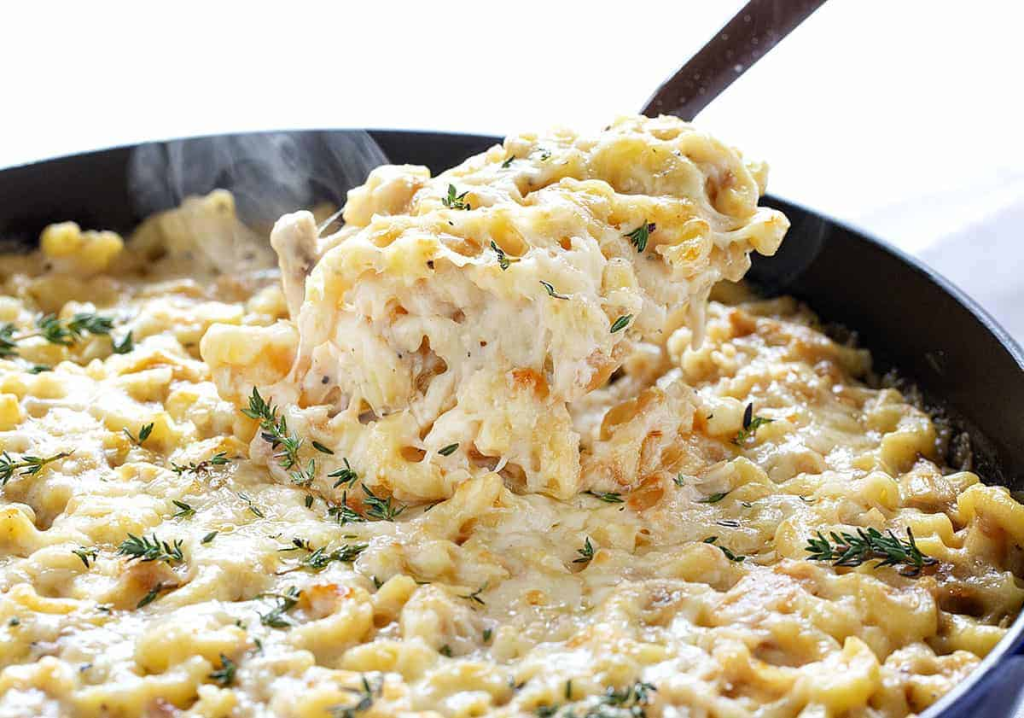 PREP TIME : 35 MINS
COOK TIME : 15 MINS
French Onion Chicken Macaroni and Cheese is all the flavor of French Onion Soup with cheesy noodles and chicken.
Ingredients
Caramelized Onions
▢2 medium yellow onions, diced
▢2 tablespoons olive oil
▢2 tablespoons unsalted butter
▢1 teaspoon sea salt
▢½ teaspoon black pepper
Mac and Cheese
▢16 ounces elbow macaroni, cooked al dente and drained
▢½ cup unsalted butter
▢½ cup all-purpose flour
▢2 cups whole milk, warmed
▢1 cup of beef stock
▢2 teaspoons salt
▢½ teaspoon ground mustard powder
▢¼ teaspoon garlic powder
▢¼ teaspoon cayenne pepper, optional
▢1 cup sharp gruyere cheese, freshly shredded
▢½ cup mozzarella cheese, freshly shredded
▢2 cups shredded rotisserie chicken
Topping
▢Salt and pepper, to taste
▢¼ cup Gruyere cheese, shredded
▢Thyme, chopped (for garnish)
Instructions
Caramelized Onions
Heat a skillet over medium-high heat and when hot, add the oil, butter, and onions.
Turn the heat to low and cover with a lid and cook for 25-30 minutes until the onions are softened
Turn the heat to medium and cook until the onions are golden brown, stirring occasionally
Cover and remove the pan from the heat and set aside.
Mac and Cheese
In a saucepan over medium heat, melt the butter.
Add the flour and whisk constantly for 1-2 minutes (or until the mixture turns light brown).
Remove from heat and gradually pour in the warm milk and beef stock, whisking constantly.
Return the pan to the heat, whisk another 3-5 minutes or until thickened.
Add the salt, garlic powder, ground mustard, and cayenne pepper and stir to combine.
Add the cheeses and onion mixture, stir until all of the cheese is melted.
Pour the sauce over the top of the cooked elbow macaroni. Stir to combine.
Add the shredded rotisserie chicken and stir until completely mixed together.
Topping
Top with ¼ cup shredded Gruyere cheese
Bake, uncovered, for 12-15 minutes, or until golden brown.
Season with salt and pepper, and top with chopped thyme.
Nutrition
Course: dinner
Keyword: French Onion Chicken Macaroni and Cheese
Servings: 8
Calories:  424