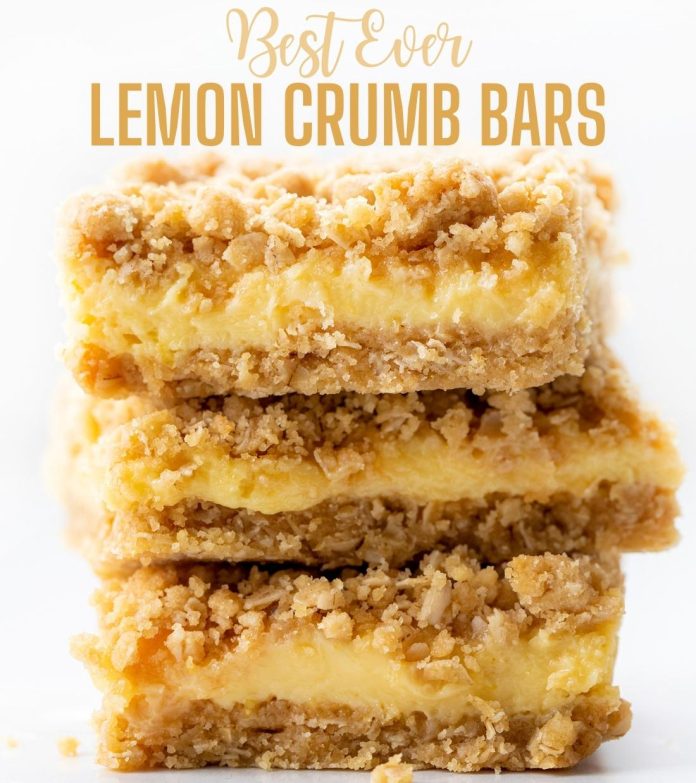 The Lemon Crumb Bar is a dessert bar with lemon filling and flavor between two layers of oatmeal dough. It is one of the best lemon desserts I have ever had!
Lemon Crumb Bar
If life gives you lemons, make this Lemon Crumb Bar! Start with an oatmeal crust. It starts with the oatmeal crust of my Apple Cream Cheese Bars (without cinnamon). The oatmeal layers are separated by a lemon filling that you can taste in every bite. The textures and flavors blend together beautifully in this bar.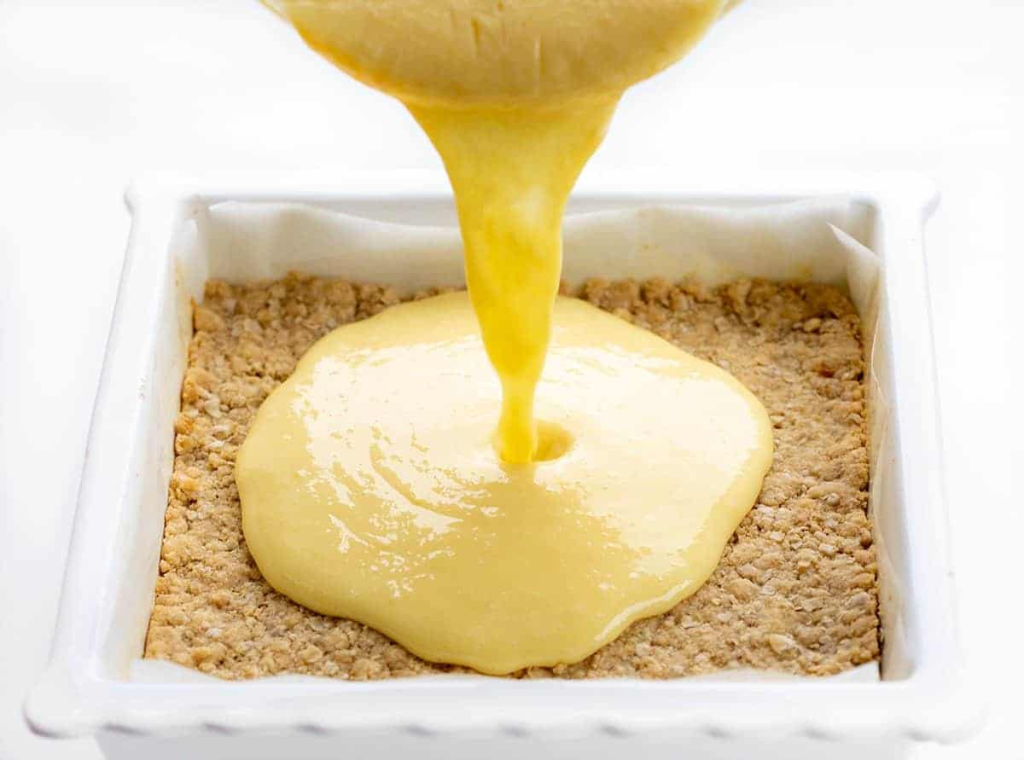 Ingredients for the Fries
This recipe consists of two parts: the oatmeal layer and the lemon filling.
Oats Use quick cooking oats. Quick cooking oats are more processed than old fashioned oats and therefore cook faster.
Sweetened condensed milk: When buying sweetened condensed milk, always look carefully at the label. Do not use evaporated milk in this recipe.
Lemon Juice: Freshly squeezed lemon juice, about 5 lemons, is best. This recipe was tested with bottled lemon juice, but there was a difference in taste. We will discuss this later.
Lemon Zest. For a more intense lemon flavor in each bite, add a teaspoon of lemon zest to the filling.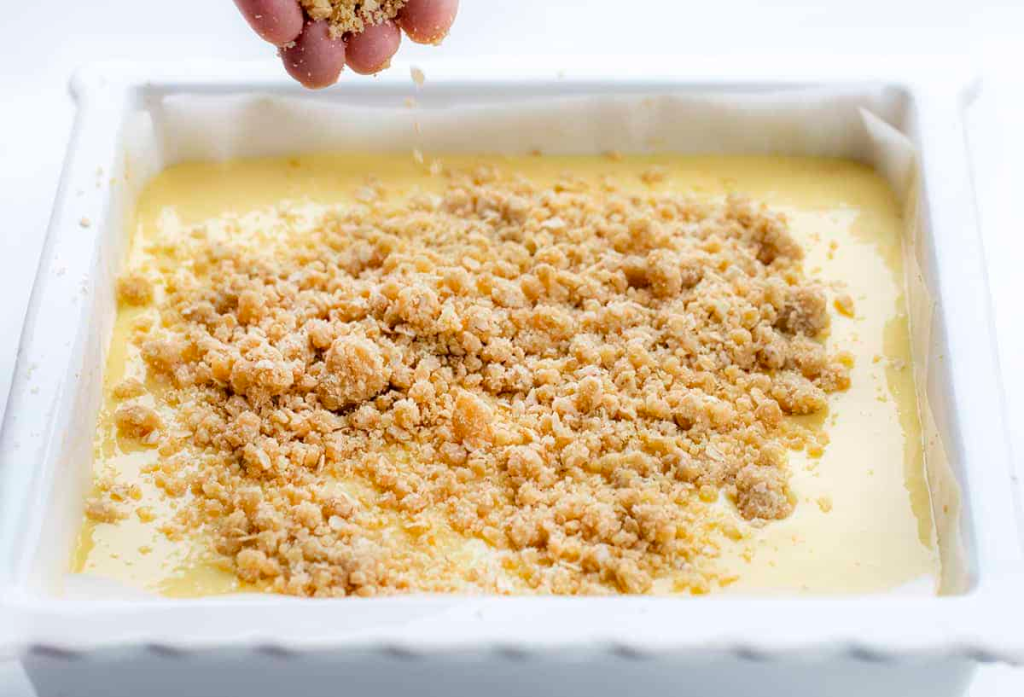 Freshly Squeezed Lemon Juice vs. Bottled Lemon Juice
As mentioned earlier, we tested these bars twice: once with freshly squeezed lemon juice and once with store-bought juice. When tested side by side, the bar with freshly squeezed juice won hands down. Of course, some people prefer bottled juice.
If you use bottled juice, you will probably get a stronger artificial lemon flavor than with freshly squeezed juice. But if bottled juice is all you have available, you can still enjoy the lemon flavor.
How to Store Lemon Crumble Bars
Lemon crumble bars can be stored in an airtight container at room temperature for up to 2 days. If stored in the refrigerator, they will keep for up to 5 days. They can be frozen for up to 3 months.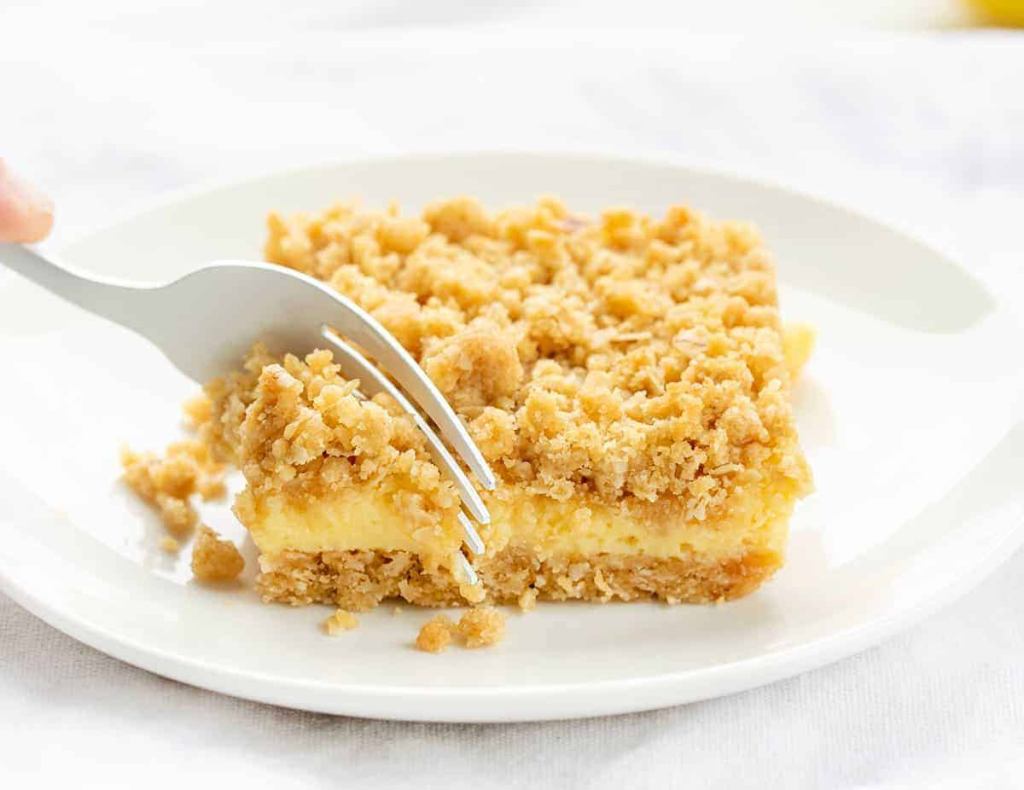 Lemon Crumb Bars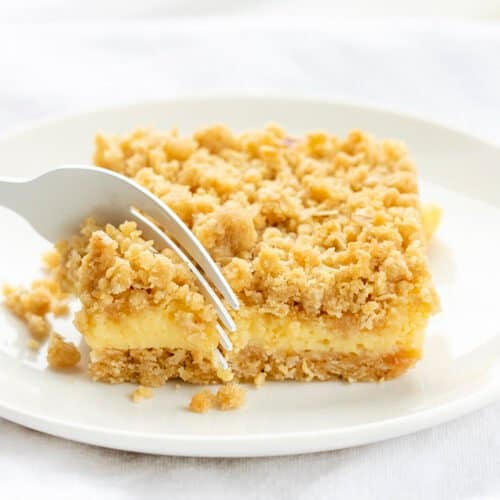 Preparation time : 30 minutes
Cooking time : 25 minutes
Refrigeration time :1 hour
Total time : 1 hour and 55 minutes
Lemon Crumble Bars are dessert bars with lemon filling and flavor between two layers of oat crust.
Ingredients
Oat Crust
1 cup (80 g) quick-cooking oats
1½ cups (180 g) all-purpose flour
1 cup (200 g) light brown sugar, packed
¼ teaspoon baking soda
¼ teaspoon baking powder
¾ cup (1½ sticks / 170 g) unsalted butter. melted
Lemon Filling
1 can (14 ounces) sweetened condensed milk
2 large egg yolks
½ cup (115 g) freshly squeezed lemon juice, about 5 lemons
1 teaspoon lemon zest
⅛ teaspoon kosher salt
Instructions
Preheat oven to 350°F and line a 9×9-inch pan with parchment paper.
Oat Crust
In a large bowl, combine oats, flour, brown sugar, baking powder, and baking soda. Pour melted butter over the mixture and mix together until crumbly. Be careful not to overmix so it will be crumbly for the top later.
Measure out ½ of the mixture (about 2 cups), and set it aside to reserve for topping.
Pour the remaining mixture into the lined baking dish. Press firmly to the bottom of the pan.
Bake 12-15 minutes, or until a golden brown. Set aside to cool slightly while you make the lemon filling.
Lemon Filling
In a large bowl, add sweetened condensed milk, eggs, lemon juice, lemon zest, and salt. Mix until smooth and creamy.
Assembly
Spread lemon mixture over the top of the baked oat mixture.
Crumble the reserved oat mixture over the top.
Bake 20-25 minutes or until edges are golden brown.
Let come to room temperature and then refrigerate 1 hour before serving. (Best enjoyed at room temperature.)
Nutrition
Course: Dessert, Snack
Keyword: Lemon Crumb Bars
Servings: 12
Calories: 368