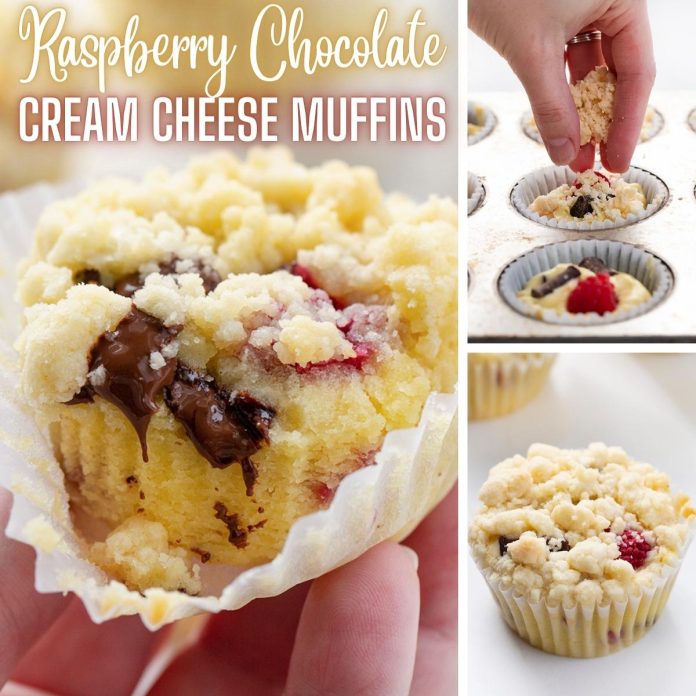 Raspberry Chocolate Muffins are cream cheese muffins filled with chocolate chunks and fresh raspberries, topped with buttered crumbs. Want more chocolate?
Raspberry Chocolate Muffin
There is plenty of evidence that raspberries and chocolate go well together. In fact, I've had several treats that combine this delicious combination, including raspberry cheesecake chocolate sugar cookies and raspberry cheesecake brownies. These delicious muffins offer both raspberry and chocolate in one bite.
Ingredients for Raspberry Chocolate Muffins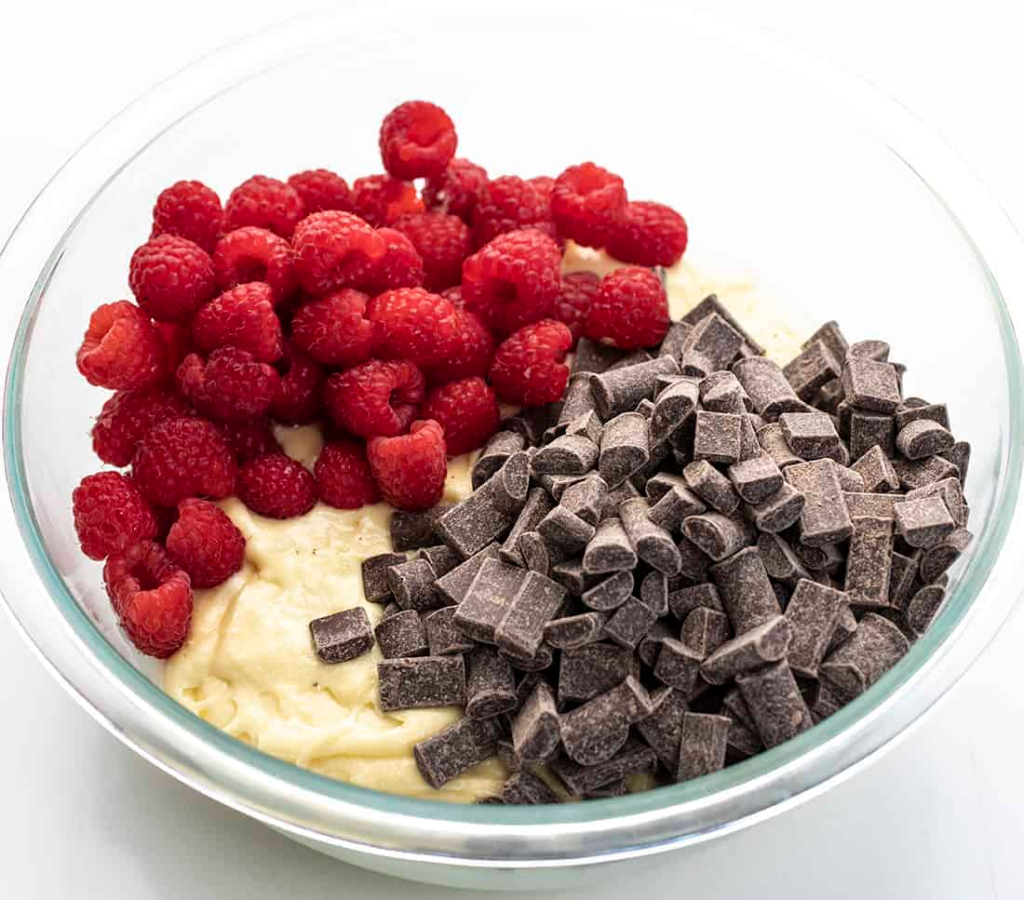 Muffins. All of the ingredients in this recipe (especially the cream cheese, butter, eggs, and buttermilk) will yield better results if kept at room temperature. Specifically, room temperature ingredients should be about 65-70 degrees Fahrenheit.
Cake Mix: If you don't have one in your pantry, you can make your own cake mix without giving up this recipe.
Crumble Topping. This is a case where the butter should be chilled so that when you mix the crumble topping, the pieces of butter are the size of peas.
Can I use frozen raspberries?
I prefer to use fresh raspberries in this recipe, but frozen raspberries will also work. Be sure to thaw them before adding them to the batter. They also need to be drained. Even with all this preparation, if you use frozen (then thawed) raspberries, the dough will still be pink. They are still delicious.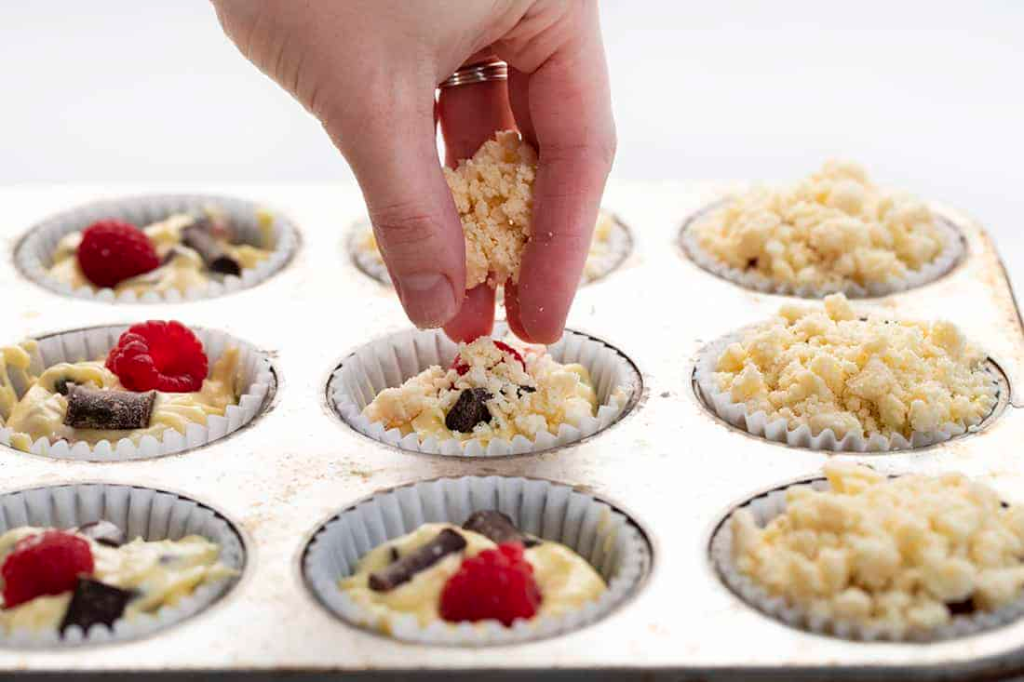 Why are these muffins so wonderful?
They melt in your mouth. I'm not kidding when I say they are the softest muffins I've ever made! I tried to photograph them right in front of my eyes. I tried to photograph them freshly baked, but as you can see, they are so soft and delicate that I had a really hard time photographing the inside. And the subtle cream cheese muffin base is a perfect match for the raspberries and chocolate. These muffins are so decadent and delicious that you'll probably sneak them as dessert.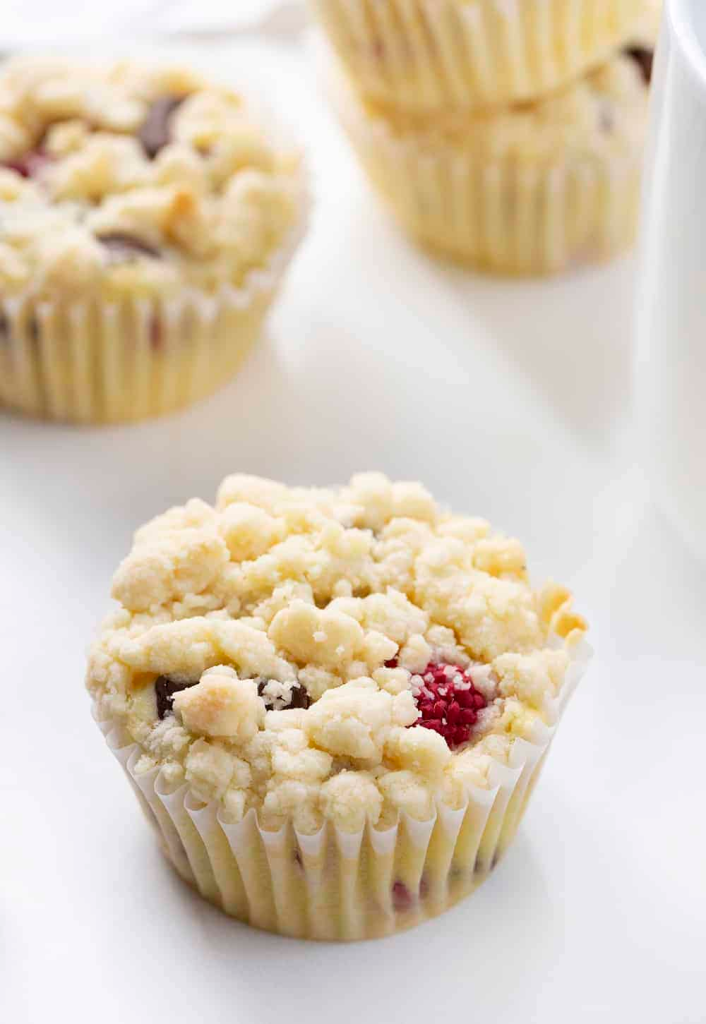 How to Store and Freeze Muffins
There are several ways to properly store muffins
At room temperature. I usually recommend storing them this way because they taste great at room temperature. I use a large airtight plastic bag or airtight container to store the muffins in a single layer. Some people suggest placing paper towels in the bottom to absorb condensation. This is not necessary if the muffins are stored properly cooled. However, if using an airtight container, it is common to tear a piece of bread in half and place it between the muffins. The bread will also absorb the moisture. Serve within 2-3 days.
Refrigerate. Since these muffins contain cream cheese, you will naturally want to refrigerate them, and in this case, refrigeration is the right choice. (In general, refrigeration dries out baked goods faster, so it is best not to refrigerate muffin recipes in general.) Place in an airtight plastic bag or airtight container and refrigerate. They will keep for about 5 days. To reheat, remove from refrigerator and microwave for 10 seconds or wait until muffins naturally come to room temperature, about 15 minutes.
Freezer. Place the cooled muffins in a freezer-safe airtight plastic bag or freezer-safe airtight container, packing them as tightly as possible without crushing them. Remove as much air as possible. Write the date and the name of the recipe on a label.
Layer raspberry chocolate muffins, revealing the contents.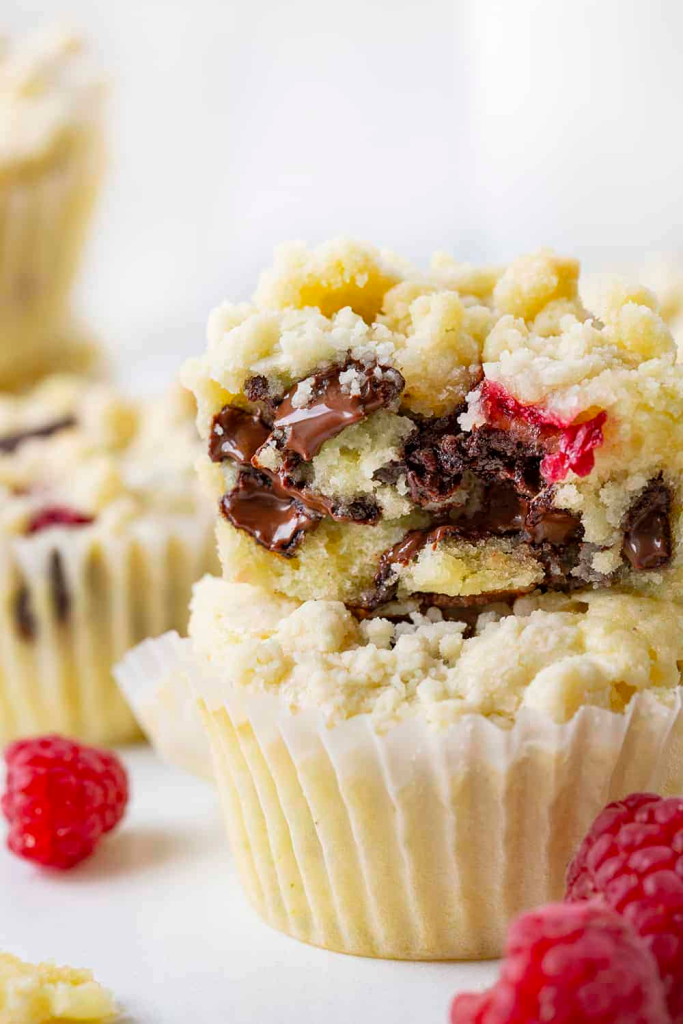 How to reheat frozen muffins
Remove the muffins from the freezer and let them come to room temperature in the refrigerator overnight or on the counter for a few hours.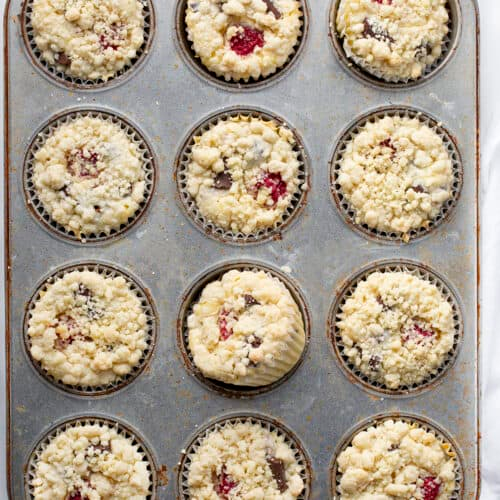 Raspberry Chocolate Muffins
Prep Time : 10 mins
Cook Time : 34 mins
Total Time : 44 mins
Raspberry Chocolate Muffins are cream cheese muffins filled with chocolate chunks and fresh raspberries, topped with buttered crumbs. Melt-in-your-mouth deliciousness!
Ingredients
Muffins
4 ounces cream cheese, room temperature
¾ cup (1½ sticks / 142 g) salted butter, room temperature
1½ cups (300 g) granulated sugar
3 large eggs, room temperature
1 teaspoon vanilla extract
1½ cups (192 g) cake flour
2 tablespoons (30 g) buttermilk, room temperature
10 ounces semi-sweet chocolate chunks
6 ounces fresh raspberries, or 1 ½ cups frozen (thawed and drained)
Crumb Topping
½ cup (1 stick / 113 g) salted butter, cold
¾ cup all-purpose flour
⅓ cup confectioners' sugar
Instructions
Muffins
Preheat oven to 325°F. Line a muffin tin with muffin liners.
In the bowl of a stand mixer fitted with the paddle attachment, combine cream cheese and butter until smooth, about 3 minutes.
Add sugar gradually and beat until lighter and fluffier.
Add eggs, one at a time, beating well with each addition.
Add in the vanilla.
Add the flour all at once and mix until just combined.
Add in buttermilk with mixer on low and mix until just incorporated.
Fold in the chocolate chunks and raspberries.
Remove bowl from stand mixer and scrape with a rubber spatula to get every last bit of ingredient incorporated.
Crumb Topping
Using a food processor, fork, or your hands (I prefer clean hands), combine the cold butter, flour, and confectioners' sugar in a bowl. Make sure the butter is broken down and no larger than a pea when you are done.
Assembly
Scoop approximately ¼ cup batter into each lined muffin cup.
Top with the crumb topping.
Bake 30-35 minutes, or until an inserted toothpick comes out with crumbs, but not wet batter.
Nutrition
Course : Breakfast, Dessert, Snack
Keyword: Raspberry Chocolate Muffins
Servings: 12
Calories: 525