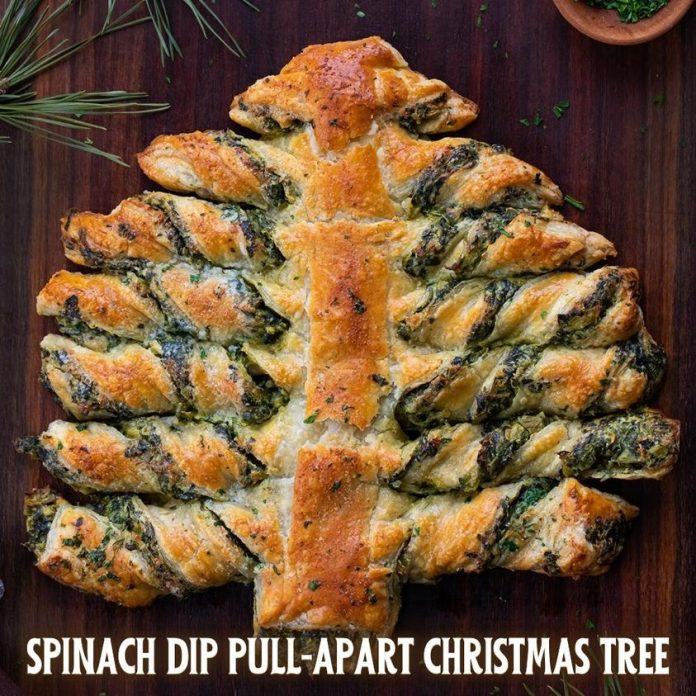 Christmas tree shaped spinach dip is a perfect appetizer or hors d'oeuvre to serve at your vacation gathering. It's like bread and dip, all in a festive Christmas tree shape! I have an easy spinach dip you may want to try as well.
Spinach Dip Pull-Apart Christmas Tree
You will be the star of your Christmas party when your guests see and taste this display! And, Spinach Dip Pull-Apart Christmas Tree bread is actually an easy finger food that looks a lot more complex than it is. It starts with a store-bought puff pastry sheet that is topped with an easy spinach artichoke dip mixture. Then, after topping the dip with another layer of dough, it's all about cutting and twisting. And, don't forget about the garlic butter for added flavor.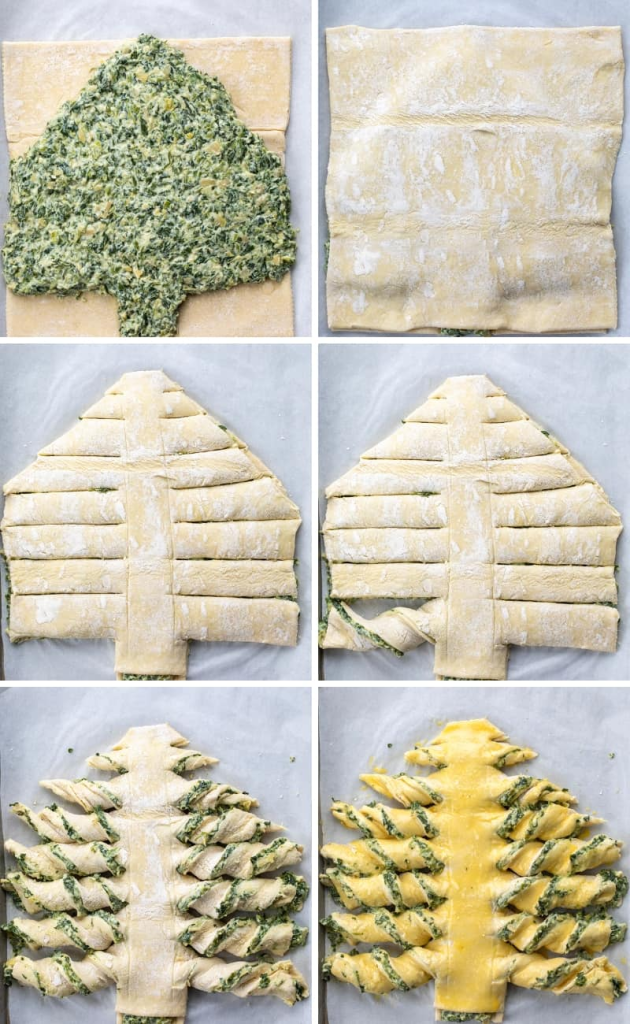 Ingredients and substitutions
Dough: Look for a package of frozen puff pastry. They come with two sheets; you'll use both.
Spinach: I used frozen spinach, thawed and with the excess water removed. We did not test this recipe with fresh spinach; if you use fresh spinach, you will need to cook it before adding it to the dip.
Artichoke Hearts: This recipe calls for about 1/2 cup of chopped artichoke hearts. If you bought a box of artichoke hearts, use the leftovers for another tasty appetizer like spinach artichoke bread.
Cream cheese: You will only need 2 ounces of cream cheese for this recipe. Save the rest for another appetizer like my Jalapeno Stuffed Meatballs.
Topping: Garlic butter topping is brushed over the top of the baked bread for extra flavour. (Optional, but highly recommended).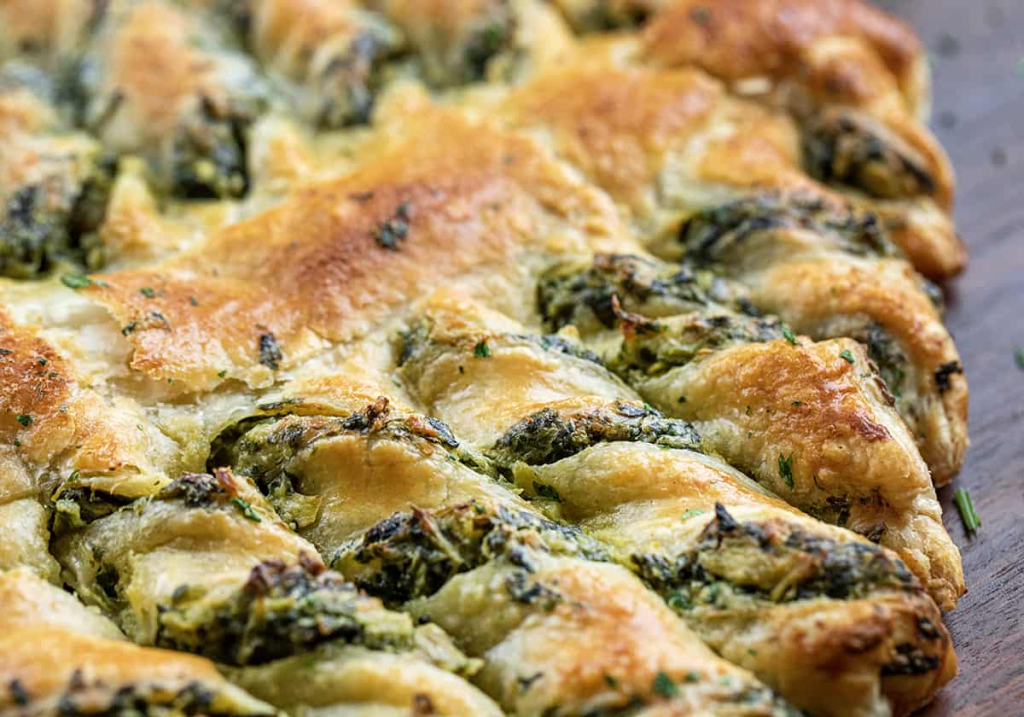 PREP TIME ; 15 MINS
COOK TIME ; 26 MINS
TOTAL TIME ; 41 MINS
Spinach Dip Pull-Apart Christmas Tree is the perfect finger food or appetizer to serve at your holiday gathering.
Ingredients
1 cup (156 g) frozen chopped spinach, thawed, excess water squeezed out
½ cup (84 g) artichoke hearts, drained and chopped
½ teaspoon garlic, minced
2 ounces cream cheese, softened
2 tablespoons sour cream
¼ teaspoon kosher salt
1 pinch cayenne pepper
¼ cup (25 g) grated Parmesan cheese
½ cup (56.5 g) mozzarella cheese, shredded
2 sheets puff pastry dough, thawed according to package instructions
1 large egg, beaten
Topping
2 tablespoons unsalted butter melted
½ teaspoon garlic salt
1 teaspoon fresh parsley chopped
Instructions
Preheat oven to 350°F and line a large baking sheet with parchment paper. Set aside.
In a large mixing bowl, combine spinach, artichoke hearts, garlic, cream cheese, sour cream, salt, and cayenne pepper. Add parmesan cheese and mozzarella cheese. Stir to combine. Set aside.
Place one sheet of puff pastry onto the lined baking sheet.
Spread the spinach mixture over the puff pastry in the shape of a large triangle (a tree).
Place the second sheet of puff pastry over the spinach dip.
Working gently with your fingers, feel the outline of where the spinach mixture is spread. Using a pizza cutter or a sharp knife, carefully begin cutting along the edges. Remove excess pastry.
Cut 1-inch slits on both sides of the tree, leaving about an inch in the center intact. This is the 'trunk' of the tree.
At the base of the tree, carefully cut away the bottom strip on both sides, forming the base of the tree trunk. The tree 'branches' are now ready for twisting.
Beginning at the base, twist the pastry away from you, trying to get in at least two turns on the lower branches. Continue moving up the tree, twisting away from you as you go. At the top of the tree, you may only get a single twist in the top branches.
Brush the top pastry with the beaten egg.
Bake for 26-28 minutes, or until golden brown.
Topping
In a small dish, combine melted butter, garlic salt, and parsley.
Brush the garlic butter over the baked tree. Serve warm.
Course: Appetizer
Keyword: Spinach Dip Pull Apart Christmas Tree
Servings: 12
Calories: 260