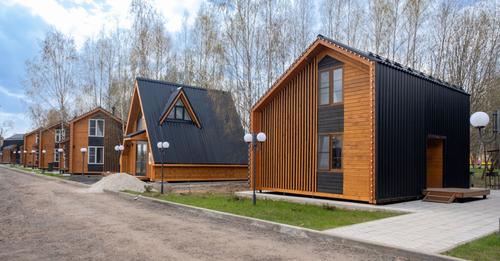 These districts of small houses appear in the cities and villages of the country.
Although a global pandemic and strict zoning laws have hampered tiny house purchases in recent years, the popularity of these scaled-down alternatives to traditional homes continues to grow.
Tiny house communities can be found in areas of the country where zoning laws are favorable to tiny houses. They are also popping up in other places. Many repurposed RV parks are home to charming tiny house communities, and some small towns are embracing tiny houses as a way to stimulate population growth. Several communities are even using tiny houses as a solution to homelessness. Below are 15 tiny house communities that are currently thriving in the United States.
Escalante Village – Durango, Colorado
The tiny home community of Escalante Village is nestled in the La Plata Mountains of Colorado, 6,500 feet above sea level. The homes average 400 square feet and sit on lots 20 feet wide and 40 feet deep, which is enough for the house, two parked cars and a patio. In keeping with the rustic feel of the area, these tiny homes are built with knotty pine floors, walls and ceilings. Amenities include access to on-site storage (for those not willing to completely downsize to a tiny house), river trails, a community garden, and award-winning fly fishing within walking distance.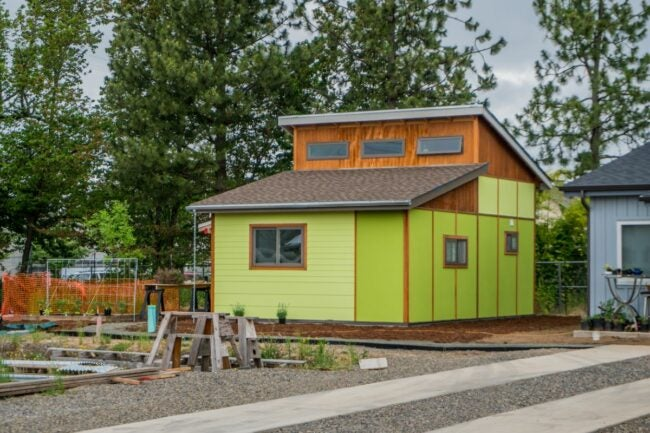 Tiny Home Village – Bernalillo County, New Mexico
Tiny Home Village in New Mexico is dedicated to creating a home for people who didn't have one. Made up of 30 120-square-foot tiny homes, the community also provides support, counseling and more for people without housing. A common village building includes a living room, kitchen, dining room and bathrooms.
Tiny House Block – San Diego, California
If you consider buying a tiny house as a way to get closer to nature, then you might like Tiny House Block, which is located in the mountains surrounding San Diego on the famous Pacific Crest Trail. It's possible to add your own tiny house to the community, or rent one if you want to give it a try before you go. If you're interested in living there, you'll have to act fast, because places are going fast.
Cedar Springs Tiny Village – Cedar Springs, Ohio
Ohio's first tiny house village has 30 lots where you can park your tiny house. Cedar Springs Tiny Village is fully equipped with amenities such as a community garden, walking trails, WiFi and cable. It's also just steps away from Natural Spring Resort, which offers a pool, beach, fishing and even scuba diving (yes, the lake water is that clear). Sites are available for short stays or for rentals of 13 months or more.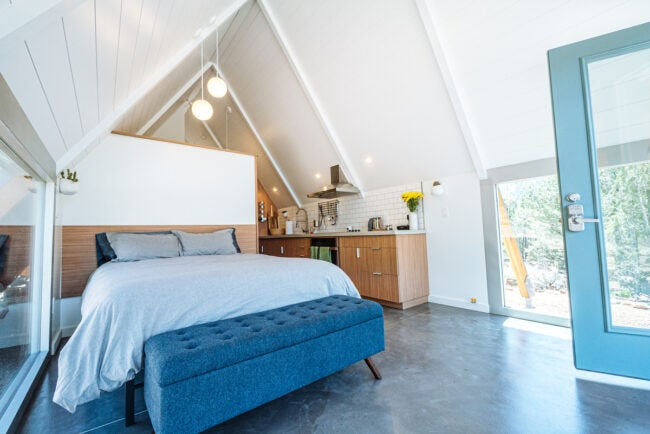 Canoe Bay Escape Village – Canoe Bay, Wisconsin
If you've always dreamed of living in a tiny house deep in the woods, Canoe Bay Escape Village in Wisconsin may be for you. Escape Village is located next to Canoe Bay, a lakeside resort. This community of tiny homes sits amidst more than 100 acres of forest and wetlands and includes two private lakes. Its tiny homes come in a variety of open floor plans, with queen or king size beds, full appliances, and plenty of windows to view nature.
Community First! Village – Austin, Texas
Located in Austin, Texas, Community First! Village is one of many programs across the country that uses tiny homes to combat homelessness. The 27-acre tiny house development consists of tiny houses (as well as RVs and mobile homes) for local unsheltered individuals. Established in 2015, the village has more than 250 residents and features a market, movie theater, organic farm, laundry facility, and hiking trails.
Orlando Lakefront – Orlando, Florida
Florida is full of old trailer parks, and many of them are converted into tiny house communities. Such is the case with Orlando Lakefront. This RV park, which dates back to the 1950s, was recently redeveloped to accommodate 40 tiny homes on wheels. The community has 50 rental sites, is located on the shores of Fairview Lake, and is a short drive from downtown Orlando and, of course, the Disney theme parks. Orlando Lakefront also has 14 tiny homes for rent for vacationers and those who want to try tiny home living.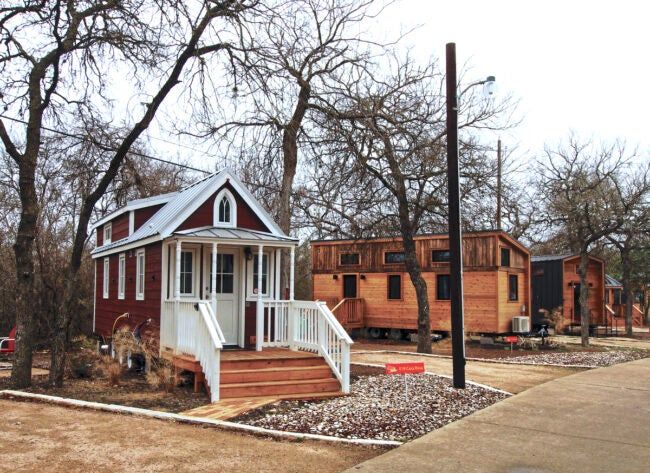 Lemon Cove Village – Lemon Cove, California
Because many states' zoning laws limit where a tiny house can be parked, many RV parks are opening their doors to these tiny houses, and Lemon Cove Village is one of them. Located near Sequoia National Park in California, you can park your tiny house on the property for only $450 per month. In addition to its beautiful location at the base of the Sierra Nevada mountain range, the village has a swimming pool, on-site laundry facilities, and high-speed internet.
Tiny Homes Detroit – Detroit, Michigan
Tiny homes aren't just for those looking to downsize from their larger homes. Many communities see them as a great option for those who don't have the financial means to own their own home. Such is the case with Detroit's Tiny Homes community, which consists of 25 homes ranging from 250 to 400 square feet owned by qualified residents. Occupants rent their tiny homes for seven years, after which they have the option to own them.
Spur, Texas
Faced with a shrinking population, the small north Texas town of Spur decided to "stimulate" growth by proclaiming itself the "first tiny house friendly town." Where other municipalities rejected tiny houses, Spur invited them to increase its population and tax base. The small town is now home to dozens of tiny homes, many of them transplants from big cities seeking a simpler, slower pace of life.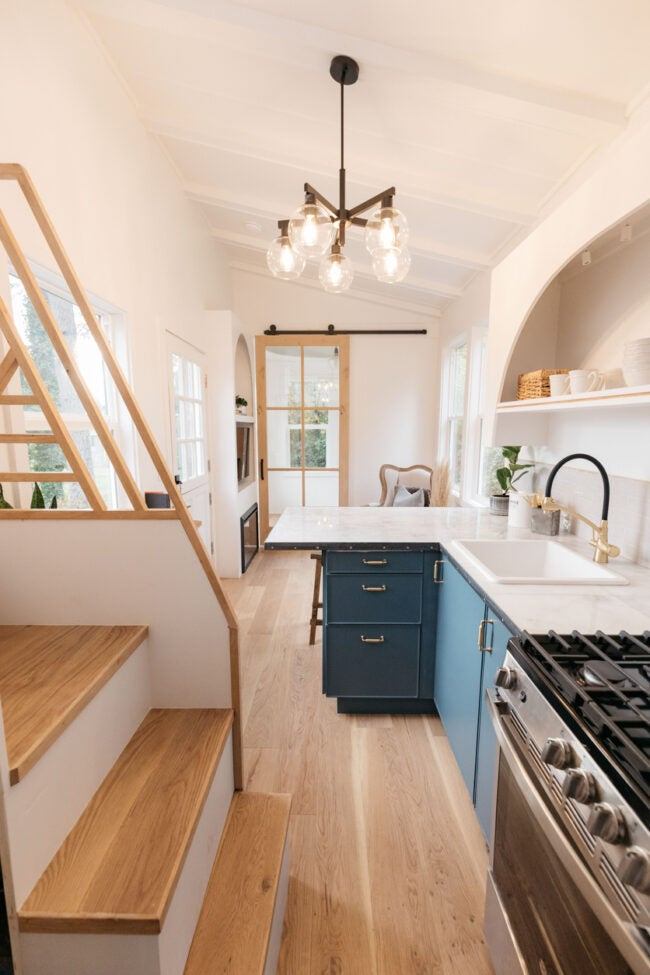 WeeCasa – Lyons, Colorado
If you're considering living in a tiny house but aren't sure if it's for you, you might want to try WeeCasa Tiny House Resort, a community of tiny houses for rent in the Colorado Rockies. The resort's 22 tiny houses are available on a nightly basis, range in size from 165 to 400 square feet, and can accommodate up to five people. All units are within walking distance of St. Vrain's Creek and a popular wedding center. And if Lyons, Colorado, is too far, there are also WeeCasa locations in Pigeon Forge, Tennessee, and Rapid City, South Dakota.
Lake Walk – Greer, South Carolina
The large Lake Walk Tiny Home Community has 43 sites on 15 acres on the shores of Lake Cunningham in South Carolina. You'll find high-end features in these homes, including hardwood floors, large decks, full-size appliances and solid countertops in the kitchen. The community has a variety of attractive amenities in addition to the lake, including nature trails, community gardens and stunning views of the surrounding mountains.
Palm Canyon Mobile Club – Palm Springs, California
Palm Springs is well known for its mid-century modern homes that connect to Southern California nature with large windows and open, airy floor plans. Most of these homes come at a premium, but not all. Palm Canyon Mobile Club's mid-century modern tiny homes offer elegant style at a more affordable price than many other homes in the area. The community's not-so-small floor plans range from 600 to 1,100 square feet and include large decks.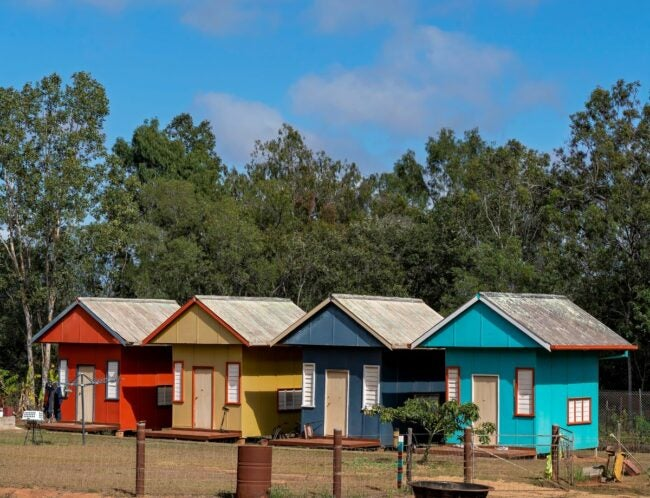 Cottage Estates – Acme, Michigan
These upscale tiny homes are located in an RV complex that sits on one of the bays of Lake Michigan. Cottage Estates tiny homes have about 400 square feet of living space and are equipped with appliances, hardwood floors and large decks on 5,000 square foot lots. You also get all the amenities of a resort, including a pool and spa, tennis courts, clubhouse and fitness center.