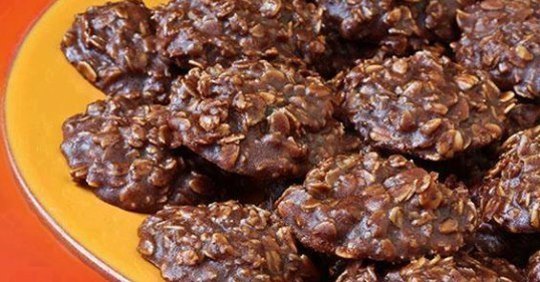 Embark on a delightful culinary adventure with our exquisite Peanut Butter-Chocolate No-Bake Cookies. Elevate your taste buds to new heights as you savor the perfect fusion of creamy peanut butter and rich chocolate, all without the need for an oven. This recipe promises not just a treat for your palate but a symphony of flavors that will leave you craving more. Get ready to experience the joy of crafting these delectable bites in the comfort of your own kitchen.
Ingredients:
2 cups white sugar
1/2 cup butter
1/2 cup milk
1/3 cup unsweetened cocoa powder
2/3 cup peanut butter
3 cups quick-cooking oats
1/2 cup chopped peanuts (optional)
2 teaspoons vanilla extract
Directions: Place a piece of wax paper or foil on a cookie sheet. Combine sugar, butter, milk, and cocoa in a medium saucepan. Cook over medium heat, stirring constantly until the mixture comes to a rolling boil. Remove from heat; cool for 1 minute. Add peanut butter; stir to blend. Add oats, peanuts, and vanilla; stir to mix well. Quickly drop the mixture by heaping teaspoons onto wax paper or foil. Cool completely. Store in a cool, dry place.
Conclusion:
Indulge in the delightful simplicity of our Peanut Butter-Chocolate No-Bake Delight. These cookies not only embody the perfect balance of sweet and nutty but also offer a hassle-free preparation that allows you to relish the joy of creating something extraordinary with minimal effort. Enjoy the rich, melt-in-your-mouth experience of these cookies, making every bite a moment to remember.
Source of the picture : 
fatafeat