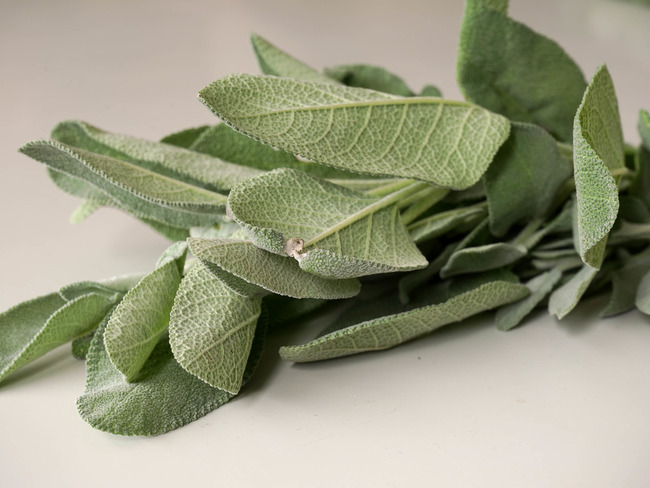 Sage, which originates from the Mediterranean region, has a long history of medicinal and culinary use. And with its shimmering silver-green leaves and pretty blue flowers, sage is as beautiful as it is functional.
That is why sage deserves a place in every garden:
It is easy to grow.
This evergreen perennial shrub is easy to plant and even easier to maintain once established. It thrives best in full sun and well-drained soil.
When planting companion plants, place sage next to plants in the Brassica family, which includes broccoli, cabbage and cauliflower.
Be sure to choose an edible type of sage that grows in your herb garden, such as garden sage, purple sage, tricolour sage or golden sage.
It smells good
Plant a truly aromatic garden by adding the characteristic earthy tones of sage. Find more of the most fragrant herbs and flowers for your garden here.
Repels garden pests.
Planting sage outdoors will keep out vegetable pests such as cabbage moths and carrot flies, a must for any organic gardener.
It attracts pollinators.
Bring butterflies, hummingbirds and bees into your garden with the earthy tones of sage.
These creatures will bring colour and vitality to your garden while helping to pollinate your flowers and plants.
Uses for sage
Here are 20 ways to use your sage:
In the kitchen
With its intense taste reminiscent of eucalyptus, lemon and mint, sage is a fantastic culinary herb to keep on hand. Use it sparingly in the kitchen – a little goes a long way!
1- Infused oils
Steep pure oil with the aroma and earthy taste of sage to preserve your harvest. These infusions take minutes to prepare, require no special equipment and are perfect as handmade gifts.
This recipe for sage and pepper olive oil can be used in place of fresh sage in baked, boiled or cooked dishes; or as a marinade for meat, fish or vegetables.
Herbal butter
Take your butter to the next level by adding homemade sage. It's delicious with grilled chicken or fish or steamed vegetables. This sage butter recipe uses shallots, lemon and black pepper for flavour.
Sage and rosemary seasoning salt
This fantastic combination of flavours not only keeps your herb garden full, but also makes a simple but delicious meat rub. It can also be used in soups and stews or sprinkled on grilled vegetables and scrambled eggs. Here is the recipe.
Sage and onion filling
This sage and onion stuffing is perhaps one of the most common uses of sage in cooking and can be served as a vegetarian dish or in the traditional stuffed turkey.
Sauces and soups
Sage is used in all kinds of soups and sauces. Combined with Italian parsley, it makes a strong pesto. Sage adds another dimension to a classic tomato sauce and is perfect for a creamy Tuscan-inspired sage sauce that can be topped with vegetables and pasta.
As for soup, sage is best served with autumn vegetables – as in this butternut squash soup with sage, this chestnut soup with sage or an English onion soup with sage and cheddar cheese.
Salads
Although sage is not a traditional salad herb like basil or cilantro, it can be effective when combined with the right ingredients. Try this new roasted potato salad with sage leaves, a roasted asparagus and fried sage salad or a refreshing and detoxifying green herb salad.
Bread and pasta
Simple homemade breads and pastas can easily be flavoured with a drizzle of sage oil or a dash of sage butter.
For an explosion of herbal flavour, sage can also be mixed into the batter of these delicious staples. Why not try a torn sage onion and share some bread; a delicious parsnip, parmesan and sage bread; or a slice of focaccia with sage and rosemary?
Dessert
All kinds of aromatic herbs can give sweets a fragrant earthy taste – and sage is no exception.
Enjoy it in a Meyer Adult Cake with sage and olive oil, a sweet and crunchy ice cream with sage and walnuts, a fruity dessert of roasted figs with sage and red wine or an ingenious sage butter cake.
Drinks
Sage adds extra refreshment to everything from detox water to your favourite cocktail.
Refresh yourself with a grapefruit, lemon and sage infusion, a rhubarb-cherry-sage iced tea or a pitcher of blackberry-sage lemonade.
In the evening, relax with a sage knee cocktail, a honey-sage bourbon or a sage and orange-vodka tonic.
For health and well-being
Sage has traditionally been used for a variety of conditions ranging from mental disorders to gastrointestinal problems, and sage is still believed to improve health and well-being in a variety of ways:
Producing a healing oil
Take advantage of the powerful healing powers of sage in homemade oil. Although it is a complex process, distilling your own essential oils can be very rewarding.
Sage tea for mouth and throat problems
Thanks to its astringent, antiseptic and antibacterial properties, sage is usually made into a tea – or used as a gargle – to relieve pain caused by sore throats, canker sores, gum disease, laryngitis and coughs.
If you have a toothache, mix a tablespoon of sea salt with two tablespoons of dried sage in a little whisky or water. Shake it around your mouth for a few minutes before spitting.
The digestive function of the remedy
A cup of sage tea after meals can help relieve digestive problems such as flatulence or bloating. A tablespoon of olive oil with sage can help relieve constipation.
Improved memory and attention span
Several studies have demonstrated the ability of sage extracts or sage essential oils to improve memory, attention, alertness and mood.
People with Alzheimer's disease also experience improved cognitive function and behaviour after four months of treatment with sage tincture.
Add sage oil to your diffuser or inhale the scent of a cup of sage tea to increase attention and perception.
The digestive function of the remedy
A cup of sage tea after meals can help relieve digestive problems such as flatulence or bloating. A tablespoon of olive oil with sage can help relieve constipation.
CLICK NEXT PAGE BELOW TO CONTINUE READING …