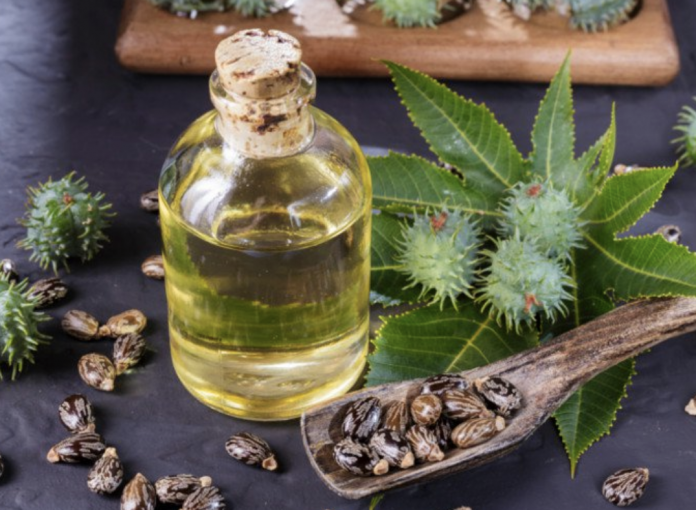 Castor oil is made from castor seed and is known for containing an important amount of triglycerides and ricinoleic acid. Both of them are important and useful in the medical field. Castor oil has many important uses that you should know about, as an example, castor oil is good for skin, hair, and digestion making it an important remedy to know about. Without further ado here are 7 castor oil uses you have to know about.
Castor oil can stimulate the intestines and lead to constipation relief if taken orally. But always keep in mind that seeing a doctor is a must.
2. Relieve dry, itchy skin. 
Castor oil can also hydrate your dry skin because it contains a humectant that makes it attract moisture from the air in order in order to hydrate your skin. Mix three-quarters of a cup of shea butter with 4 tablespoons of castor oil and roman chamomile or carrot seed oil and 5 to 10 drops of lavender oil. Scourge the shea butter and oil together until you get the desired result, then add the essential oil and start blending everything together. Once you are done making the lotion, grab some jars for storage and use it as much as you like.
The antimicrobial properties of castor oil make a great tool that prevents acne. It is actually thick enough and won't clog the bores and of course, won't create any blackheads. If you have dry skin, then mix castor oil with camellia oil(1 part castor oil/10 parts camellia oil), but if you have oily skin, then mix 1 part castor oil with 3 parts of either primrose or safflower oil, as for combination skin, mix 4 parts argan oil with 1 part castor oil.
Castor oil contains ricinoleic acid that can heal acne and also prevent its formation. Simply mix 1 drop of camphor oil with 2 drops of almond oil and 2 drops of, of course, castor oil, then take the mix and apply it to your face before you go to bed and keep it on until morning, then clean it and put on your makeup.
5. Add shine and growth to hair.
Castor is believed to be helpful when it comes to making hair grow faster and healthier. To make use of castor oil for your hair, make a hair mask by mixing 1 tablespoon castor oil with 1 tablespoon olive oil and juice from half a lemon. Once done, massage the mix through your to the tips and let it sit for about 30 minutes, then wash and style your hair.
Castor oil is known for its antimicrobial properties, that is why some believe that it can treat fungus. If you want to treat ringworm, athlete's foot or jock itch, then warm the castor oil and apply it to the affected area before going to sleep. Repeat this method every day for about a week until you notice the disappearance of the fungus.
7. Reduce joints pain.
Another popular castor oil property is the anti-inflammatory one that makes people believe that castor oil can deal with joints pain. You only have to rub castor oil onto the joints that cause pain, then use a hot pack. Start doing it two times a week.
Castor oil has many medical uses that you should know of, but you should know that some people are allergic to it, that is why you should test it on a small area of your skin before starting any kind of treatment with it.