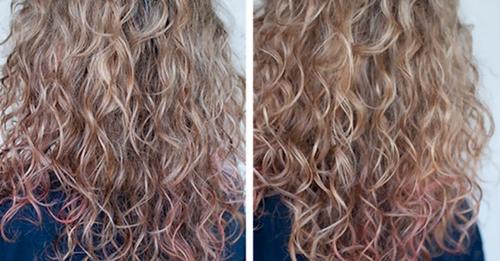 Curly girls are special people with special hair, and sometimes those crazy curls need special care! No, we can't just shower and go. Yes, sometimes we wish we could. Believe me, as someone who has lived with curly hair her whole life, I know the difficulties. But I also know how beautiful curly hair can be! Don't be discouraged, curly-haired ladies, there are ways to enhance your beautiful curls. Try one of these brilliant tips to keep your hair manageable, frizz-free, and looking fabulous.
Avoiding the triangle head
Every curly girl's worst nightmare: the dreaded triangle head. This conundrum occurs when the bottom of your hair sags and the top stays flat, resulting in an unflattering triangle shape. The trick to avoiding it? Layers and layers and layers and layers.
Figure out what curls you have
The best way to approach your curls? Determine what type of curls you have! Use this helpful chart to determine what type of curls you have.
Deep Condition Your Hair
Once a week, you need to deep condition your hair. If you don't know where to start, start with this coconut hair mask! It's easy to make and will give your hair a spa-like treatment that your curls will immediately absorb.
Use voluminous hair clips
Do you shower at night? This can make it difficult to style your curls for the next day. Don't just sleep on wet curls, pin them up with these voluminous clips. Twist each strand of hair before pinning and in the morning you'll have dry, full curls to work with!
Pineapple for your hair
Speaking of nighttime routines, try a technique called "pineapple" with your dry curls. Flip your curls upside down and secure them to keep your hair from tangling on the pillow.
Purifying showerhead
If you think water purification is just for drinking water, you couldn't be more wrong! This special shower head purifies water and balances your pH, keeping your hair healthy and strong,
Grow your hair out
Curly girls can grow their hair out too. You just need to figure out HOW to grow out your particular type of curl. Use this helpful infographic to figure out how to grow your hair.
How to Style Curly Hair
This is the ultimate technique – I use it myself!
When you get out of the shower, put product on the bottom 3/4 of your hair and brush it with a comb. Then flip your hair over, undo your curls and scrunch them. When the curls start to form, put a diffuser on your hair dryer and blow dry your hair upside down. When the curls start to dry properly, flip your hair over and blow dry with the diffuser to get the style you want. The result? Beautiful, frizz-free curls.
Avoid heat
Avoid intense heat on your curls at all costs! Embrace your natural texture (it's beautiful, I promise) and don't use straighteners, curling irons or even blow dryers too often.