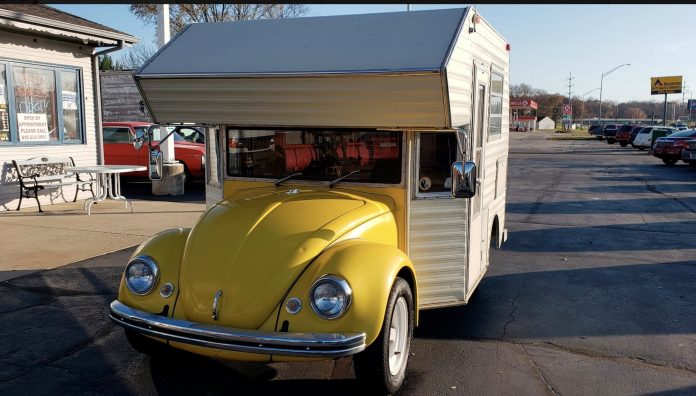 Discovering a tiny haven that defies the norms of space is a rarity in itself. However, nestled within the world of compact living, the "Supper Bugger" emerges as an astonishing creation. This remarkable camper finds its foundation in a 1969 Volkswagen Beetle, paired with a 1973 Super Beetle engine. Witnessing it in action is an experience that truly pushes the boundaries of imagination.
A testament to devotion and ingenuity, the "Supper Bugger" boasts an impressive 52-year legacy under the same ownership and original craftsmanship. What sets it apart is not just its size but also the dedication poured into its creation. Ingeniously modified suspensions ensure a smooth and secure ride, a testament to the creator's unwavering commitment to style and performance.
Stepping inside the "Supper Bugger" is akin to a journey through time. Every inch of its interior exudes authenticity, complete with an AM/FM CB radio. It's as though a portal to the 1970s has opened up, inviting you to relive the era's iconic charm. The meticulous preservation of its vintage allure is awe-inspiring.
Despite its compact appearance, the "Supper Bugger" defies expectations in terms of functionality. Mecum Auctions, the auction house responsible for its sale, boldly claimed it could comfortably host "two adventurous individuals." A classic example of 'good things come in small packages,' this camper effortlessly blends coziness with retro chic.
While the "Supper Bugger" may have embarked on a new journey with its fortunate new owner, its legacy endures, inspiring future collaborations between car and camper enthusiasts. This remarkable creation effortlessly transports us back to the '70s, a testament to the enduring allure of vintage design. It ignites dreams of embarking on a similar adventure, where the open road becomes a canvas for crafting unforgettable memories.
Source : Mecum / homemaking