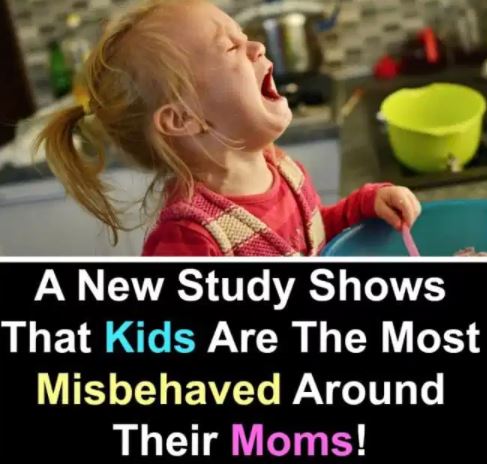 Have you ever noticed that your children are kinder when you're not around? Probably every mother has noticed this. It is almost universally known that children behave worse with their mothers.
You're not imagining it. Psychologists know it happens and, more importantly, they know why. It's important that you know why, too. Speaking of what psychologists know about children that can really help you as a parent, read our post on how and why you should recognize anxiety in children.
We saw this article, "Study: Children are 800% unhappier when their mother is in the room" (a fake study). While you may quickly realize this is all funny and totally bogus, we all know there's a lot of truth to it!
Why do children misbehave with their mothers?

Unless there is trouble at home, children know with all their being that home is a safe place.
Of course, they know that if they grab a pair of scissors and jump on the couch, they're sure to get in trouble.
And yes, they understand that hitting a sibling will get them in mom's crosshairs.
But most of all, kids understand that home is the sweetest place for them. They know they can trust you.
They know you love them no matter what.
IN SHORT, THIS IS WHY CHILDREN MISBEHAVE WITH THEIR MOTHERS.

When young children are at school, for example, they use all their limited power over their impulses.
In other words, it takes a lot of self-control to stay on the right side of the rules for so many hours.
Children know what the world expects of them during the school day. They have to follow the rules. It's their job. To follow those rules.
When they get home, they are like a soda bottle that has been shaken until it bursts. If you pop the cork too fast, it'll explode.
It's not their fault. It's a challenge for little brains to control their behavior for so long.
Then you show up. The person they trust. The person who will love them even if they aren't perfect.
They can finally breathe and relax. They can be who they are in that moment. Grumpy. Happy. Loud. Tired. Messy.
You'll always love them, even if you get mad at them. They're sure of it.
Tip: You can help kids transition from school to home by giving them time to make noise, run around and exercise. It's liberating. It's like taking the cap off a soda bottle, little by little.
If your child is perfect at school, daycare or a friend's house and walks through your door as a loud, crazy monster, it's the same thing.
You can consider it aggravating (and I know it is). Or you can take a deep breath and remind yourself that because you are a great mom, your kids can be themselves with you.
So if your kids are nicer when you're not around, remember that it's because you're doing it right as a mom.
You've taught your children to behave well in the world.
More importantly, you have taught them that you are a loving mother who will tuck them into bed and love them today, tomorrow and always.
Way to go, mom!
You might like this positive discipline book for toddlers, for those days when they misbehave with you. It's very helpful.
CLICK NEXT PAGE BELOW TO CONTINUE READING …