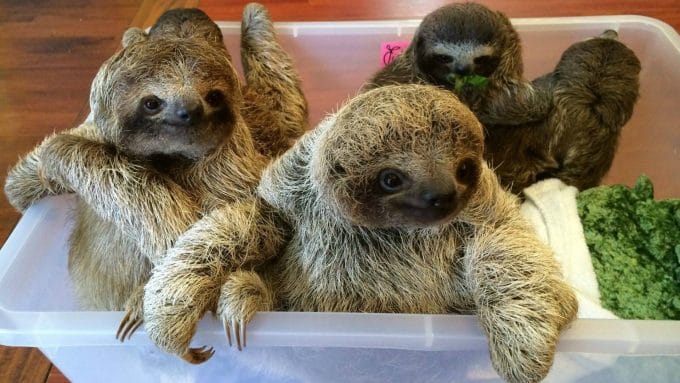 There is a sanctuary for sloths in Costa Rica. They filmed the baby sloths talking to each other. It's so cute, the Internet can't even deal  
Sloths are the cutest animals you've probably never seen up close and personal. Of course they are. They always look so totally chill and happy, no matter what happens.
Watch the Sloth Video Right Now
If you don't smile, not even a hint of a smile, I don't know know what to say. It's the best, silliest, waste of 1 minute and 39 seconds on YouTube… this week. I have faith that next week YT will show us a cute video of a turtle vacuuming and I'll write about that too. (Please. Someone. Film a turtle using a vacuum.)
When the internet discovered this video of these two baby sloths having a conversation, we all lost our minds. I'm raising my hand. I own it. I've watched it 3 times already. It's very possible there will be a 4th time by the end of this post.
Don't judge me. We all have our funny animal videos that make us laugh or get all up in our feelings.
SLOTHS: FACTS FOR BEGINNERS
CLICK NEXT PAGE BELOW TO CONTINUE READING …