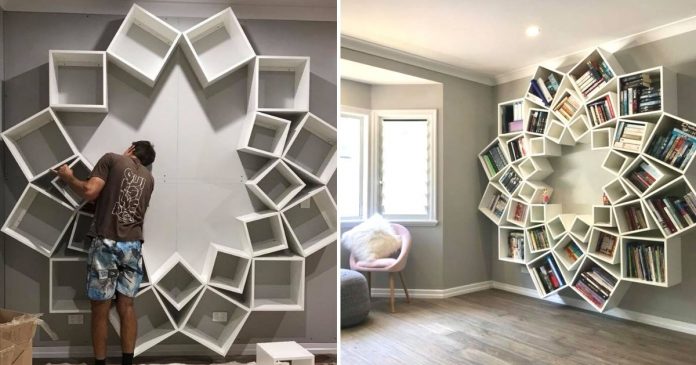 Envisioning a home adorned with a library is a dream many share. While that dream may be on hold, an inventive bookcase might just provide the perfect interim solution. Jess and Sinclair Breen, an Australian couple with a knack for creativity, have fashioned an extraordinary spiral bookcase entirely from a collection of carefully arranged boxes. Beyond its utilitarian purpose of housing books, this unique creation stands as a captivating piece of wall decor, adding both charm and character to any space.
Jess and Sinclair, proprietors of a home renovation company, seamlessly translated their vision into reality with this DIY project. Employing their expertise, they utilized 36 boxes strategically placed on a substantial fiberboard base, creating a suspended marvel of shelving ingenuity.
The process was streamlined by the presence of pre-drilled holes in each panel, a thoughtful detail that significantly expedited the construction.The final result is a testament to the couple's dedication and artistic flair, showcasing not only functional storage but also a visually striking work of art.
Conclusion:
In breaking the mold—quite literally—with their innovative design, Jess and Sinclair Breen have crafted more than a bookcase; they've manifested an elegant fusion of functionality and aesthetic appeal. This project stands as a testament to the power of creativity, proving that ordinary elements can be transformed into extraordinary expressions of art. Kudos to Jess and Sinclair for elevating a simple shelving unit into a remarkable piece that transcends mere utility, embodying the spirit of craftsmanship.
Source of the pictures : Jess & Sinclair /