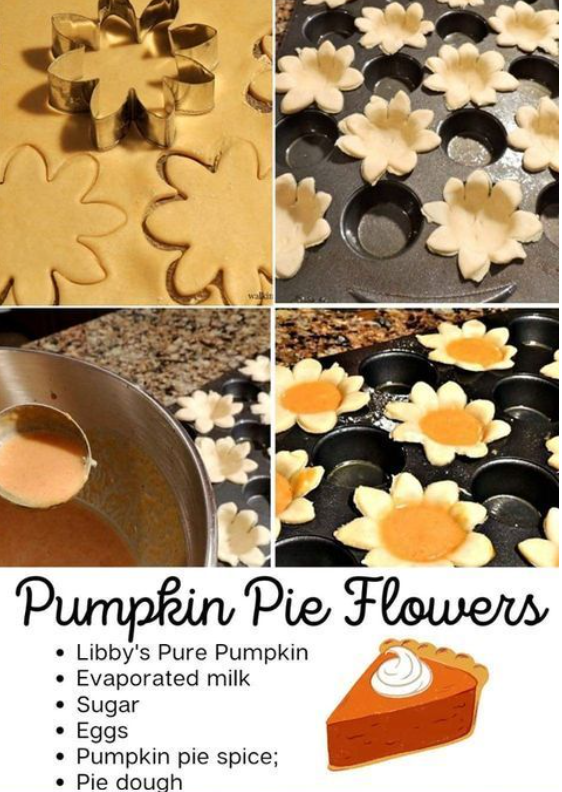 Mini Pumpkin Pie using pie crust flowers in place of a traditional pie crust. Top with homemade whipped cream and a sprinkle of cinnamon and sugar right before serving.
Prep Time : 20 minutes
Cook Time : 15 minutes
Total Time : 35 minutes
Ingredients
1 15 ounce can Libby's Pure Pumpkin
1 12 ounce can evaporated milk
¾ cup sugar
½ teaspoon salt
2 large eggs
½ tablespoon to 1 tablespoon pumpkin pie spice; depending on your taste.
One recipe of pie dough either homemade or store bought.
Instructions
Beat the eggs in a large mixing bowl.
Add the pumpkin, sugar and pumpkin pie spice; combine well.
Add the evaporated milk and combine.
Set aside and prepare your dough.
On a floured surface, roll out the pie dough.
Using a "flower" shaped cookie cutter, cut out shapes and place in the well of muffin pan that has been sprayed with non-stick
cooking spray.
Make sure you spray the top of the muffin pan as well.
Using the special tamper tool helps get the pie dough into the well of the muffin pan.
Spread out the flower tips so they lay flat on top of the muffin pan.
Using a small cookie scoop, fill up each muffin well about ⅔ of the way full.
Brush the edges of the dough with an egg wash before baking.
Bake in a 400 degree oven for 15 minutes; checking after 10 minutes.
Let cool slightly in the muffin tins before removing to a baking rack to cool.
Right before serving, add freshly whipped cream and a sprinkle of cinnamon/sugar to the tops of each mini pie.
Notes
Since these are small pies, they bake much quicker than a full sized pie.
Oven temperatures vary so check them to make sure the crust isn't getting too brown.
The mini pumpkin pies are done when you can insert a knife in the center and it comes out clean
The pie crust should be golden brown.