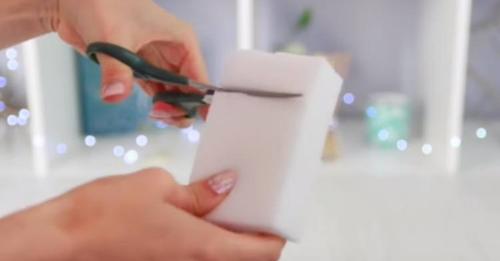 If you're a household god or goddess, then we bet no mess is beyond your reach. Nevertheless, we all know that the shorter the scrubbing time, the better. That's why we love trusted tools that help us save valuable time during cleaning.
Although this cult cleaning product – the Mr. Clean Magic Sponge – is usually touted as doing one thing well, we thought you'd like to know that it's capable of so much more!
Before we get started, the star of our video, YouTuber Brittany from VasseurBeauty, suggests cutting the sponges into thirds and moistening them with a spray bottle of water. This will give you more control over the scrub and make the product last much longer!
Although our hostess gives us 20 useful tips in her video, we think these 4 tips are the most surprising. Here's how you can get the most out of your Magic Eraser.
1-Remove scratches from walls
Chances are you already know this wall cleaning tip – after all, the company tends to tout the product on this virtue alone. Nevertheless, we have to say that these wonders really do prolong the wear and tear on paint. Our host mentions that she thinks they work best on white walls, in particular.
2-Gets rid of paint on the skin
If your child is a bit of a Picasso, you're all too aware that paint is just plain hard to remove! So instead of pulling out products with harmful chemicals, like nail polish remover, grab the Magic Eraser miracle sponge. The residue should come off with just a little soap and water.
3-Banish stains on Tupperware
We all know that Tupperware is one of the most practical tools a home chef can have. But, on the other hand, it can also be very difficult to clean. And while there are many tips to help you with this process, you can get rid of the dirt as quickly as possible by scrubbing it with one of these porous wonders.
4-Takes scuffs off of leather
Do you have a pair of expensive leather pumps that have been scuffed up after too many late night sessions on the dance floor? If so, there's no need to take them to the repair shop; just lightly erase the surface abrasions with your trusty Magic Eraser – no waxing required!
Now, if you don't want to shell out $5 to get a pack of these babies, it's important to note that you can make them yourself for just 10 cents! Check out our tutorial here to get started.
And to check out the rest of these 20 unexpected Magic Eraser tricks, be sure to watch the video below. Who knew a little super sponge could do so much!
What do you think of these Magic Eraser tips? Have you tried any of these out before for yourself? Do you have any of your own that you would like to include on this list? Tell us all about your thoughts and experiences in the comments section below!