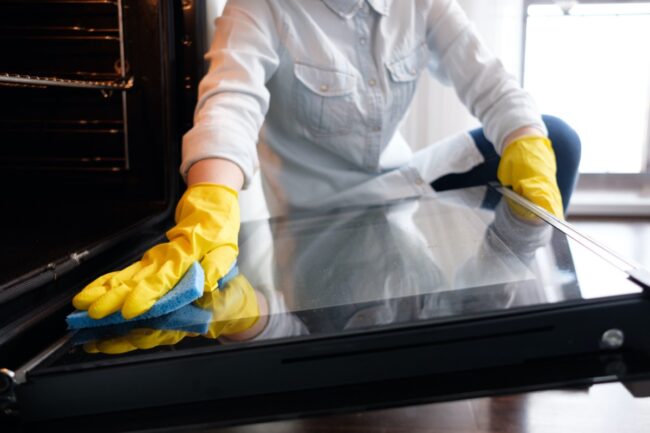 Is the inside of your oven clean and tidy, but you don't notice it because your oven window is so messy? Here's how to restore your oven glass to sparkling clean.
You guessed it. After cooking a large dish, especially if you've been cooking it for months on end, many times a week, chunks of grease and other indistinguishable items from the food can fog up the glass of the oven window.
You can leave it in place for a while and it will be fine, but eventually you will need to clean the oven window glass. This is not only for cosmetic reasons, but also to preserve the performance and longevity of the appliance.
But the problem is this. Cleaning the oven glass is not easy, especially if it has been some time since the last time it was cleaned. In fact, the most difficult part of cleaning an oven range, whether a conventional or convection model, is getting the glass really clean. Especially if you have a self-cleaning model (which, sadly, rarely has a glass cleaning feature), cleaning the glass may be more difficult than cleaning the interior of the oven.
Cleaning oven shelves is also relatively hassle-free, as there are relatively hassle-free ways to clean them.
Compared to these tasks, cleaning the glass of a brown oven door is quite a bit more labor intensive. The good news is that it is a complicated job and you probably already have all the supplies needed for the job. Here's how to best clean the glass door of your oven range.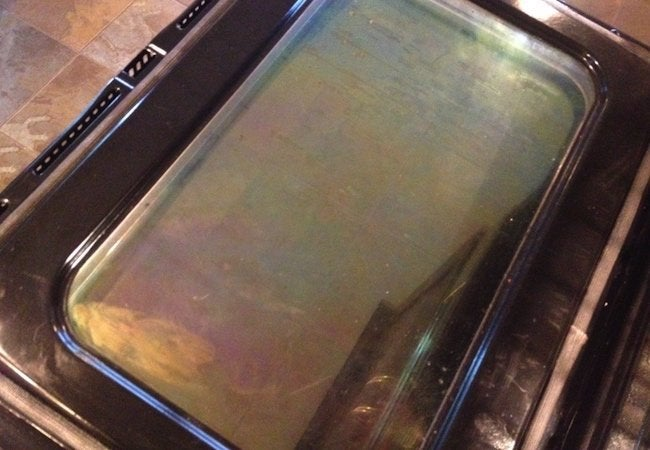 Step 1: Prepare the inside of the oven.
Open the door completely, make sure the oven is turned off, and remove any blackened food debris. As you work, pay special attention to the area between the oven glass and the door. A handheld vacuum cleaner can easily pick up debris in the crevices, but a damp cloth can also be used in an emergency.
Step 2: Mix and apply oven glass cleaner.
First, mix baking soda and water to make an effective natural cleaner. In a small bowl, mix half or one cup of baking soda with enough water to form a thick paste similar to shaving cream. Apply the paste evenly to the oven glass, adding a little more water if necessary to even it out. Let stand at least 15 minutes.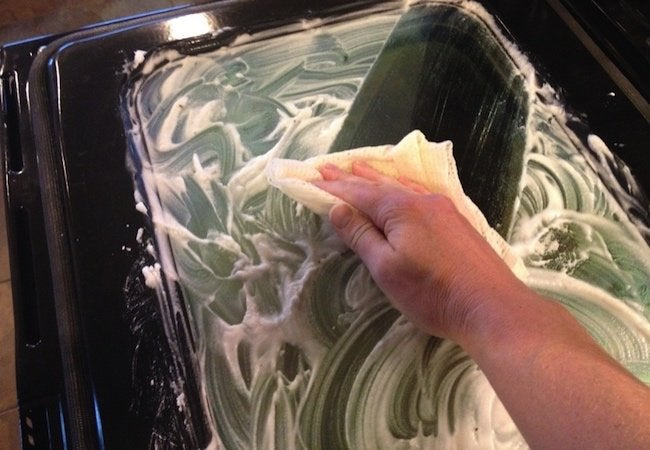 Step 3: Wipe off the paste from the oven glass.
Allow enough time for the paste to remove the stain, then wipe the glass with a clean, damp microfiber cloth (any rag will do, as long as it is new). Next, rinse the glass thoroughly with water. Then wipe dry, being careful not to leave any baking soda residue.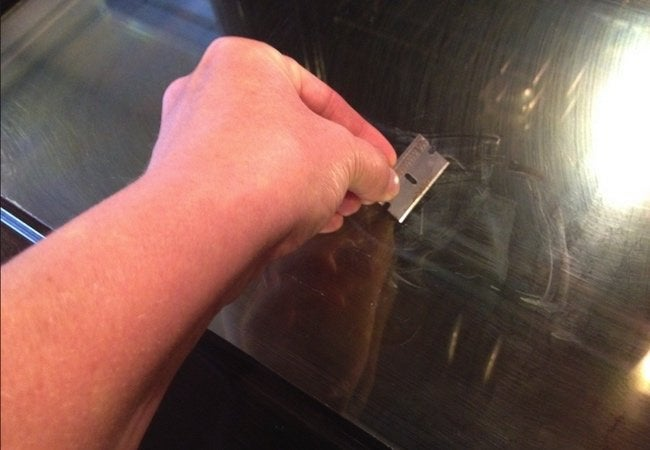 Step 4: Scrape off any remaining dirt with a razor.
Depending on the condition of the oven door at the start, there may be one more step to tackle. If burnt grease stains remain stubborn after wiping with paste, gently scrape them off with a razor blade. Finally, vacuum up any debris (or wipe with a cloth) and wipe the door again with a clean, damp cloth.
Step 5: Stubborn grease stains should be treated with a strong oven glass cleaner.
In extreme cases, for example if you live in a rental property and the oven windows have not been cleaned in years, natural cleaning paste may not be strong enough. To clean the glass, you may need to opt for a strong, commercial chemical-based oven cleaner such as Rejuvenate Glass and Ceramic Cooktop and Oven Cleaner and Restorer or the popular Easy-Off. If you choose to follow this method, be sure to follow the product label follow the directions on the product label. However, most people can restore oven glass with a timeless combination of baking soda and water.
Final Thoughts
Show of hands. Who likes to clean their oven? Yes, I do. Not at all. But it's something that has to be done, not just for looks, but for the continued function of the oven. And if it must be done, it should be done quickly, efficiently, and effectively. With expert advice and careful guidance, we offer step-by-step instructions, process details, and preferred product suggestions to help you manage this unpleasant task from preparation to cleanup. You too could have super clean oven glass.
Frequently Asked Questions about Cleaning Oven Door Glass
Do you have any other questions about oven door glass cleaning? We have covered quite a bit of information on oven door glass cleaning, but if you would like to learn more, please read on.
Q. How do I remove baked-on grease stains from the oven glass?
First, apply a paste of baking soda and water to the open oven door. Leave it on for 15 minutes and then wipe it off completely. Stubborn baked-on grease stains can be scraped off with a razor blade. If the stain remains, you may have to resort to chemical cleaning. With a little ingenuity, you can have a clean oven range window in no time.