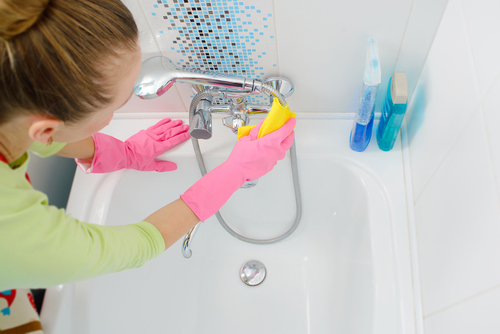 We all have one cleaning chore that we really hate doing. Some people hate cleaning the toilets, and others hate dusting. But for me, removing grime and mildew from the bathtub is my worst nightmare. It's not only tedious, but it kills your back and knees. But with this easy and simple solution, cleaning your bathtub will be too easy you'll even enjoy doing it.
If you want the cleanest bathtub easily and fast, all you need is some distilled vinegar and the blue Dawn dish soap. Mix together equal parts to create a solution but before you do so, slightly heat the vinegar. Pour the solution in a spray bottle and shake. It will be a little bit thick, but that's good. Spray the solution all-around your bathtub and let it sit for about an hour. Then use some water to rinse it. And guess what, you will need to do zero scrubbings!
This combination of vinegar and Dawn dish soap can also be used as a toilet cleaner, carpet spot cleaner, surface and wood floor cleaner.