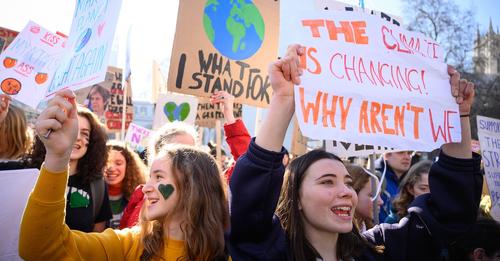 A year ago, school-aged children across the country were staging walk-outs and protests to pressure their representatives to support meaningful gun legislation.
Now, this generation that is becoming known for its social and political activism is once again planning a massive nationwide protest: This time, for climate change.
On Friday, more than 400 protests are planned across all 50 states, with an estimated 100,000 students expected to participate. If you're a parent of one of those protestors, you may be wondering what your role should be.
Start the dialogue
If your child has heard about the protests at school, or about climate change in general, they are likely going to have some questions. If you've been wondering how or when to start talking with your kids about climate change, now is the perfect time to have that conversation.
Ask them if they've heard about climate change or what they know about it. Answer any questions they have about the issue itself or the upcoming protests. Tell them this is something that will directly impact their generation but that even though they're still kids now, their voices carry weight and those in office are taking notice.
Help them get information
Kids may be wondering about the consequences of being involved in the protest, such as whether they'll get in trouble with you, disciplined at school or whether this will negatively affect their permanent school record and college admission.
You can let them know that while you would never support them skipping school for most reasons, you are supportive of their right to protest this issue and they won't be "in trouble" with you.
You can also share this information with them that details their rights, as well as some protest safety tips.
Give your support
Lastly, and perhaps more importantly, encourage them. Tell them you're proud to see them using their voice and their actions for positive change. Buy them some sign-making supplies and ask them if there is anything else you can do to help.