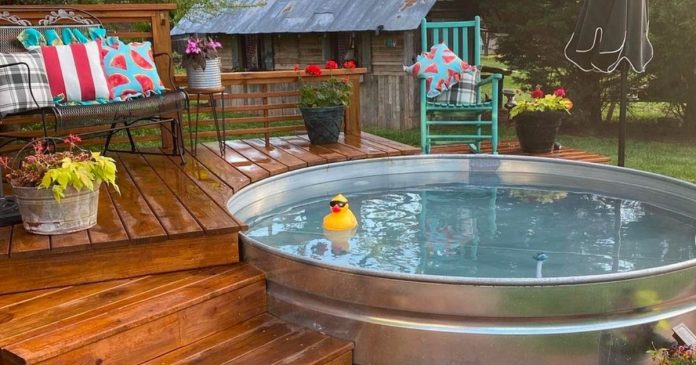 A few years ago, my husband and I asked a company to come out and give us a quote for an inground pool. When they revealed the price, I was shocked. We quickly decided no, the inground pool could definitely wait. But I have to admit, these hot summer days have me longing for a pool. If you don't have the budget or space for a conventional pool, I have good news for you. People are making small pools with holding tanks, and they're as cute as they are affordable.
The installation of an inground pool can easily cost $80,000 to $100,000 or more. Our friend the storage tank costs between $200 and $500.
Some people choose to install their holding tank as an in-ground pool, while others leave it above ground or build it into a deck. There are many options.
You can even install a filter and pump to your stock tank pool to keep the water moving, clean, and fresh.
Don't like the metal look? Paint the outside of your stock tank whatever color or pattern you'd like!
I don't know about you, but these photos have me loving the idea of a stock tank pool! Even if it's just temporary, a stock tank pool is a great and affordable way to cool off this summer. I think I'll be spending this week checking out livestock stores to see if we can get our hands on one. Happy floating!