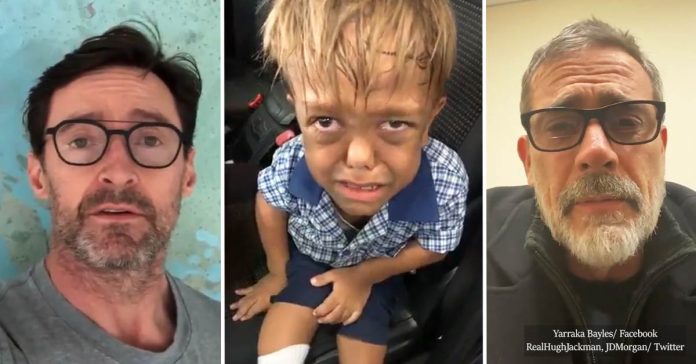 A concerned Australian mom is desperately trying to spread disability awareness after her nine-year-old boy came to her crying and talking about killing himself.
Yarraka Bayles posted a video on social media of her son, Quaden, weeping in distress. Quaden was born with Achondroplasia, which is a form of Dwarfism .
"I've just picked up my son from school, witnessed a bullying episode, rang the principal, and I want people know, parents, educators teachers, this is the effects that bullying has, this is what bullying does," the mother can be heard saying.
When she got to the school to pick up her son she saw a girl "patting him on the head like a puppy", she told SBS.
In the footage, the Aboriginal boy, who was a pupil at Brisbane's Carina State School, kept telling his mother that he wanted to die.
9 year old wanting to commit suicide due to being bullied. ???? pic.twitter.com/DysTrmlaiD

— YouDontNeedToKnowMyName (@S11E11B11A) February 20, 2020
Yarraka made clear that she shared the crushing video to show how bullying can affect a child, and because she did not know what to do about it.
She said that her son is going through such experiences on a regular basis and that she had to watch over him all the time.
According to the news outlet, the little boy had first attempted suicide three years ago when his grandfather passed away, and that there had been multiple attempts ever since.
"It's the constant bullying, the name-calling, obviously pointing out his difference so now we have a … severely suicidal child who's sick of the bullying that is [happening] every single day that he attends school or is in public."
"I feel like I'm failing as a parent, I feel like the education system's failing."
Bayles did not resort to blaming the girl involved in the incident or the school itself. However, she thought that the system should be improved.
"That would solve so many of the problems … it would protect the other kids with disabilities and help make them feel safe."
After the last incident, Quaden was removed from class and is now likely to be home-schooled.
The video has since gone viral and many people from all over the world have expressed their support for the boy, including Hollywood actors Hugh Jackman and Jeffrey Dean Morgan.
"Quaden – You are stronger than you know." The "X-Men" star told him in a video, "and no matter what, you've got a friend in me."
Meanwhile, "The Walking Dead's" Negan was also moved to express his support.
"What I want you to know is that you have friends — me included. I am your buddy," he said in a video. "You haven't met me yet, but we'll see if we can change that. Maybe your mom can DM me."
"You have a bunch of friends out here, out in the world that you haven't met yet. We're here, we got your back. You need to know that. It'll get better."