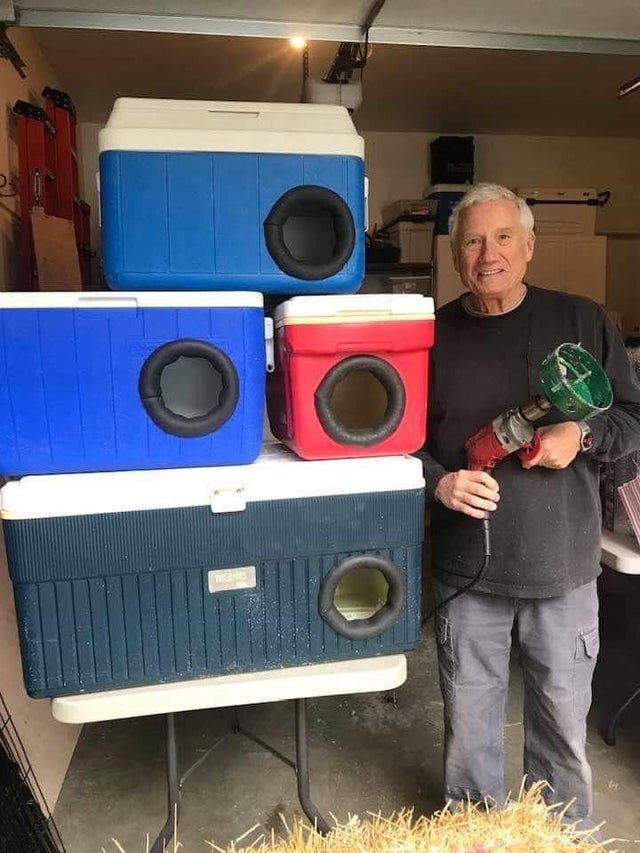 OGDEN, Utah – A Utah man's passion project is gaining popularity, turning old coolers into warm, insulated spaces for feral cats to take refuge this winter.
"Normally the cooler keeps things cold. We're going to use it to keep animals warm," Philip Rogich said with a smile.
It's a do-it-yourself project that only takes five minutes, a little elbow grease and a few cheap supplies.
"I actually have a 6-inch drill bit and then once you drill the hole you just use some pipe insulation to pad it," he said as he pointed to a small opening in the lower right-hand corner of an old cooler.
Pulling out his drill and materials, he starts with an old cooler.
"Everybody's got a cooler in their garage that they're not using," Philip said.
Holding it steady, he drills down through the first layer of plastic, a layer of Styrofoam and then a final layer of plastic.
"I use three-quarter-inch pipe insulation," he said as he lined the fresh opening with the adhesive-backed foam.
"And then on the inside you just use straw," Philip said as he pulled straw from one cooler to his now finished project. "Straw has been used for hundreds of years as bedding for animals and that's because it has the ability to dry out."
Just like that, his project is complete.
CLICK NEXT PAGE BELOW TO CONTINUE READING …