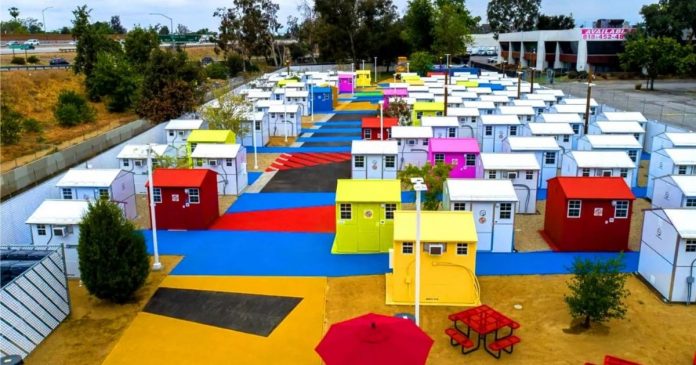 Tiny houses are wonderful residential structures in their own right. But more and more architects and developers are creating tiny home communities for social good, and it gets even better! Los Angeles-based Lehrer Architects just announced the opening of Alexandria Park Tiny Home Village in North Hollywood. This colorful tiny home village is not only bright and cheerful, but it was also designed to accommodate some of Los Angeles' huge homeless population.
As reported by The Architect's Newspaper, Alexandria Park Tiny Home Village is the second tiny home village designed and built by Lehrer Architects in collaboration with the Bureau of Engineering. Alexandria Park Tiny Home Village consists of 103 single and double units, as well as a number of other common structures and outdoor spaces. In total, the tiny home village can house up to 200 homeless people from Los Angeles.
The project site is described as "edge space," an unused section of land near the highway. While other developers who wanted to build more traditional structures considered this space unusable, Lehrer Architects knew it could be adapted and used for a functional community of small homes.
In addition to the tiny homes, Alexandria Park Tiny Home Village serves residents three meals a day and provides access to shared showers, bathrooms, storage, dining and support services. Each unit is equipped with a rollaway bed, heat, air conditioning, electrical outlets and locks. While not long-term housing, these homes provide a safe and valuable transitional space between the street and more permanent housing.
Although Alexandria Park Tiny Home Village is not intended to be a long-term housing solution, there is no maximum length of stay for a resident. So, as long as residents respect the village's no alcohol policy and nightly curfew, they are welcome to stay until they find a longer-term solution. "It's exciting to be here using our medium to give, develop and invent ways and processes to transform LA into a fully hosted city," said Michael B. Lehrer, founding partner of Lehrer Architects. "Making a difference is a joy of citizenship. We applaud Lehrer Architects and other firms that are creating similar projects: these developments are truly making a huge difference in the lives of homeless people, and I hope more projects like this continue to emerge.