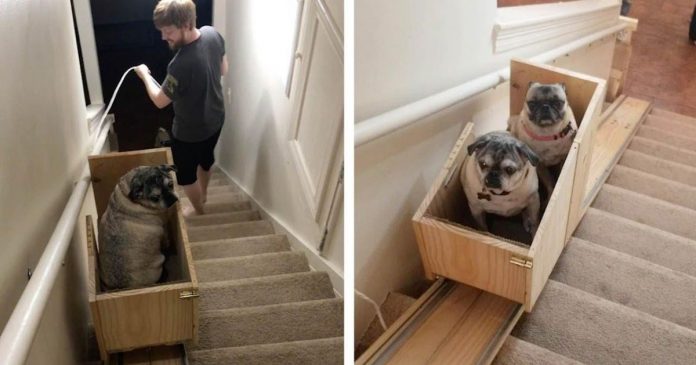 Our dog is as much a part of our family as any of us humans. We always make sure he gets the best possible food, toys and care… and he's even allowed to be on all our furniture, no matter how smelly it is! If you think I'm crazy, I happen to be in good company. A woman in Louisiana realized that her three elderly rescue dogs were having trouble getting up and down the stairs, so she did what any dog-loving mother would do: she invented a solution!
Sonya Karimi has three older pugs: George, Bodhi and Sam. When she noticed that her mobility was starting to decrease, she and her partner Zach came up with an ingenious solution: they built a staircase elevator so that the dogs could continue to go up and down the stairs. And since they had more time to spend in their forties, the couple decided to take on the project themselves..
The design is quite simple. The dog enters the small wooden box, Sonya or Zach close the door, then press a button that makes the dogs go up and down the stairs slowly at will. From conception to completion, the project took Sonya and Zach about three months. They also benefited from the help of Zach's parents, who are retired engineers!
The dogs love their new elevator. And it's not just the older ones, even the couple's young dog, Emery, loves to walk. The dogs are in great shape with their new machine – they are waiting for their turn at the top and bottom of the stairs to climb the "doggie-vator"! Watch the video below to see the "doggie-vator" in action:
CLICK NEXT PAGE BELOW TO CONTINUE READING …