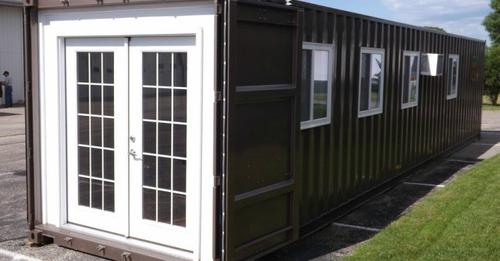 Amazon, already a dominant force in various consumer markets, is further expanding its offerings. In addition to books and groceries, they've now ventured into the realm of housing, and not just any housing but tiny houses. The latest addition to their inventory is a 320 square foot shipping container home, available for purchase and delivery right to your doorstep, albeit with an additional shipping fee.
The rise of shipping container homes is not a new concept for those seeking a minimalist lifestyle. These containers are abundant, cost-effective, available in various colors, and can be easily adapted for different uses, including housing.
MODS International, the company behind this particular Amazon offering, provides more than just a basic container. Priced at $36,000, this tiny home comes fully furnished and ready to occupy. It's a brand-new container, not a recycled one, complete with a bedroom, kitchen, shower, toilet, and sink.
Inside, you'll find a cozy living room with a sofa and two lamps. Buyers have the option of choosing between bunk beds or a queen-sized bed for the bedroom. The kitchenette is compact yet functional, featuring a microwave, mini-refrigerator, and a seating area.
The entire house boasts laminate flooring and strategically placed windows on both sides to maximize natural light. While a stove is not included, there's room to install one if desired, or you can opt for a hot plate.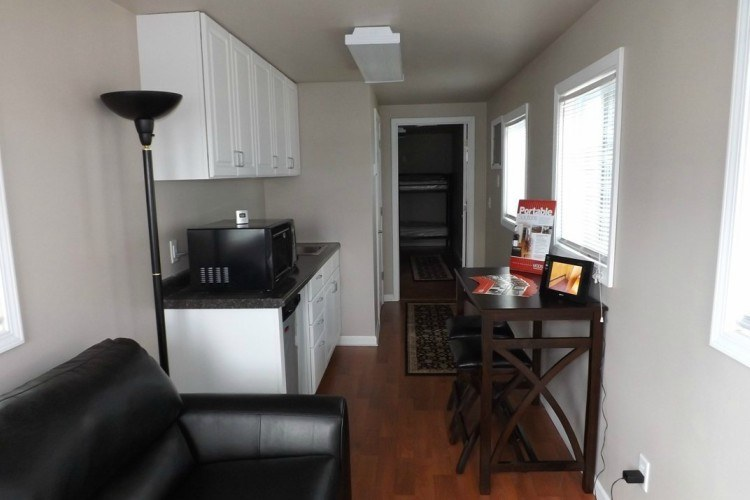 Concerned about the climate? This tiny home is well-insulated to withstand cold winters and comes equipped with both heating and air conditioning units. Double patio doors allow you to invite in the refreshing breeze and warm sunshine.
These shipping container homes are not limited by geography; they can be shipped worldwide and are designed to endure a range of weather conditions, from harsh Minnesota winters to tropical climates. As for utilities, water, electrical, and sewer connections are pre-installed on the container, though it's your responsibility to ensure access to these necessities. Customizations and special orders are also available for those seeking larger units or specific modifications, such as accommodations for disabled individuals.
Prime customers seeking free shipping may be disappointed, as shipping costs for this substantial 2,000+ kg house can be as high as $4,000. However, it's important to note that this prefab home differs from other DIY cabin-like structures previously available. It arrives at your location built to code, requiring only a proper foundation and utility hookups.
If you're aiming to save a few bucks and don't mind a bit of DIY, there's also a furniture-free option available. Currently, MODS International offers this particular shipping container model on Amazon, but given the increasing popularity of tiny homes, it's not far-fetched to imagine that Amazon may expand its housing offerings in the future.
What are your thoughts on this product? Would you consider purchasing and living in a home like this?
source of the pictures : tip hero , MODS via Amazon