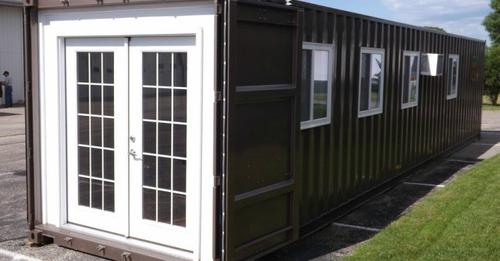 Amazon, which already dominates the home goods market, continues to strengthen its offerings. You want books? They have them. You want groceries? They have them. Want a home? They have that too.
Do they? A house!? Just when you thought Amazon had run out of stamps to put on things, they jumped into the housing market. Specifically, tiny houses. They recently added a 320 square foot shipping container home to their inventory that you can order and have delivered to your door for an additional fee.
You probably already know that shipping containers have become a viable option for those looking to make the switch to tiny house living. They are plentiful, inexpensive, come in a variety of colors, and can be adapted for shipping.
MODS International, the company selling this home on Amazon, offers more than just a basic container. With a price tag of $36,000, it comes furnished and ready to move in. It's a brand new, unrecycled shipping container with a bedroom, kitchen, shower, toilet and sink.
As pictured, the living room has a sofa and two lamps, and buyers have a choice of bunk beds or a queen bed for the bedroom. The quaint kitchenette includes a microwave, mini-refrigerator and sitting area.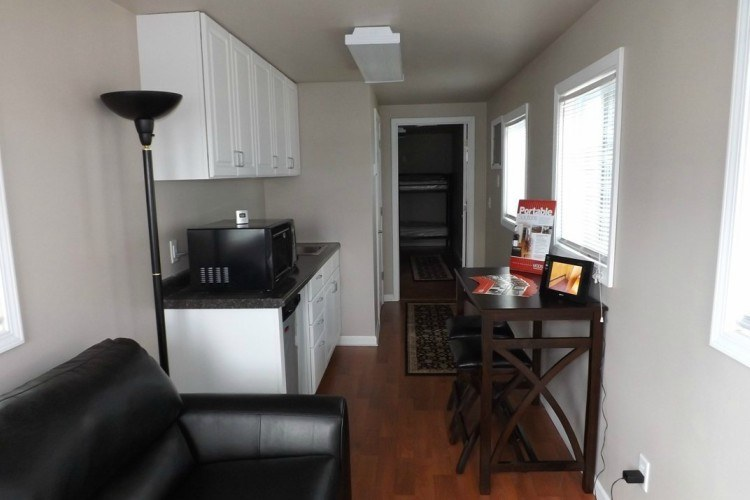 Laminate floors are laid throughout the house, and you will find windows on both sides for natural light. Although a stove is not included, you can install one if you wish. Some people may simply prefer a hot plate.
If you're wondering about the temperature, the house is insulated to withstand winter temperatures and is equipped with an air conditioning and heating unit. There is also a set of double patio doors to allow the breeze and sun to enter the home.
They can be shipped worldwide and are designed to withstand weather conditions ranging from Minnesota winters to tropical climates. So how do you make it work?
Water, electrical and sewer connections are installed on the container, but it is your responsibility to provide access to these necessities. Customizations and special orders are available if you want a larger unit or prefer modifications, such as for a disabled person.
If it's free shipping you're looking for as a Prime customer, sorry guys, it's not available. Shipping costs can be as high as $4,000 to ship the house, which weighs over 2,000 kg.
Before this prefab home was available, you could already buy a small cabin-like structure that was a few hundred square feet. The difference? You have to assemble them yourself. This shipping container is built to code and just needs a proper foundation, utilities and sewer access when it arrives at your house.
But hey, if you're looking to save a few bucks, a furniture-free option is also available. Are you dreaming? MODS specializes in shipping container homes, but so far, that's the only model it offers on Amazon. As tiny house fever continues to spread, we wouldn't be surprised if Amazon offers more in the future.
What do you think of this product?
Would you buy and live in a home like this?