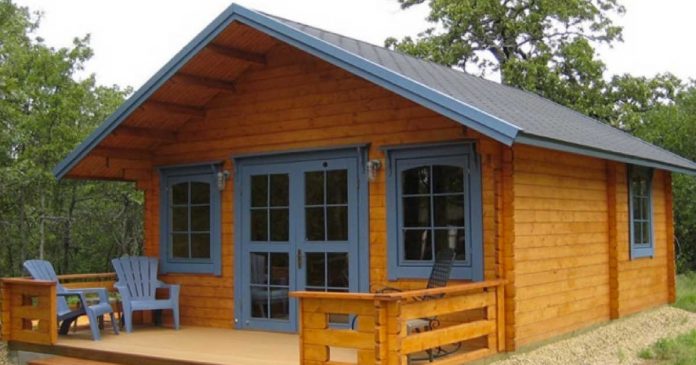 The craze for small houses started a few years ago and it doesn't seem to be diminishing any time soon. With the many programs about small homes being broadcast on networks like HGTV, people are shrinking in favor of a simpler, more mobile lifestyle. You may be surprised to learn that you can even buy a number of small homes in the Amazon.
We have compiled 10 of the best for you to see – I would honestly consider moving into a small house after seeing them!
1. Allwood Cabin Lillevilla Weekender
This lovely cabin is made of slow-growing Nordic spruce and has an optional covered terrace. For $3,400, this lovely and comfortable cabin can be yours.
2. Allwood Arlanda Garden House Kit
This small contemporary house is easy to assemble, has huge windows that let in tons of natural light, and would make a perfect home office. This 146 sq. ft. house sells for $7590.
3. Allwood Claudia Garden House
This traditional style cabin of 209 square feet is spacious but comfortable. Paint this beauty in the colors you want and bring it in for $7,290.
4. Allwood Nordica Cabin
This lightweight, airy cabin has an interior space of 191 square feet with a 95 square foot loft. Sold for $16,950 with free shipping.
5. Allwood Timberline Cabin
This charming hut would be the perfect place for a weekend getaway. It is possible to change the size of the rooms and add or remove rooms for this model, and it sells for $34,900.
6. Allwood Ranger Kit Cabin
This little porch is really adorable. This uniquely designed cabin includes a 259 sq. ft. main floor and a 168 sq. ft. loft. It can also accommodate solar panels quite easily and sells for $19,990.
7. Timber Frame Cabin Kit
This 725 square foot cabin has a handmade wood frame and tongue and groove floor for the roof and attic. The possibilities of making this $59,321 cabin yours are endless..
8. Lillevilla Allwood Kit Cabin Getaway
This beautiful cabin has 292 square feet of living space with an additional attic. You can paint it and add it to a porch to make this cabin yours. Retailed for $18,800.
9. Allwood Bella Kit Cabin
The best feature of this light and airy cabin is the possibility of having a wrap-around porch. The tall windows bring an element of the outside in, and currently sells for $17,800.
CLICK NEXT PAGE BELOW TO CONTINUE READING …