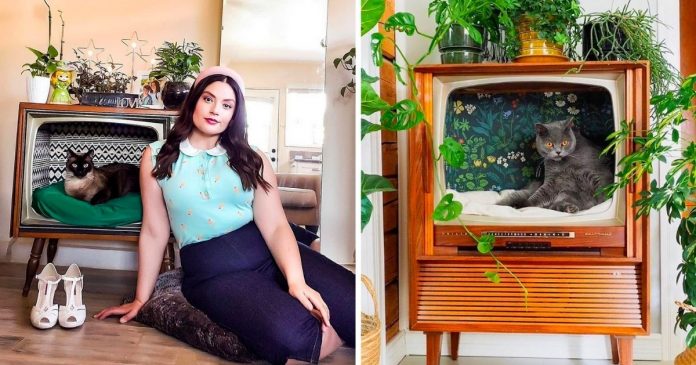 Do you remember that long before the flat screen TVs we have now, we had these very square TVs with the dials on the front? Today you don't see many of them anymore, but if you see one by the side of the road or buried in the corner of an antique store, don't let it pass! Creative people have turned these old school TVs into adorable retro cat beds.
Seriously, how cool is that? It seems this creative cat lover removed the internal parts of the TV (the glass, the wires, etc.) and applied a nice wallpaper to the back wall. Settle into a cuddly bed, pillow or blanket and your cat will have a comfortable corner to relax in.
Here's another furry friend who has their very own retro-TV-turned-cat-bed.
I don't know about you, but this is definitely the most stylish cat bed I've ever laid eyes on.
I love the addition of the "Meow Time" script.
CLICK NEXT PAGE BELOW TO CONTINUE READING …