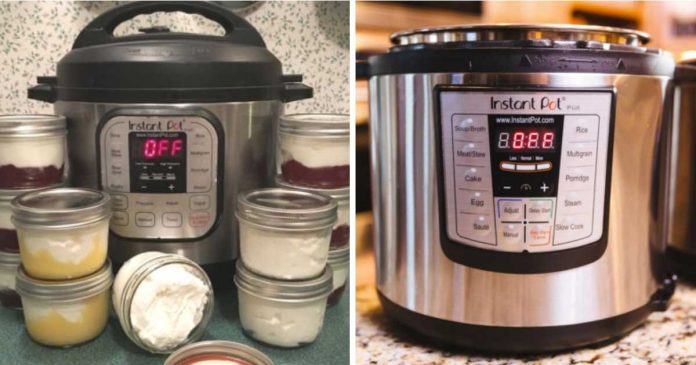 If you haven't heard of the Instant Pot yet, you are in for a treat. These awesome kitchen gadgets are like slow cookers, except they cook food in a fraction of the time. There are tons of great recipes that you can prepare with an Instant Pot. And we're going to share with you some of the most original and amazing recipes!
1. Apple Cider
Fall is here, which means that it's finally time for hot apple cider. This Instant Pot recipe is as simple as it is delicious.
2. Cheesy Jalapeno Bread
Yes, your Instant Pot can even make bread! This recipe for cheesy jalapeno bread will make you never want to buy the store-bought version again.
3. Chocolate Lava Cake
Making dessert doesn't have to be tedious. This easy-as-pie Instant Pot recipe is sure to be a huge hit.
4. Strawberry Jam
Make jam in a fraction of the time with this super simple recipe! Serve with toast and poached eggs for the perfect breakfast.
5. Iced Tea
What's better than a glass of homemade iced tea? Not much. This simple recipe requires just a few ingredients and will last for weeks.
6. Greek Yogurt
Greek yogurt is certainly not cheap, but this creamy, delicious recipe will definitely save you a few bucks. Store in jars and grab on your way out the door for a quick breakfast or snack.
7. Popcorn
Can you believe that you can make popcorn using an Instant Pot?! This recipe is great for people (like me!) who don't have a microwave.
8. Hard-Boiled Eggs
Making hard-boiled eggs has never been so easy! This Instant Pot recipe makes hard-boiled eggs that are perfectly cooked and extremely easy to peel.
9. Cheesecake
Never in a million years would I have thought that you could make a cheesecake in a pressure cooker. This Instant Pot recipe has proved me wrong!
10. Corn On The Cob
This recipe for corn on the cob really shows that an Instant Pot can make just about anything. Corn on the cob only takes three minutes to cook when you use an Instant Pot.
noted that : *We have no partnership with nor were we paid by Instant Pot to write this article. We simply think it's a great cooking invention capable of making tons of great recipes!