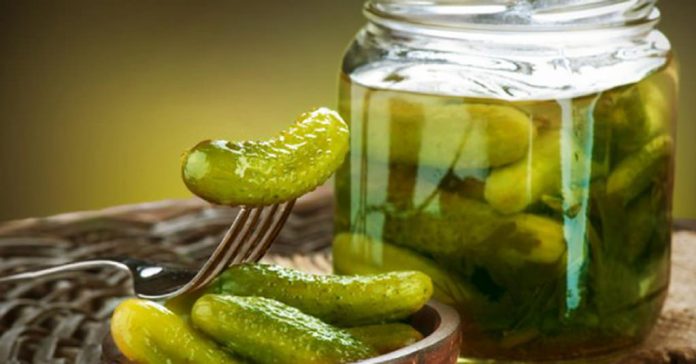 "Good ideas, like good pickles, are crisp, enduring, and devilishly hard to make."
— Rushworth Kidder
The moment you open your fridge and find out the jar of pickle has nothing but pickle juice, is a painful moment!
I mean yeah, sometimes you just wish to find a useful tip to use that juice without wasting it, such ingredient needs to be used over and over until its last drop.
Ladies, you may get your pen ready to take notes! I collected so many tips for you to use your pickle juice, good news right? You'll get surprised of how useful these hacks are!!
Set your self free to jot everything down, colorful pens will help you organize things up and why not draw some pickle at the end of the page?
And always remember, a good cook looks constantly for new hacks and tips. Personally, I'm addicted to collecting such things, and of course, sharing them with you guys!
Different uses of pickle juice
Pickle juice is a great replacement for vinegar
Ladies, believe me! Pickle juice is a great replacement of vinegar in case you didn't have any, or you can simply use pickle juice in salads, soups, dressings and a lot more recipes. It'll add a unique flavor to the dish, try it in your next salad, you'll absolutely adore it.
Pickle juice in bubbled egg
Already tired of egg's same taste? Add some pickle juice to your bubbled egg and you'll love how it tastes!
Macaroni & cheese & pickle juice?
Seems little weird right? But pickle juice makes macaroni and cheese alive again with only a dash! Absolutely a hint!
Your small garden needs to be taken care of, add pickle juice to your soil around your plants.
Also, pickle juice kills weed (a very non-expensive good way to get rid of them).
New flavors, new delicacy!
Add a splash of pickle juice in the following recipes, they'll taste better!
Fresh vegetable juice
Hummus
Poached fish
Meatloaf
Macaroni & cheese
Boiled potatoes
Color your flowers!
If you are a flower lover, make your garden happy and pour some pickle juice to your flower beds. They'll turn blue after a while. Cool isn't it?
I know it may be hard to accept it, but pickle juice is full of nutritive (3.5 ounces of pickle juice contains 0.4g of carbs, 1 to 5% of the recommended dietary intake (RDI) etc.)
Also, there are many health benefits of drinking pickle juice suck as:
It helps you stay hydrated for a long time.
It's considered as a fat-free recovery aid.
It won't bust your budget.
It contains antioxidants.
It may support your weight loss efforts.
It helps control blood sugar levels.
It soothes muscle cramps.
It boosts gut health.
It burns belly fat.
It is totally safe to drink, good for your gut and its weight loss trend (just don't drink it too much).
RED FLAG:
CLICK NEXT PAGE BELOW TO CONTINUE READING …