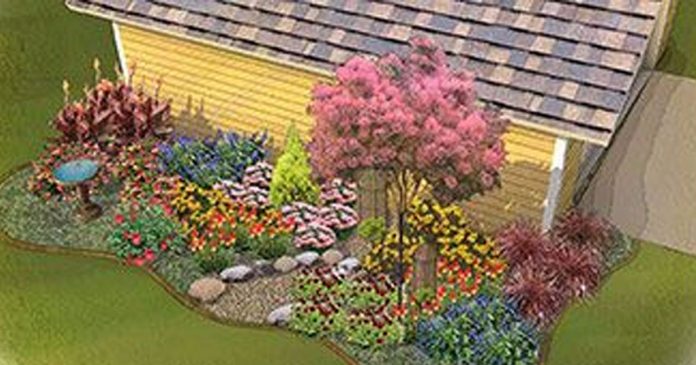 Whether you've got a new house or you just want to update your property's look, predefined garden plans are a simple way to get the look you want without searching all the way. Good plans include good combinations of flowers, good sizes, and ideal planting areas.
The beautiful garden plans presented in this article are all free! Check out these 13 plans showcasing the great designs of your next garden project and save hours of planning and research:
1. Curb Appeal
The most neglected zone of your garden is grass before the closest of the road. Use this area to create a beautiful garden that will give your home an even more attractive appearance! Choose a range of bright colors like purple, yellow and green for a sensational factor. Get the free plan from 
Better Homes and Garden.
2. Water Garden
This garden is perfect for small yards and even apartments. This beautiful garden fits perfectly on a balcony, a terrace or a patio. Combine some of these water gardens in matching (or perfectly incompatible) planters to achieve a beautiful water feature. Get the free garden plan from 
Country Living.
3. Kid-Friendly Vegetable Patch
Hit the gold with this beautiful, functional and fun garden for the whole family. A mix of tomatoes, pumpkins, cucumbers, carrots, and peas can virtually eliminate your grocery budget. The little ones will appreciate giving a helping hand by watching the fruits (or vegetables) of their work grow. Get the free detailed plan from 
Gardener's Supply Company. 
​
4. Bigger is Better
If you are ready to undertake a large-scale landscaping/gardening project, this amazing design will take you a long time. Designed to resemble a wheeled trolley, the beautiful gardens surround the entire house and provide an oasis of flowers and shrubs. The plans can be adapted to different climates. Check out the free outline from 
Design Gardens
.
5. Pet-proof planting
If you have a dog or a cat, having a nice garden in the back can be a bit of a challenge. This adorable garden gardener puts flowers within reach of pets. The height also provides another cool design element to the courtyard decor. Check out this plan from 
Morning Chores.
6. Butterfly Garden
If you like to watch the colorful wings of a butterfly, this garden is the ideal plan for your garden. Stuffed full of beautiful flowers, butterflies (and maybe some hummingbirds) will flock to this magnificent sight. Check out this design from 
Garden Center Ohio
.
7.
 Fence-hiding plans
If you want to block the unsightly view of a chain-link fence, the right gardening plan will help. Instead of going to your neighbor's yard, you will have a multitude of colorful flowers.
Lowe's 
provides a few different plans based on the region where you live.
8. Low-maintenance Garden
You can still grow beautiful plants and flowers even though you live in a dry area. This plan from 
Better Homes and Garden
includes drought-resistant plants. A blend of ornamental grasses and perennials make it an attractive all year option.
9. Rose Garden
If you have a small space in your yard, you can still truly breathtaking display of your favorite flower with this free Country Living package. Your beautiful roses will be exposed in their entirety, surrounded by simple hedges and flowers Try mixing rose colors for a unique twist on this plan.
10. Salsa Garden
You can plant the main ingredients for your salsa in your garden. Plant tomatoes, peppers, hot peppers, basil, scallions, cilantro and parsley in a beautiful space. It's nice to look at and excellent for sourcing natural ingredients. Get the free plan 
here
.
11. Spiral Herb
This spiral herb garden is the perfect solution if you have a small yard or you just need to plant some herbs in your property. This space-saving design is an excellent design to add life to your garden. If you're not into weeds, this design works perfectly with flowers too.
12. Front-yard Beauty
This beautiful garden will make your return home even more enjoyable. With a beautiful range of colors and different flower styles, this design packs quite the punch-call. Plant this beauty near your fence to give an extra punch. The variable height of plants and flowers gives 
this garden
 the perfect balance.
13. Garage Garden
Use the space around your garage to add a little more glamor. A combination of plants, flowers, and small stones transforms this tasteless space into a beautiful place to enjoy a little more of Mother Nature. The use of decorative stones can add an extra element of design while maintaining functionality in the yard.