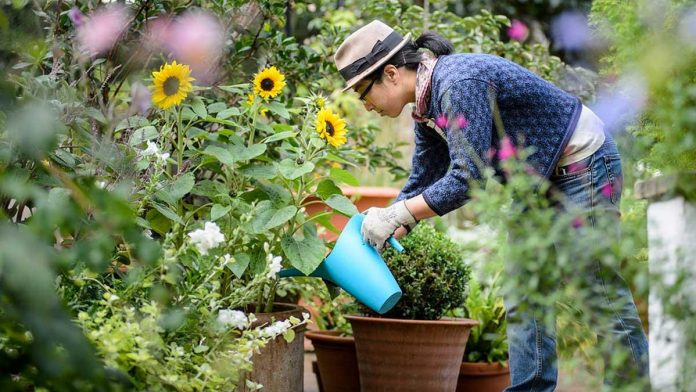 We all want our gardens to look their best. But gardening isn't easy. Sometimes we spend plenty of our time and money on seeds and plants to see them fail. If you want to see them flourish and grow the way you want them to, you need to take good care of them and follow a strict routine to help them be their best.
Gardens need water, sun, and care to grow, but you also need to make sure to keep them healthy. We have nine tips for you that will help you grow and maintain the garden of your dreams, and keep it best looking and healthy.
1. Use Liquid Compost
If you want to keep your plants well-nourished, look for good compost. You don't have to keep a bunch of it in your yard, instead, use leftover cooking. Making a puree out of your leftover food and some water and using it as a liquid compost will give you the best results.
2. Use Epsom Salt As Fertilizer
Epsom salt is a good source of calcium and magnesium, and they are both important for plant growth. If you have tomatoes in your garden and you want to keep them healthy and prevent blossom and rotting, try mixing a tablespoon of Epsom salt with soil. But be careful, you shouldn't let it touch the plant directly though.
3. Mulch Around Plants
A layer of mulch around the plants will increase water retention and will reduce weeds between plants. Just prevent the mulch from touching the stems of the plants using bark chips, straw or grass clippings.
4. Use Newspaper To Block Weed
To control weed, spread a layer of newspaper on the ground before placing mulch. This will help to smother all germinating weeds. The newspaper will collapse during the season and may be inserted into the ground in the fall. According to the Permaculture Research Institute, most newspapers are printed with a perfectly safe soy ink for the garden
5. Protect Tender Plants
To give tomatoes and peppers enough time to grow sturdy plants and bear abundant fruit, many gardeners try to plant them as soon as the soil temperature allows. Which means that at the beginning of the season, they are exposed to cold nighttime temperatures. Protect these tender plants by creating individual hot houses with milk pots. Cut the bottom of the clean pots and place them on the plants, pushing the plastic lightly into the ground to hold them in place.
6. Creative Seedling Pots
Save money while adding nutrients to the soil by growing seedlings in creative seedling pots. The citrus peels give good results for the seeds, and all can be transplanted directly into the soil. Over time, it will decompose to feed the plants as they grow.
7. Prevent Pest Problems
Start investing time and effort into preventing slug and snail problem before it occurs. Spread crushed eggshells around the plants to prevent slugs and snails from interfering with them. Sharp edges prevent them from getting too close and causing damage.
8. Encourage Bees
Bee stings are unwanted, but the truth is that, according to Bees Matter, 1 mouthful of food we eat out of 3 is only possible because of the pollination of plants by bees. Encourage the honey bee population in your garden by growing plants that are good food – ornamental plants with flowers, wildflowers, berries, fruit trees – and try to avoid killing them, allowing them to buzz without being disturbed.
9. Work The Soil
Although we only see the aerial part of the plant, what is below the surface of the soil is just as important, if not more, for healthy plant growth. Working the soil before planting (and even periodically during the growing season) will increase soil aeration and water penetration, and break all large clumps, allowing the roots to grow easily outward.