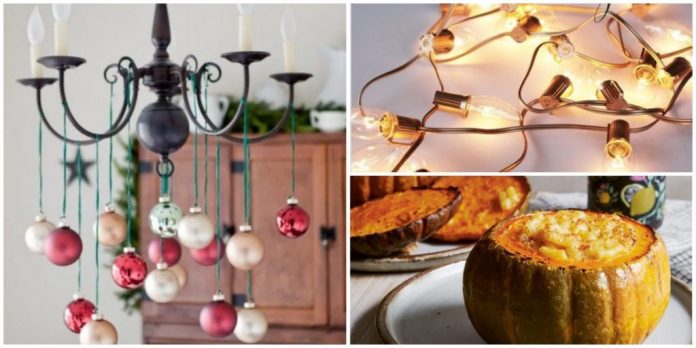 The end of the year is one of our favourite times. Everyone feels the festive spirit, the streets and houses are beautifully decorated and the weather is incredible. What's not to love about the holidays? If you are visiting a family member this year, you probably don't have to worry about party planning. If, on the other hand, you are the one receiving guests for the festivities, we are sure you are worrying about getting everything ready on time. If you need help this year, you will like this article. We have compiled a list of tips that will come in handy to spruce up your home and add festive touches. Here are 45 party tricks that will help you decorate your home this year!
1: Add tape to the wall
When the holidays arrive, it means it's time to decorate the house. And when we do, a problem almost always arises. If you have ever taped decorations to the wall, you already know what we are talking about.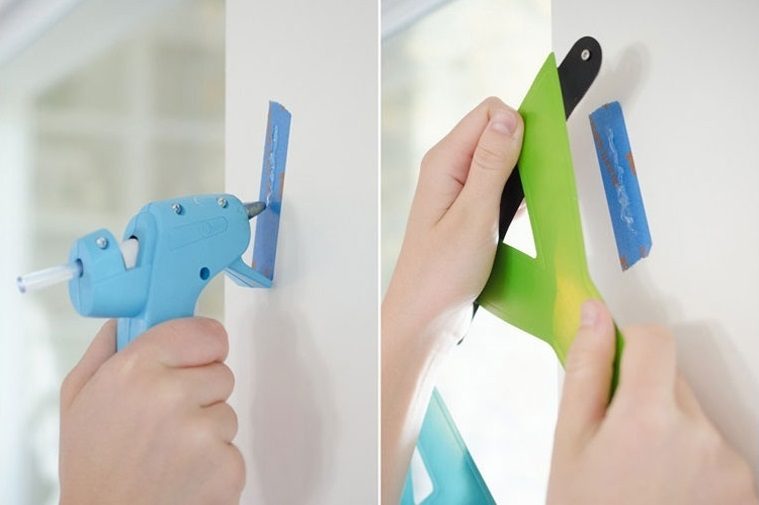 Gluing decorations to the wall always becomes a problem. Sometimes they peel off the wall and ruin the paint. If you want to avoid this problem, you can use Scotch Wall-Safe Tape, a type of tape that does not damage the wall. Then, you can glue the decorations to the tape!
2: Smaller places require smaller trees
We all know that buying or renting a house can be quite expensive, especially if it is a large space. For this reason, most of us live in smaller houses and the size of our homes has a big influence on our decoration possibilities.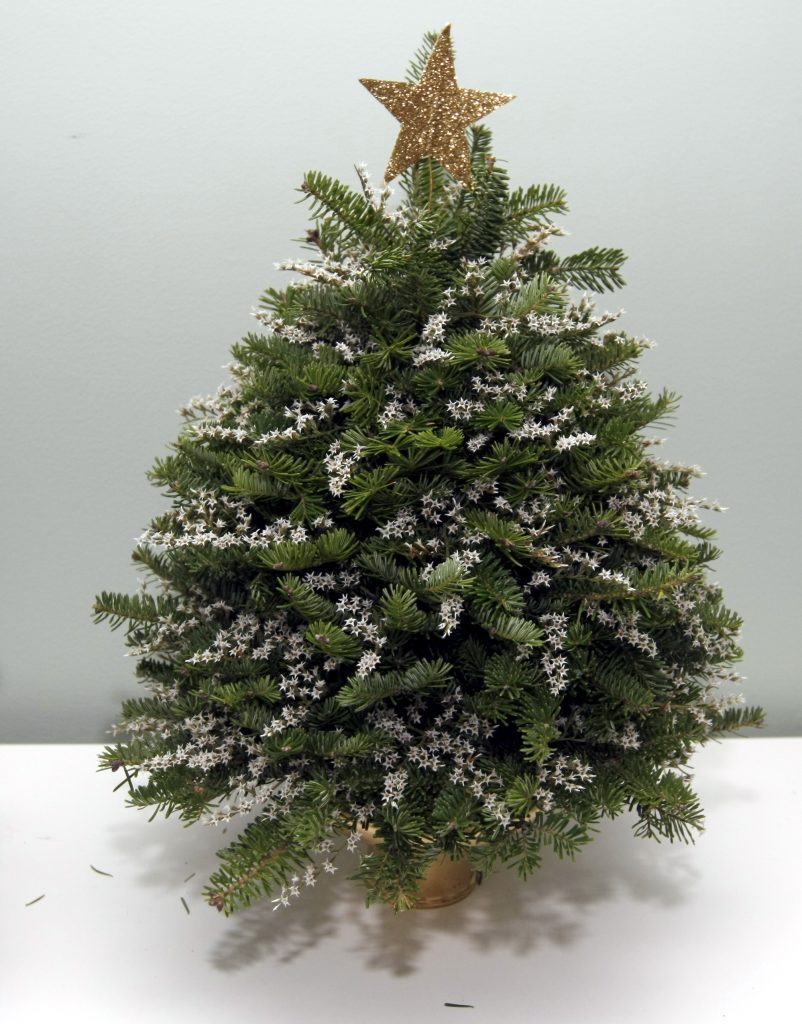 If you live in a small place, you know that buying a tall Christmas tree is not a good idea. Bigger trees make the house look even more cramped. Instead, you can buy a tabletop tree and go big.
3: Control your spending
'Tis the season… of spending! If you have a large family or if you have many friends, you know how much it costs to make presents for everyone. Every year these costs increase and it can become overwhelming to keep track of how much you spend.
If you want to keep your "add to cart" finger under control during this season, you can download Christmas management apps like Santa's Bag. Not only does it remind you to do your shopping, but it also helps keep track of your budget.
4: ditch the Christmas tree skirt
Christmas tree skirts have only one purpose: to hide the stand and embellish the tree. However, these skirts are not useful if you want to stand out this festive season, because everyone already uses them! Here's a tip to brighten up your living room.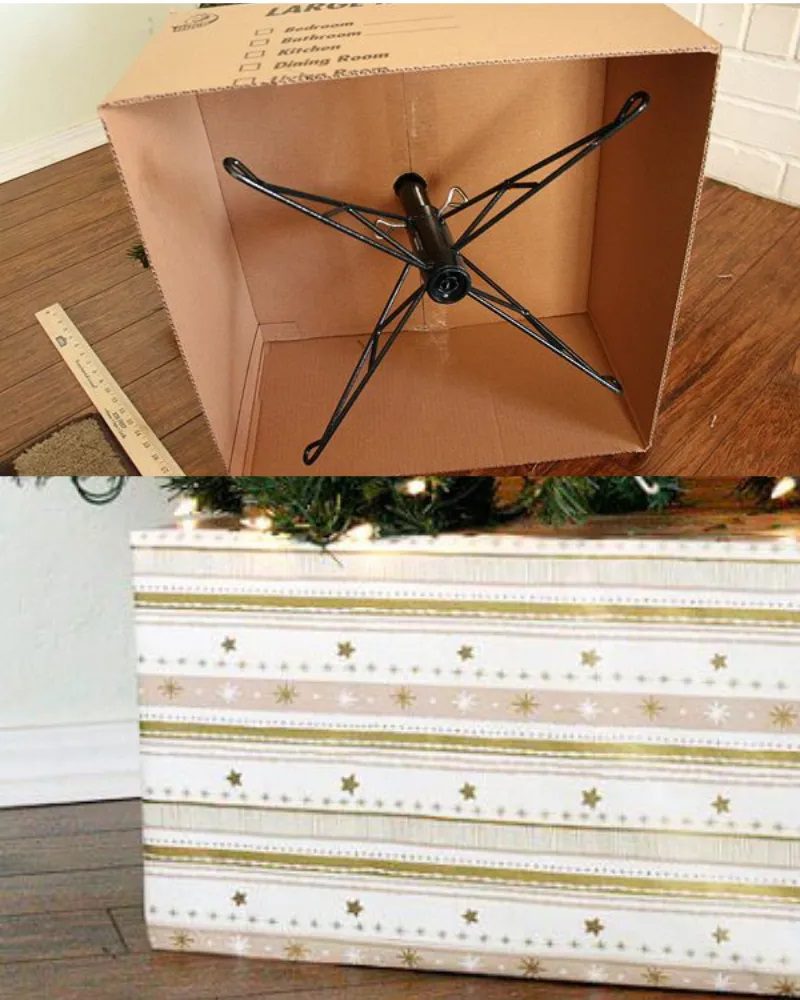 Instead of using the usual tree skirt you've been using for years, take one of Amazon's many boxes, cut a hole in the middle, decorate it with wrapping paper and voila! You will be singing 'O Tannenbaum' with new gusto.
5: Use Sharpies to decorate your glasses
If you don't feel like spending money on buying custom glasses, you can make your own using items you already have. All you need to buy for this hack are a couple of markers and some time to create the decorations.


Looking at the glasses in the picture, you can already see that this is one of the cheapest ways to have customised glasses at your party. Get yourself a couple of metallic permanent markers and make these Christmas designs. Pretty simple, right?
6: Reuse decorations
Here's another tip that will be useful for those on a tight budget who can't spend much this year. Instead of buying decorations, why not reuse those from previous festivities?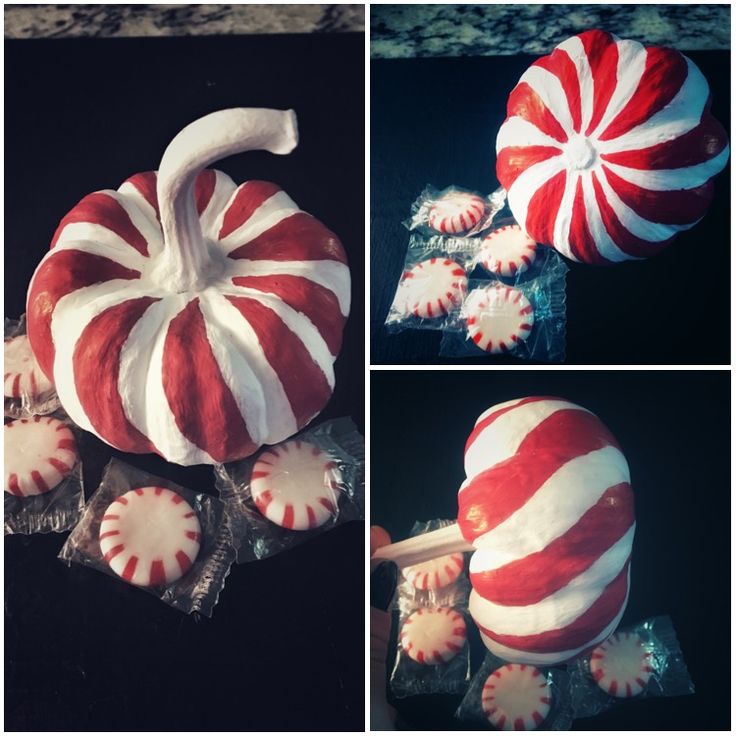 It does not have to be old Christmas decorations stored in the cellar. You can breathe new life into your Halloween decorations, as you can see in the picture. Or, if you want to turn that scary lantern into Father Christmas, all you have to do is put a Santa hat and a cotton beard on it.
7: Using plain paper for Christmas gift wrapping
We all know how busy life can be, especially when the Christmas holidays are just around the corner. It is as if the planet's clock starts ticking faster and everything becomes hectic. And that is why we sometimes forget to go gift shopping.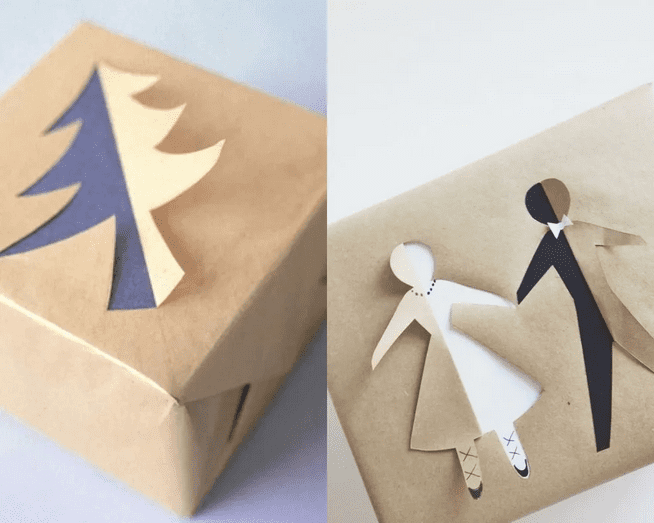 If you have forgotten to buy wrapping paper, this advice is for you. Instead of freaking out, take a deep breath and follow our instructions. Take normal paper and wrap the presents. Then, take another sheet of paper and draw a Christmas tree. Cut it out, glue it to the gift and you're done!
8: Let the children help you
Asking children to help you in the kitchen is not wrong, as long as you make sure they are always safe. Children love to help, especially when it comes to hands-on experiences like cooking and baking.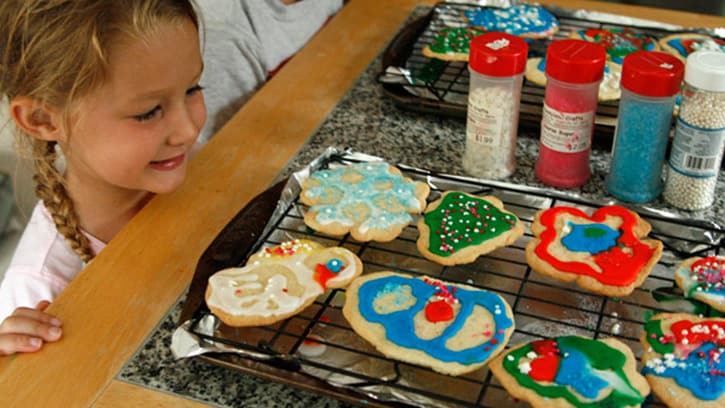 If you have children, the festive season is the perfect opportunity to let them learn new things in the kitchen, like decorating biscuits. Not only will they love the experience, but their help will take some of the work off your shoulders!
9: Don't throw away wrapping paper
When it is time to wrap the presents we have bought, it is not unusual to have a pile of leftover wrapping paper. Even if it can't be used to wrap other gifts, these leftovers don't have to be thrown in the bin straight away.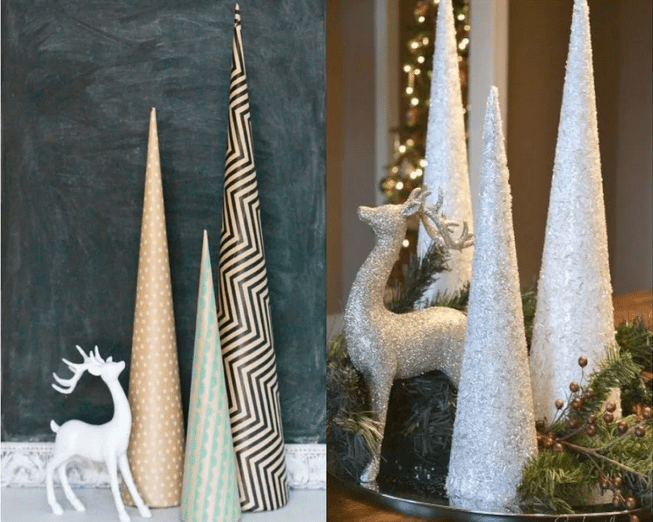 Instead of throwing them away, leftover wrapping paper can be used to make decorations. Cone-shaped ones are made from what is left over after wrapping presents. Just Google it to find lots of design ideas to try!
10: Fill space with other objects
Storing sparkling trinkets inside glass jars and putting them on display is a classic decoration. If you want to do something like this, you may be wondering how many ornaments you will need. The truth is that you don't need many.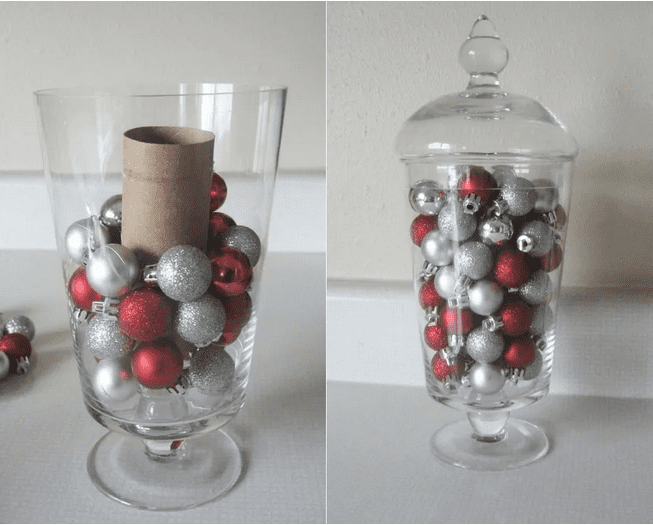 Instead of filling the whole jar with Christmas ornaments, you can simply use a roll of toilet paper to fill the space in the jar. All you have to do is add a layer on the bottom, put the toilet roll on top of it and then add the rest of the ornaments.
11: Using a hook to hang a garland
Are you decorating for Christmas if you don't hang a wreath on your front door? Garlands can be used for a variety of festivities, but they are very common during the winter holidays and many people struggle to properly mount them on their front door.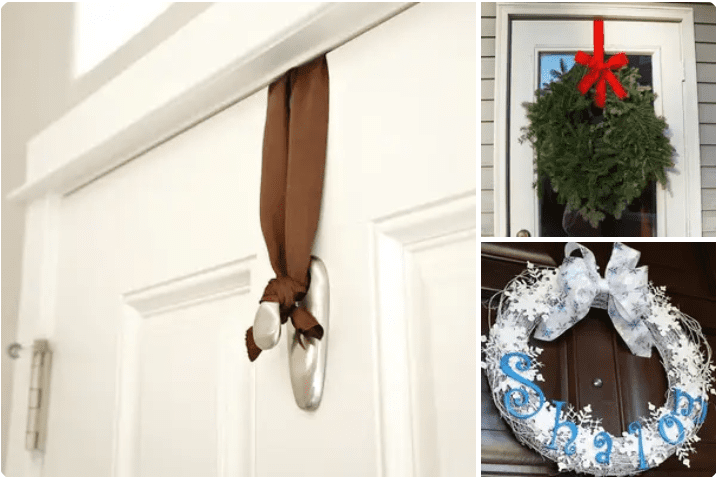 If your door doesn't have anything that can be used to hang a wreath, you can always attach a hook to the door. If you don't want to ruin the paint using glue, you can attach the hook using the special tape we mentioned earlier.
12: Don't just use a one-size-fits-all bulb
When decorating the Christmas tree, we usually put a lot of effort into making sure that the tree looks very nice. It's not wrong to want to impress guests, is it? If you want yours to look anything but drab, here is some advice for you.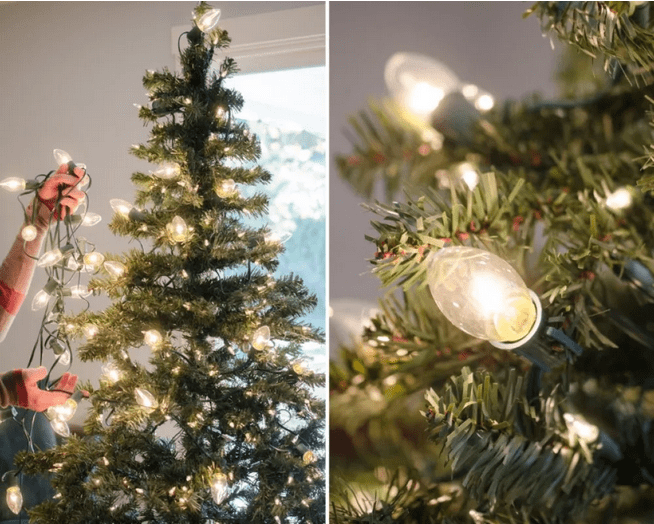 Instead of using all bulbs of the same size, you can take different sized wires and wrap them around the tree. Although this tip may seem rather simple, you will see that the end result will surprise you and your guests!
13: Create decorations with coloured glue
Depending on where you live, the Christmas season is synonymous with snowfall. For this reason, you cannot do without fake snowflakes for this festive season's decorations. If you prefer to create unique snowflakes, you should avoid using paper.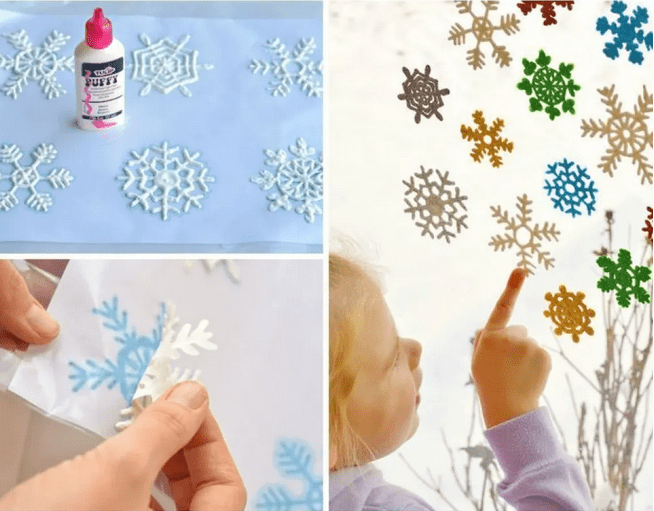 Instead, you can use glue to create decorations. We are not talking about the simple white glue that we use every day. For this tip, you must use coloured glue. Draw snowflakes on a sheet of paper, cover the drawings with glue and wait for them to dry.
#14: Pictures will help you organize
Christmas and other holidays are extremely special, especially when we get to bring the family together for a delicious meal. However, there is one problem with holiday gatherings, and that problem is putting things away once the party is over.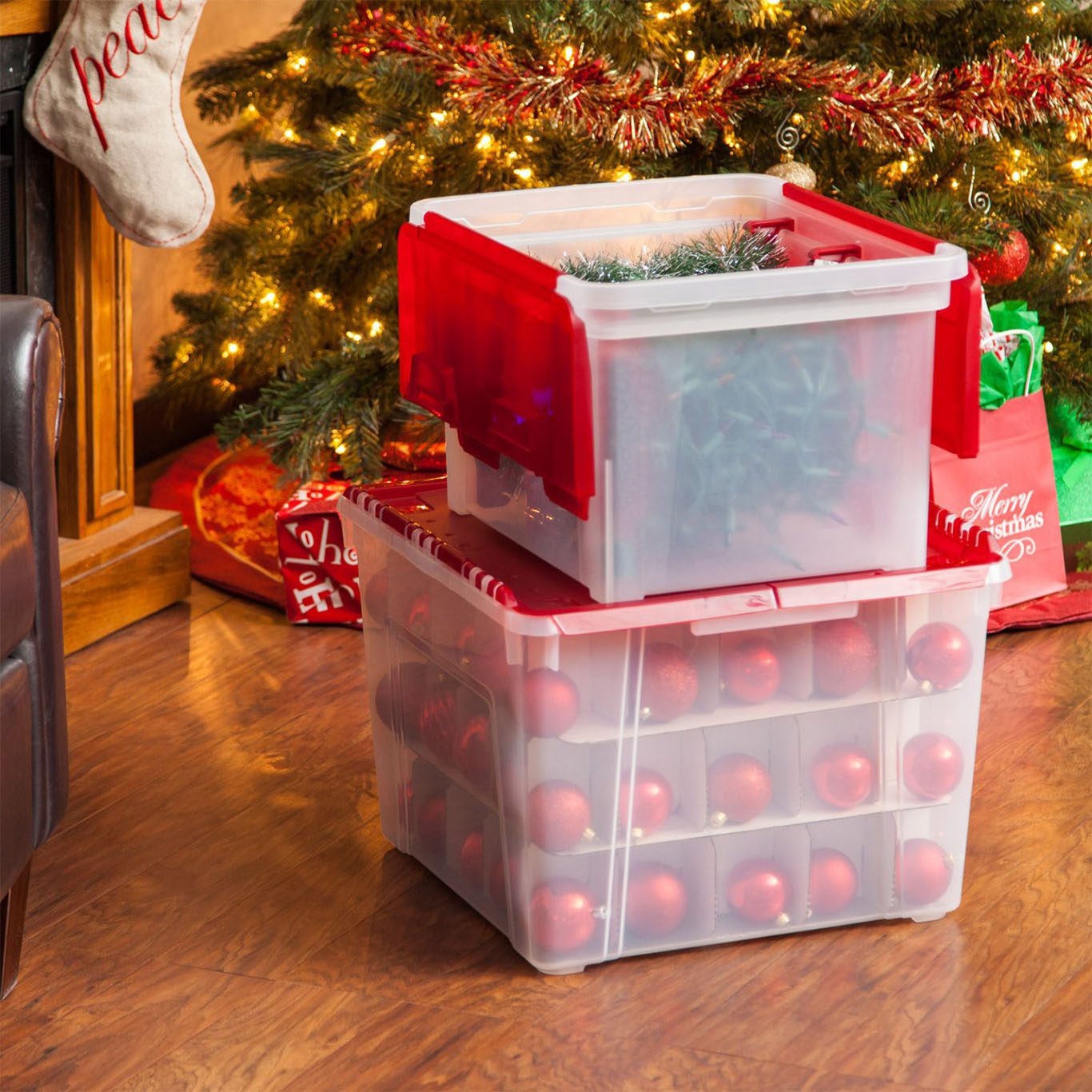 If you have problems organizing your home after the holidays, one tip that may be useful to you is to take pictures before you close the boxes. For instance, if you have an unruly collection of decoration bits, take the time to put them back in an orderly fashion and take a picture for next year.
#15: Use wreaths to add volume to your tree
Decorating the tree is one of the most significant parts of Christmas. It is the perfect opportunity to spend some quality fun time with the whole family as you add personal touches and old and new ornaments. Here's a tip to make your tree even better.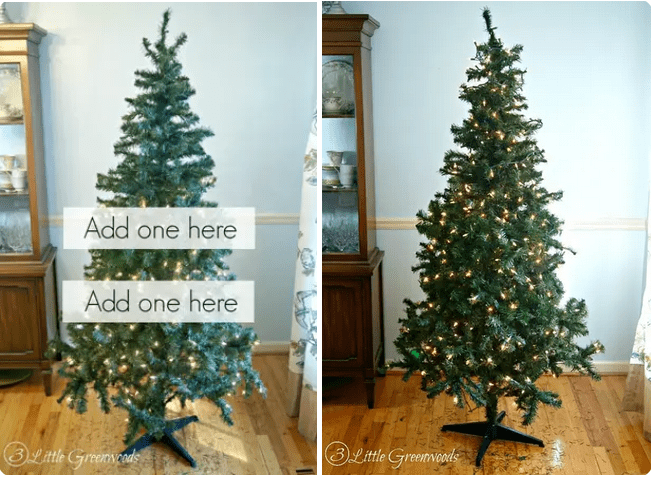 If you've just bought an artificial tree, you'll notice that sometimes the Christmas tree doesn't have enough volume. If you want to add volume and fluff to it, wrap a couple of wreaths around it and you'll have a more filled-out tree.
#16: Give a different purpose to other decorations
As we mentioned earlier, you can always reuse decorations from other holidays. You can try to reuse Halloween decorations on Thanksgiving or Christmas, considering how close these are to one another. With that in mind, here is another tip on reusing decor.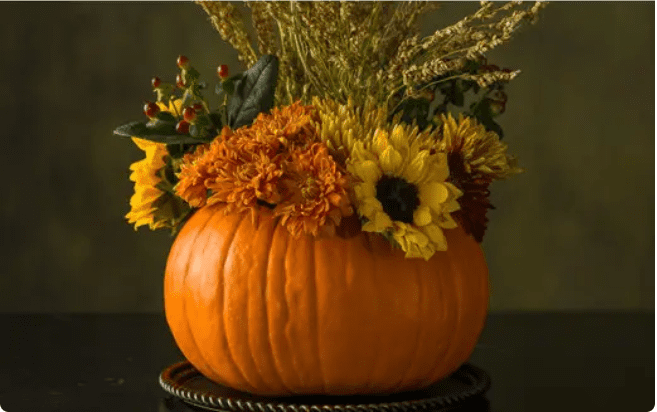 If you used a decorative pumpkin on Halloween and it is still intact, you can always turn it into a flower vase. This is a great idea to take into consideration when you are preparing this year's Christmas mantel.
#17: Spray paint your Christmas lights
If we were being completely honest, we'd have to say that Christmas lights are a bit dull. In case you agree with us, and you want to try something different this year, this next tip will be ideal for you.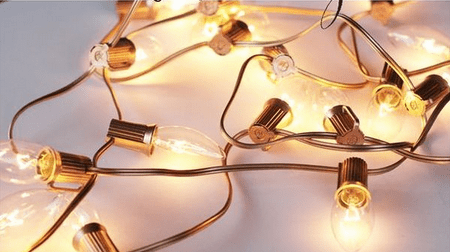 Instead of using those same old dark green lights, why not paint them? All you have to do is buy some spray paint and paint them the color you want. You can choose to paint the lights metallic gold or silver. Think outside the box!
#18: Make your own cookie holder
When you reuse stuff, you are not only helping reduce waste (reusing things is very eco-friendly), but you are also helping your pocket, as you'll be saving some money. When it comes to decorating your house for the holidays, possibilities abound.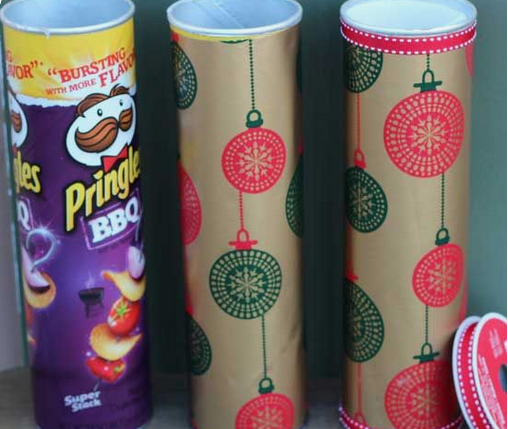 If you are thinking of reusing stuff to create ornaments or decor this year, here is a brilliant idea. Instead of throwing away those Pringles cans, store them for the holidays. When it's Christmas time, decorate the cans and use them as cookie holders!
#19: Use tomato cages to make topiaries
If you are the kind of person who likes to go all out during Christmas, you probably want to buy and use every single type of fancy decoration. We bet that you even buy topiaries to decorate your home during this season!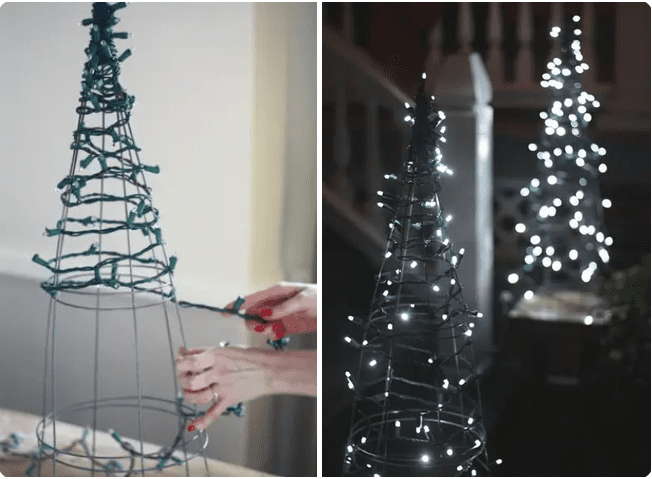 In case you don't want to buy a topiary tree this year, we are going to show you an alternative. If you have a tomato cage at home, invert it and decorate it with some lights. You can make it as colorful or classy as you want!
#20: Use disposable tablecloths
One of the main downsides of holidays is that having people over means having to deal with a mess once they are gone. If you are in charge of cleaning your house, you certainly feel the dread building up as the end of Christmas night approaches.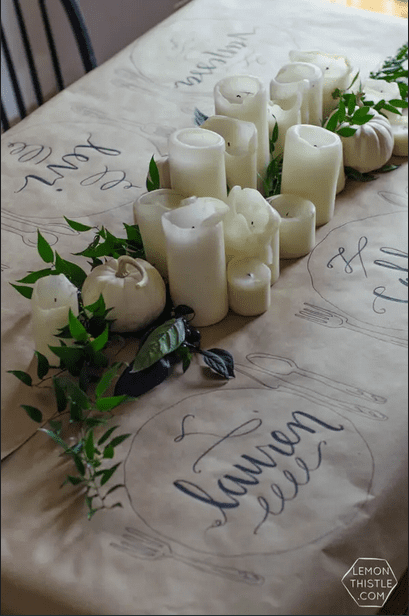 As you can see in the picture above, this person used a disposable paper tablecloth on the dining table. When you use one of these, it means that once dinner is over, you can simply remove the dishes and throw the tablecloth away. It certainly beats having to wash a brand new tablecloth that is covered in food stains!
#21: Make your own tree ornaments
If you are running on a tight budget this year, you are probably trying to think of ways you can save some money without skimping on the fun. There are at least three significant dates towards the end of the year, and the expenses on those dates are going to be significant as well.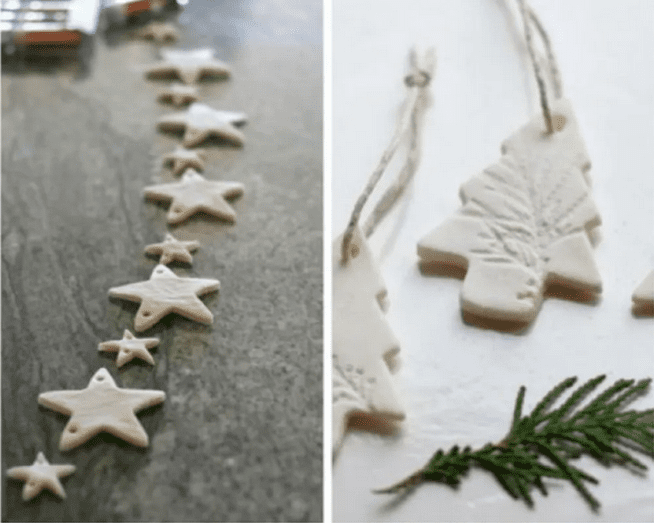 In case you want to save as much money as possible, you can try not buying new tree ornaments this year. You're probably wondering how you are going to decorate your Christmas tree if you don't replace the ornaments the cat broke last year, and the answer is simple: make your own ornaments out of salt dough!
#22: Glass makes trees look brighter
Want to make your Christmas tree stand out this holiday? The best way of doing this is to add as many shiny ornaments to your tree as you can. But that can cost a lot of cash, as well as fill the tree to the point that things fall off on their own.
If you want a tip on decorating, here's one. In case you don't have lots of ornaments and lights to make your tree look bright, you can always use glass. When you hang small mirrors on your tree, it will look more impressive for sure.
#23: Use candles inside jars
Earlier in this article, we showed you a tip to help you save ornaments when trying to fill decorative jars. Here is another tip that is similar to that one. Instead of using a toilet paper roll, you can use a candle!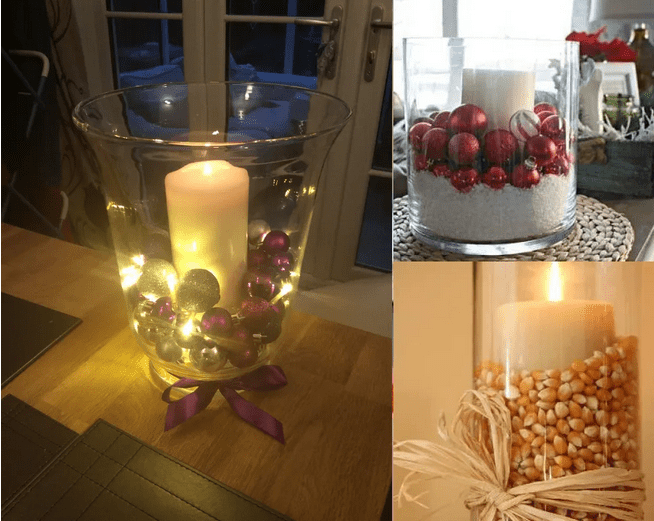 When you put a toilet paper roll inside a jar, you are simply filling the space in a way that no one else will notice. But if you want to add some atmosphere, you can always put a candle inside the jar.
#24: Put up holiday cards on the cupboard
Holidays are filled with traditions, and one of the most popular Christmas traditions is sending a card to members of the family. If you receive a bunch of them and you want to put the whole lot on display, here's a tip.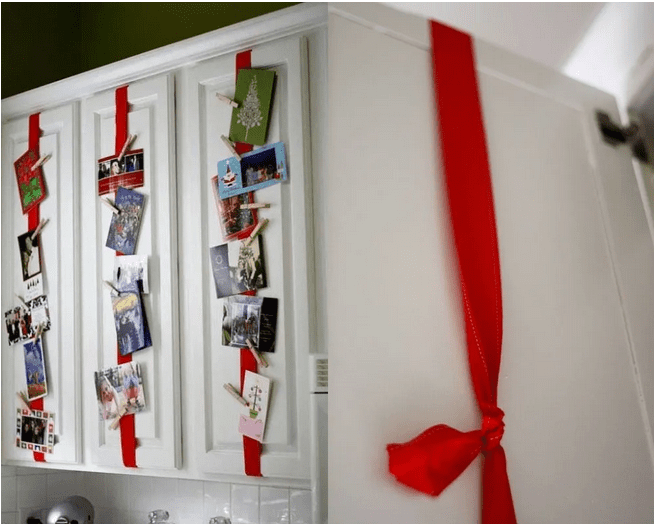 If you wrap a ribbon (vertically) around the door of your cupboard, you can easily hang your holiday cards using clothespins. Why hang them in the kitchen? Easy. You can add some festive vibes to the kitchen without taking up counter space.
#25: Put a glass inside another glass
This next tip is both a way of saving ornaments and a way of making your holiday decoration fancier. For this hack, you will only need to have two glasses and the fillers that you want to use. Then, you can do what you can see in this picture: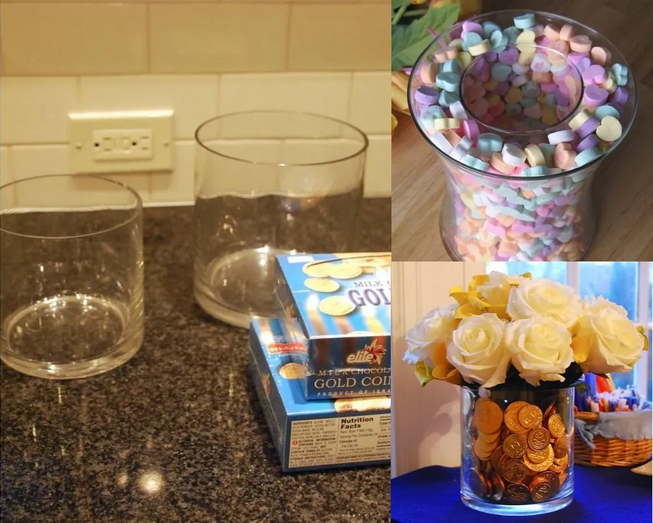 Grab the smaller glass and put it inside the larger glass. Then, fill the space between them using the baubles that you want. Some people put chocolate coins, and some people put tiny sugar candies, but this is up to you. Inside the smaller glass cup, you can put flowers or other ornaments.
#26: Use environment-friendly bows
While this is not necessarily a holiday hack, it is a neat tip for those who want to fill up fewer trash bags this holiday season. It is always helpful to keep in mind that there is a sustainable version of nearly everything.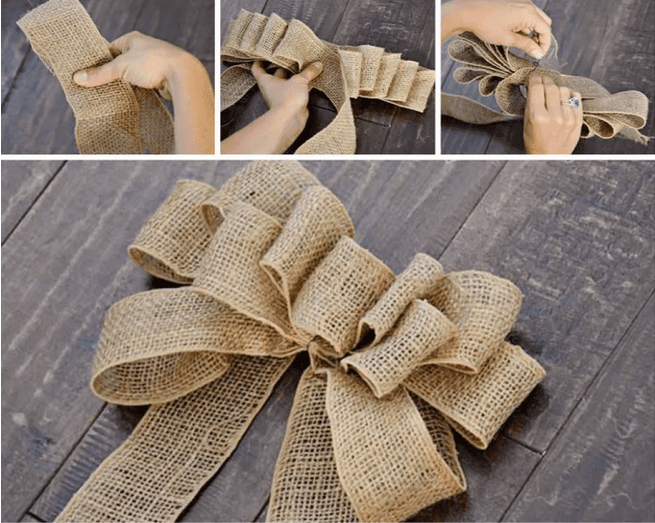 If you want to throw a sustainable Christmas party, you can try to make your own bows. By using Dunlap strips to craft your very own sustainable decoration pieces just like that one in the picture, you can also add a retro touch to the holiday.
#27: Skip the tree altogether
We know that we have been talking about Christmas trees quite a lot. But that doesn't mean that the only holiday hacks are for those planning on decorating a tree. If you're planning on skipping the tree, we're not going to leave you out.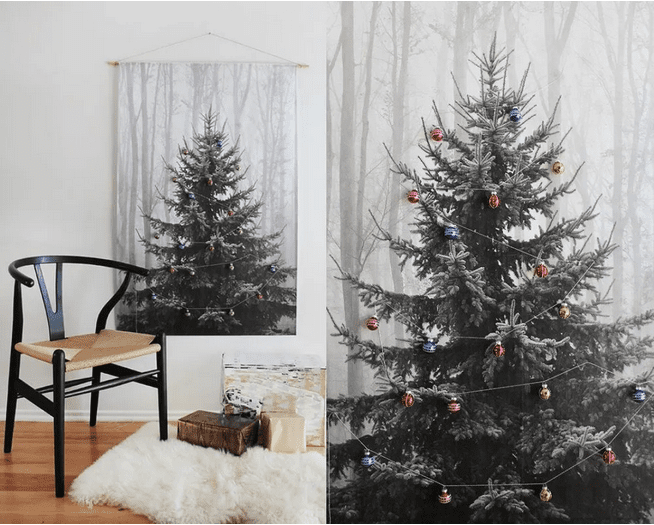 If you don't want to have a Christmas tree in your living room ahead of time (or at all), you might like the idea of hanging a themed photograph like this one. Just put the poster on the wall and glue some Christmas balls to make it look more festive!
#28: Try different types of tabletop trees
Earlier in this article, we gave you the idea of using a tabletop Christmas tree in case you don't have a lot of space in your apartment or house or if you just want to have a smaller tree this year.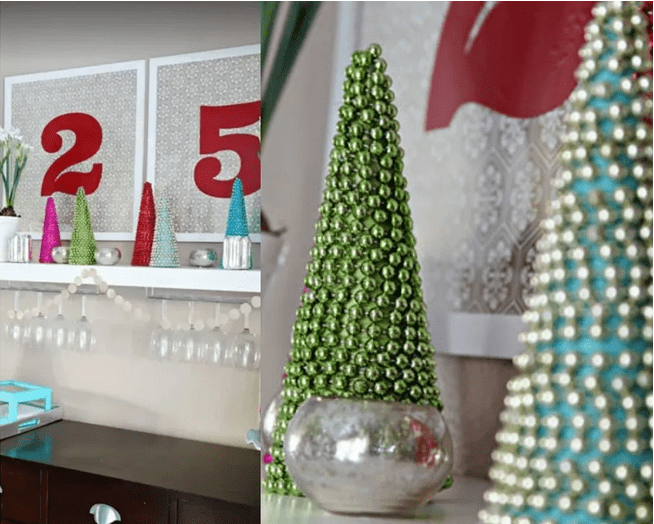 But if you don't want a tree at all, you may like the idea of making these Christmas decorations that are supposed to resemble a Christmas tree. All you need is to get a cone-shaped object and decorate it with green and red beads or whatever colors you like.
#29: Decorate your curtains with bows and necklaces.
Unless you are buying holiday-themed curtains or you already have curtain decoration stored at home, you are probably wondering what you are going to do about the living room curtains. They can look pretty plain and boring if you don't decorate them, right?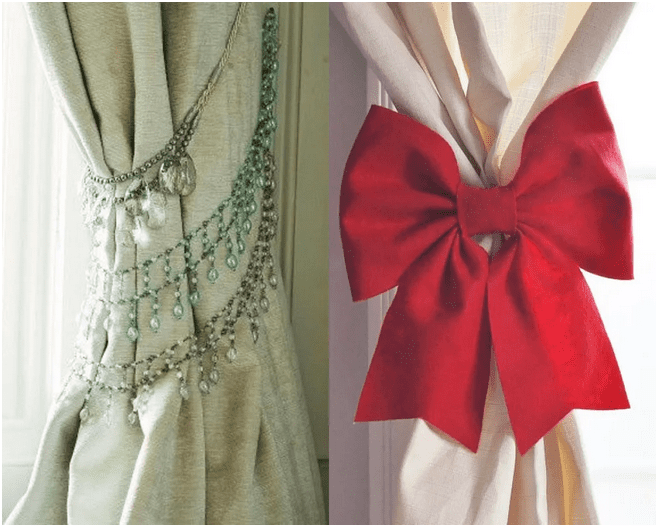 If that is how you feel about the curtains in your home, you can decorate them in a very simple way. If you have bead necklaces or one that has a bunch of stones, just wrap them around the curtains. Alternatively, you can also use hair bows to decorate them.
#30: Make snowflakes out of paper
If you are looking forward to taking a more hands-on approach to Christmas this year, you are probably thinking of ways to make your own decorations. We showed you how to make snowflakes out of glue, but here's another way of making them.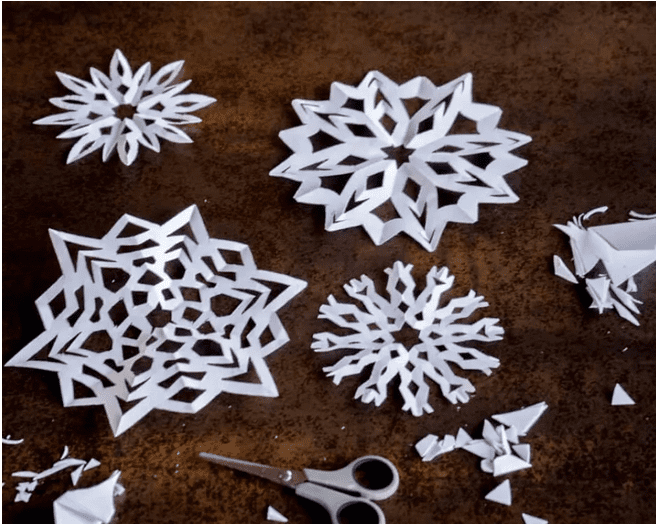 In case you don't want to use glue, you can make the classic version. You just draw the shapes on a piece of paper and carefully cut them. But keep in mind that this task can take quite some time, so you may want to start doing it a few days before Christmas.
#31: Spice up the garland
When we don't take the time or put in the effort to decorate our home, the holidays may lack a bit of their luster. Decorations are a huge part of the holiday season, and they help set the festive mood.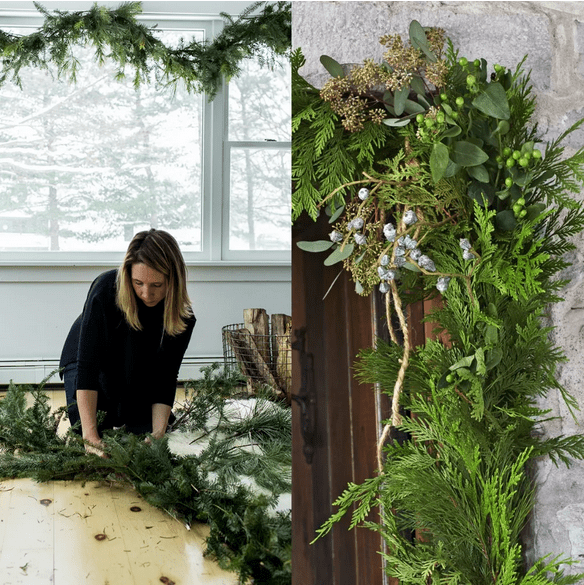 If you feel like your garland doesn't look quite as nice this year, you can always add a few branches of a real tree to the garland. Your guests will certainly notice how much effort you put into decorating once they see this beautiful ornament.
#32: Decorate the tree with candy
Have you ever thought of using candy to decorate your Christmas tree? We know that it sounds kind of peculiar, but it is actually a great idea for you to try this year. We know for a fact that the younger guests to your holiday party will love this!
As you can see in the picture, all you need is to get a candy recipe on the internet, buy some hard candy molds, and red (and maybe green, as well) food coloring. Make the candies and put them inside plastic bags — after that, all you have to do is hang the candy on the tree.
#33: Use removable wallpaper to decorate the living room
Red, green, gold, and white are the "official" Christmas colors. You probably know this, even if you don't know why exactly these are the official colors. In case your home has a different color scheme, you're probably thinking of ways to make it look more Christmas-y.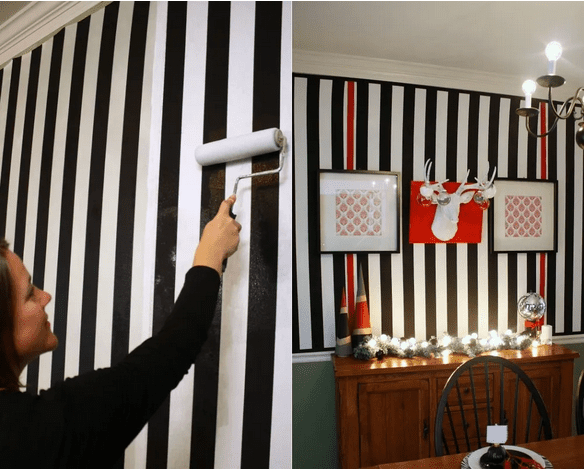 This woman, for instance, wanted to add some color to her living room because her wallpaper was black and white, which are not necessarily Christmas colors. Like her, you can add some temporary decorating to the wall by adding some red stripes, decorative pictures, and other bits and baubles.
#34: Hot-glue the lights
Decorating for the holidays doesn't mean simply decorating the inside of your house. In fact, it seems that, lately, people have been more interested in decorating the exterior. We're sure that you have probably seen pictures of flamboyant Christmas decorations before.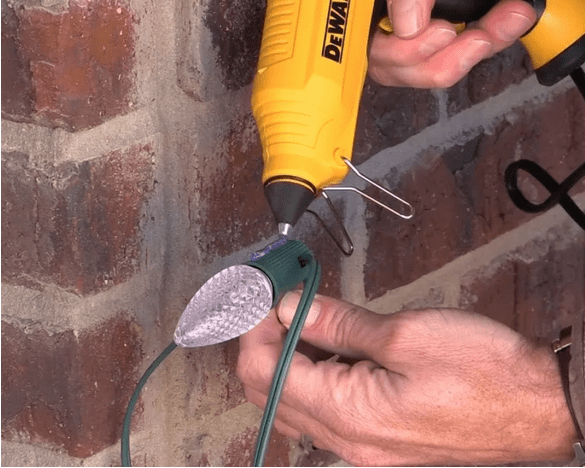 Even if you're not aiming for an ostentatious presentation, you are probably thinking of hanging some lights outside your house to make it look more festive. In this case, our tip for you is to use a hot glue gun. Tape is not always reliable, but hot glue will make sure that the lights will stay in place until the end of the holidays.
#35: Decorate other objects in your home
If you want to take the festive feeling to the next level and you are good at knitting, we have the perfect DIY project for you. Why not decorate other items that will be used at the party, like chairs and maybe even cups?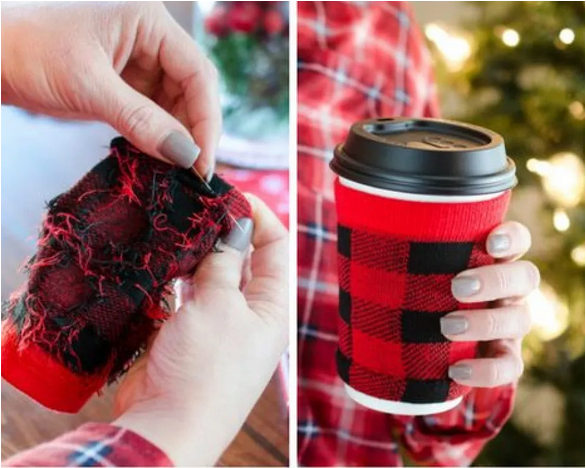 Cups are probably the last thing anyone would think about when it comes to decorating for Christmas. But if you do think about them and want to make them look cute, buy some red or green fabric, and sew it up like a Koozie.
#36: Make DIY garlands
As we mentioned before, garlands are a Christmas must-have, but maybe you want to jazz them up this year. Luckily, there are many different types of garlands that you can buy to decorate your home these days, and you can even try to make your very own garland.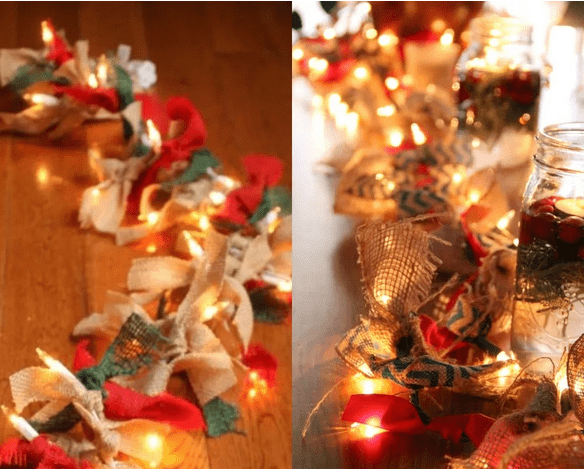 For DIY Christmas garland, all you will need are a couple of sheets and some fairy lights. Cut out the sheets and make ribbons out of them. Then, tie them into bows and wrap them around the lights and there you'll have it.
#37: Use a log as the base of your tree
Earlier in this article, we showed you a way of changing up the base of your Christmas tree. Instead of using the classic tree skirt, we gave you the option of using a cardboard box wrapped in gift paper.
But if you feel like doing more than using a cardboard box, you can carve a hole in the middle of the log and use it as the base of your tree. It is certainly going to add a certain rustic twang to your home!
#38: Wrap your front door
In case you are running on a shoestring budget this year and can't spend much on holiday decorations, here is a helpful tip for you. Especially if you would prefer to spend the money to liven up the inside of the house.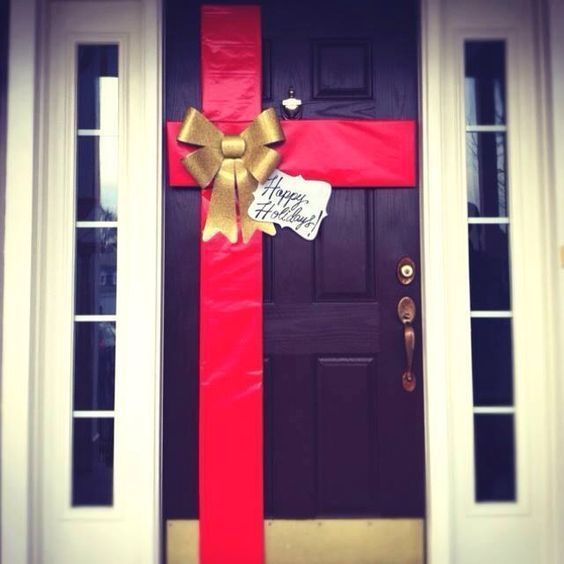 In this case, you can simply wrap a ribbon on your front door. It will make your door look like a giant Christmas present, and whoever is walking by your house will see that you are not skipping the holiday celebrations this year; you're just keeping things simple.
#39: Try alternatives for the Christmas tree topper
When we think of Christmas, certain things immediately come to mind. For instance, this holiday is associated with Santa Claus, gingerbread cookies, colorful decorations, and a huge tree covered in sparkles. One of these decorations is the tree topper, which is usually a golden star.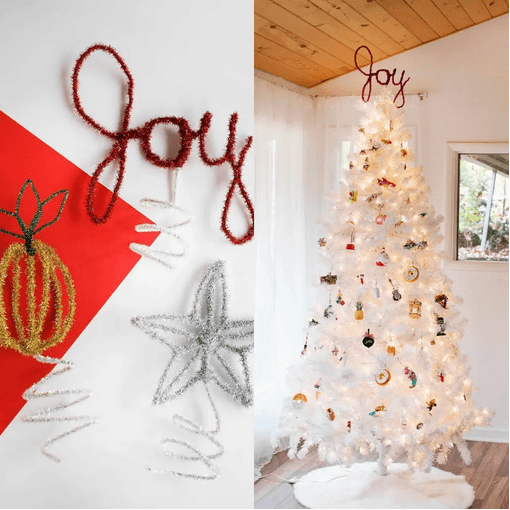 But who said that you could only use a golden star? While this may be the classic choice, you are not prohibited from changing that. If you want to use something other than the usual, do it! Some people use other symbols like angels, and others use a word that reflects what they want for the following year.
#40: Don't scrape the wax off the menorah
We have been talking about Christmas an awful lot, but not everyone celebrates this holiday, which is related to a specific religion. If you're Jewish, for instance, you celebrate different Hanukkah. And this tip is for those who struggle to clean the menorah after the eighth night is over.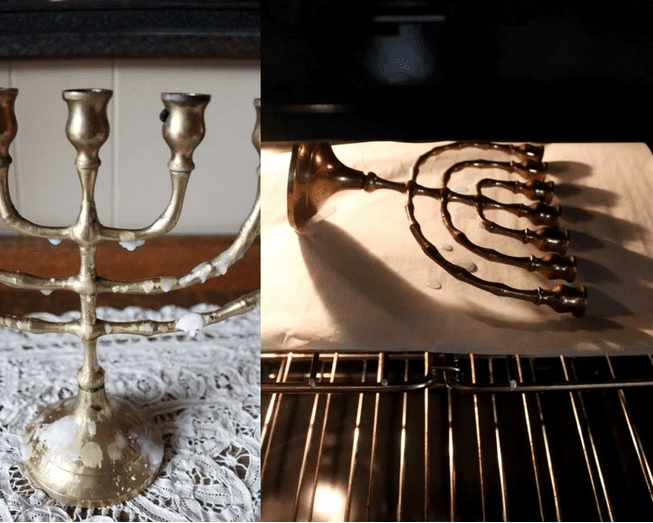 When you look at the picture on the left and all that dry wax on the menorah, you are probably reminded of every single time you used your own. More specifically, you're probably thinking of how hard it is to remove the wax without scratching the metal. Instead of scraping the wax, you can simply put the menorah in the oven at a low temperature and wait until the wax melts away!
#41: Pack everything in the same box
Earlier in this article, we briefly mentioned a touchy subject related to decorations. That subject was having to clean and organize the house once the party is over! The whole cleaning thing is basically the worst part of the holidays, but we are here to give you a helping hand.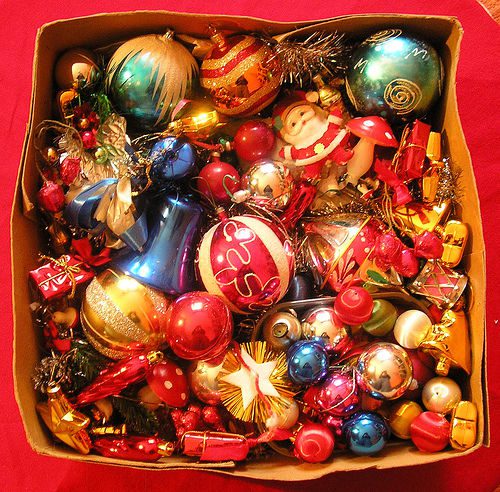 If you have a big cardboard box at home, store all the decorations in that box. We do realize that they might be all cramped in this box, but it is better to store them this way for organization purposes. Keep in mind that next year you'll just have to get that one box from storage.
#42: Hang ornaments from the living room lights
If you have pendant lights, or others with pieces that jut out, in your living room, you may want to get them in the holiday mood too. If you are wondering how you are going to do that, we are going to show you just one of many options.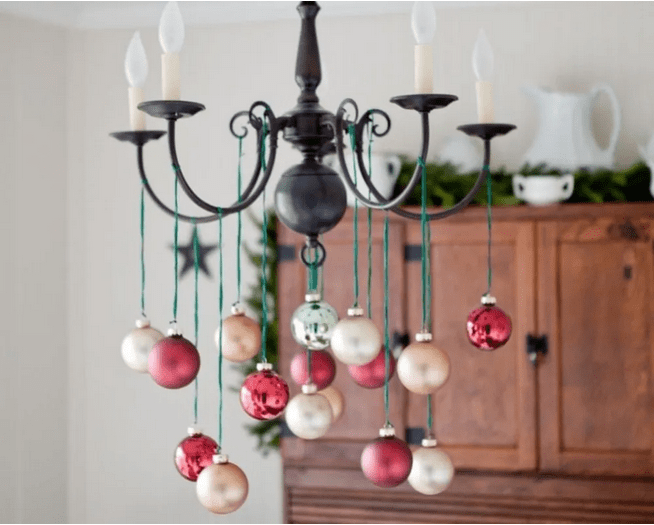 Hanging ornaments from the living room light is a great idea to decorate your home for the holidays. Not only do they make your house look more festive (you can put different ones up for each holiday), but they're also easy to hang; you won't even need tape or glue.
#43: Use glassware to decorate the cookies
We all know that if we don't watch it, the holiday season can become stressful. There is so much to do that we may even end up forgetting essential things, like buying gifts. If you have ever gone last-minute gift shopping, you know exactly how chaotic that is.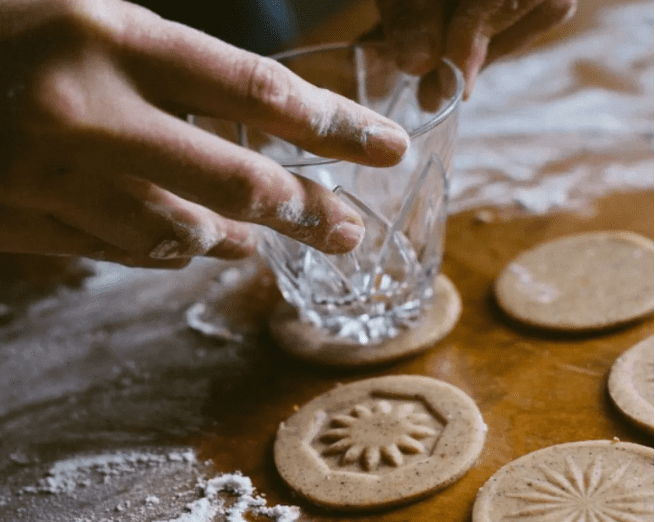 In case you forgot to buy molds to bake the cookies for your holiday party, no worries. Instead of freaking out because you don't have the molds you need, use a glass cup or vase with a detailed bottom. Just press it against the cookie dough, and you'll have an ornate cookie.
#44: Carve a pumpkin and use it as a bowl
In case you are looking for last-minute Halloween decorating tips, we have one that you might love. This easy tip is particularly helpful for those who are looking forward to really displaying just how much they love the spooky season.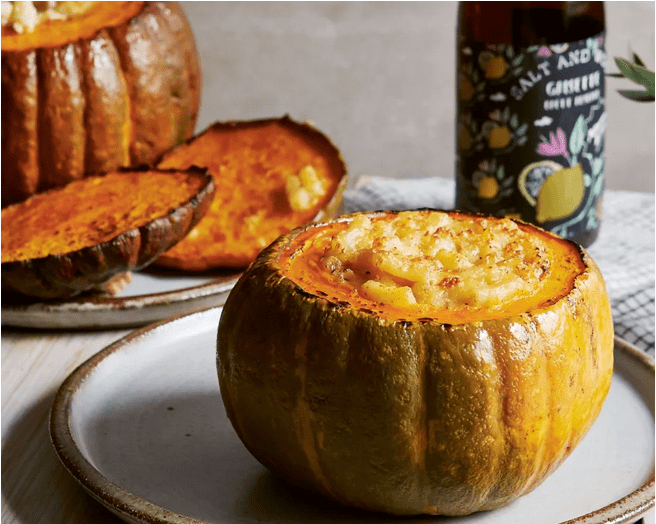 Buy a few pumpkins and carve all of them. Once they're carved, you can use the pumpkins as bowls and serve food in them. Well, you can't serve just any type of food using this pumpkin bowl, but it sure will make your house look more festive!