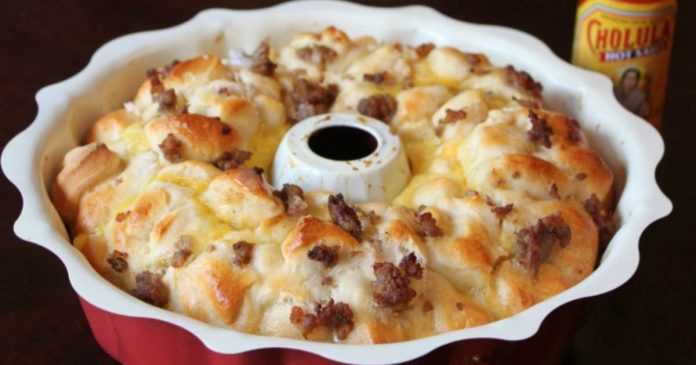 When you think of cooking in a bundt pan, you probably think of baking some sort of bundt cake. And while bundt pans do make delicious cakes, they can also be used to make a whole host of other amazing recipes! Check out the recipes below to get the most use out of your bundt pan as possible.
1. Pizza Roll Bundt Cake
With just four ingredients, you can make this mouthwatering pull-apart pizza "cake."
2. Bundt Pan Spanakopita Recipe
A bundt pan makes this traditional Greek dish a whole lot easier to make. It would be a great party appetizer!
3. Lemon Thyme Bundt Pan Chicken
Throw a bunch of veggies, chicken, and spices in a bundt pan, and you've got a healthy, easy dinner recipe.
4. Cheesy Bundt Bread
This cheesy bundt bread would make for the perfect pairing with a big Caesar salad or heaping bowl of pasta.
5. Savory Stuffed Bundt Cake
This stuffed bundt cake is filled with sausage, eggs, cheese, and other brunch-worthy ingredients!
6. Bundt Pan Jalapeno Poppers
Looking for something easy to whip up for football Sunday? Look no further than this recipe for bundt pan jalapeno poppers!
7. Meatball Sandwich Ring
Talk about comfort food. This recipe for a giant meatball sandwich cooked in a bundt pan is sure to be a crowd pleaser.
8. Sausage, Egg, And Cheese Breakfast Bread
Breakfast will never be the same after you've tried this sausage, egg, and cheese bread made in a bundt pan.
9. Bundt Pan Spaghetti Pie
This hearty spaghetti "pie" would be an awesome thing to serve at a potluck.
10. Bundt Pan Lasagna
Another Italian-inspired dish you can make in a bundt pan? This awesome lasagna recipe!
11. Marble Bundt Cake
And of course, this list just wouldn't be complete without including some great bundt pan desserts. Let's start off with this recipe for marble bundt cake.
12. Blueberry Lemon Bundt Cake
This scrumptious recipe combines the winning flavors of lemon and blueberry.
13. Peanut Butter-Chocolate Swirl Bundt Cake
Do you ever need an excuse to whip up a chocolate-peanut butter dessert? Not according to this recipe!
The name of this recipe alone has us sold. Yum!