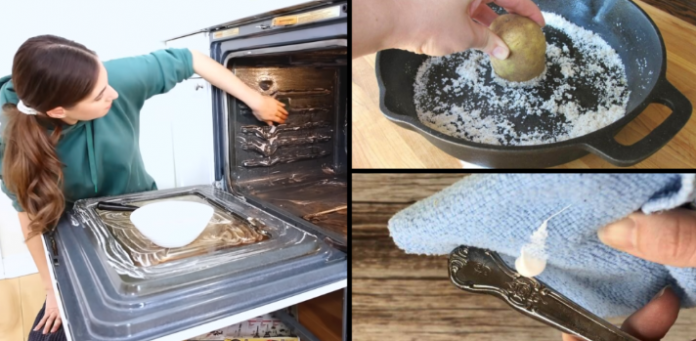 Cleaning is never fun. But it's especially frustrating when you don't have the right tools for the job. And it can be even more difficult for those who don't have the time to do a thorough cleaning. And who wants to scrub floors and walls, spending hours on a day off? Luckily, we've put together a list of cleaning tips that really work, so you can get your space clean and tidy in no time! You'll get the best results by using these tips without spending too much time and energy. Not only are these tips easy to implement, but they don't cost much; most of the ingredients are probably already in your pantry! From using vinegar to clean your bathtub to using a lemon to remove rust from faucets, these tips are sure to make your cleaning routine easier.
1. Rust-free surfaces
Rust-free surfaces
Rust can be an unpleasant sight and can affect the longevity of items in your home. Aggressively scrubbing these surfaces is not the best solution, both for your hands and for the object itself. Using a lemon to clean it is your best option.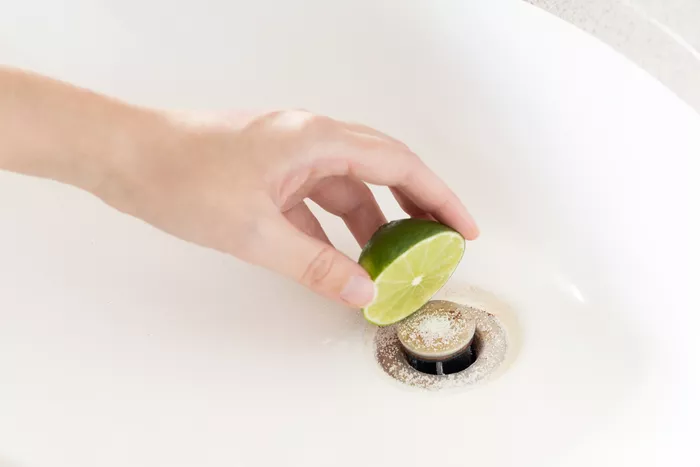 Cut the lemon in half and dip it in table salt. Use it as a cleaning agent to remove rust. The acidity of the lemon will work on the rust and remove it effectively. Make sure you do this before the rust gets out of hand, as it will be more difficult to clean.
Perfect-looking lampshades
Worried about destroying your expensive lampshades while cleaning them? Here's an easy way to restore their appearance without worrying about damaging them: just grab an adhesive lint roller! Thanks to the adhesive, you don't need to apply any pressure to clean the dust.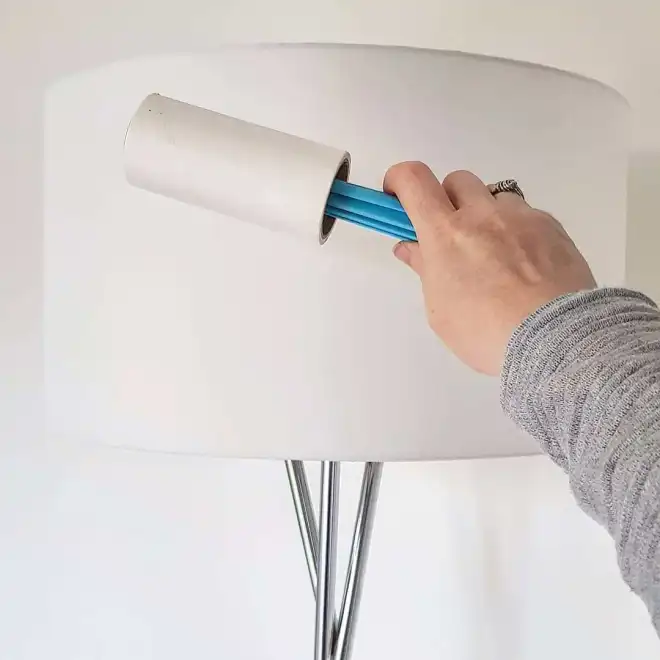 Image courtesy: mrs.ds.cleaning.reviews/Instagram

The best part of this hack is that a lint roller works on any material, although it works best on smoother surfaces. Cleanup is also easy, as you simply remove the used layer of the lint roller when you're done.
3. Binge watch on a clear TV screen 
Cleaning a TV and computer screen can be tricky as you do not wish to leave any streaks and marks. These will impact the viewing experience, and you'll just have to clean it repeatedly. Instead of a regular cloth, use a coffee filter.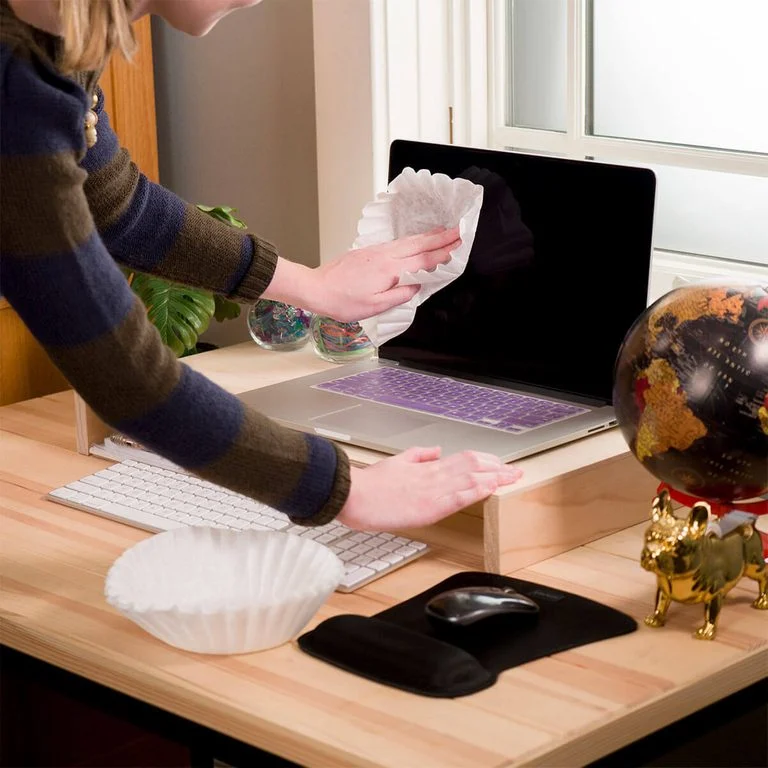 The coffee filter will do an impeccable job cleaning the screen and will not leave any lint on the screen. If you like to clean using a liquid, spray the cleaning solution on the coffee filter and gently clean the screen. Don't spray directly onto the screen.
4. Polishing chrome faucets
Dull chrome faucets might be affecting your bathroom's appeal, and trying to get them shining again, without the use of harsh chemicals, can take hours. Here's a simple way to restore their mirror shine with baby oil and a cotton ball.
Add some baby oil to a cotton ball and rub it on the chrome faucet for a few minutes. This will polish the surface, leaving it all shiny. Now, you'll be able to see your reflection and feel proud of your cleaning job. 
5. Clean granite countertops
Granite countertops are a popular material for kitchen counters, both for the material and the sophisticated look it gives the space. Using some water and a DIY detergent mix, you can get it clean and sparkling like new. All you need is water, rubbing alcohol, dish soap, and a paper towel.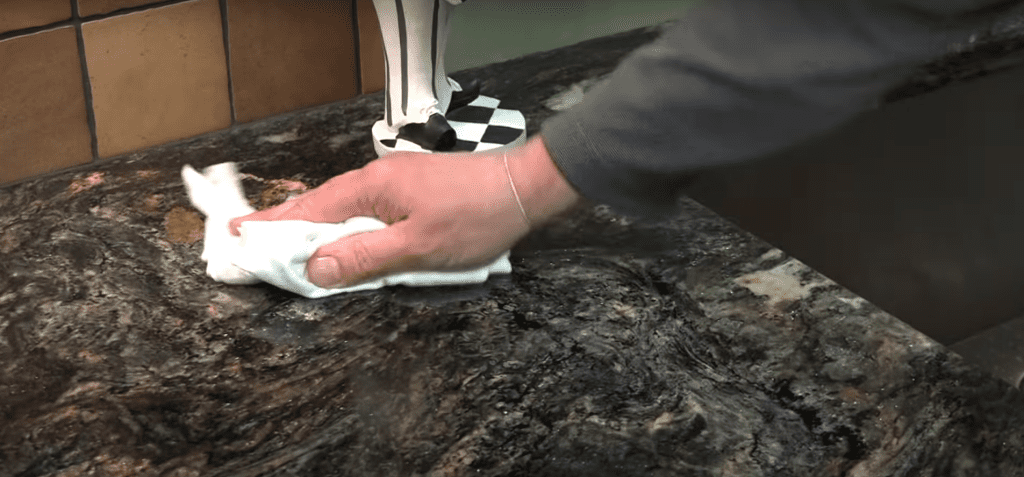 You'll need to mix two cups of water, one-fourth cup of rubbing alcohol, and six drops of dishwashing liquid. Now, use a paper towel to rub in the mix. This mixture will gently disinfect the surface while cleaning it off the dust, grime, and any food marks. 
6. Cleaning knobs and cabinet hardware
Forgetting to clean your cabinet hardware and knobs regularly can cause a buildup of dust, making them lose their shine. Keeping them clean is as crucial as mopping floors and surfaces. This may not come under the deep cleaning category but is necessary.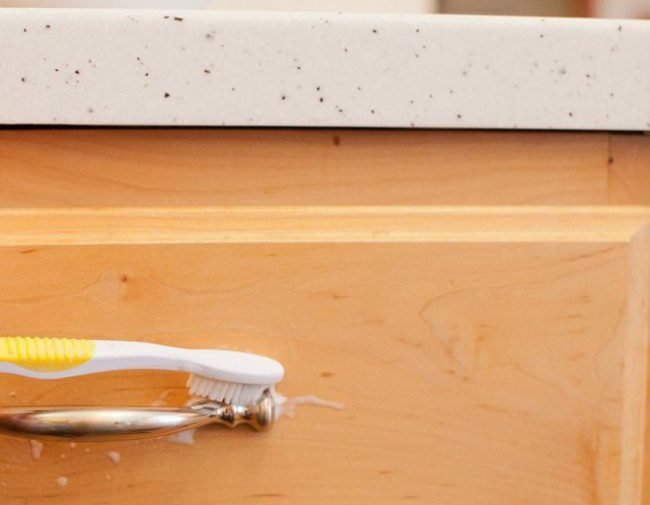 Grab an old toothbrush and lather it up with some oil soap. Gently scrub the hardware and knobs to clean the dirt. Wipe these surfaces with a soft cloth or an old t-shirt. Your cabinets will look good as new in no time. 
7. Remove rust rings
If you place a metallic item in the shower or on the counter for too long, it may leave a rust ring on the surface. This may be your shampoo bottle or a toothpaste holder. These stains can become almost impossible to clean if you discover them too late.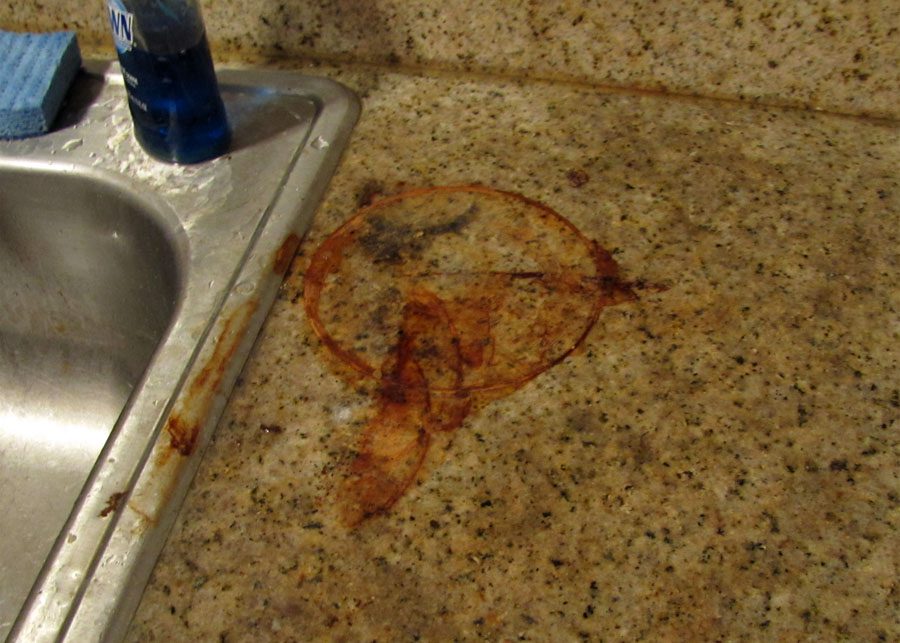 Make a paste with lemon juice and cream of tartar to clean these stains from the affected surfaces. For a deeper clean, scrub the area using an old toothbrush. It will leave the surface looking clean without any hint of rust. Your guests will never know that there was ever a stain there!
8. Clear glass shower doors
We all know the struggle of cleaning glass doors after a relaxing shower. No matter how much you clean it with a squeegee, the glass door might not be as spotless and transparent as it was after the initial installation.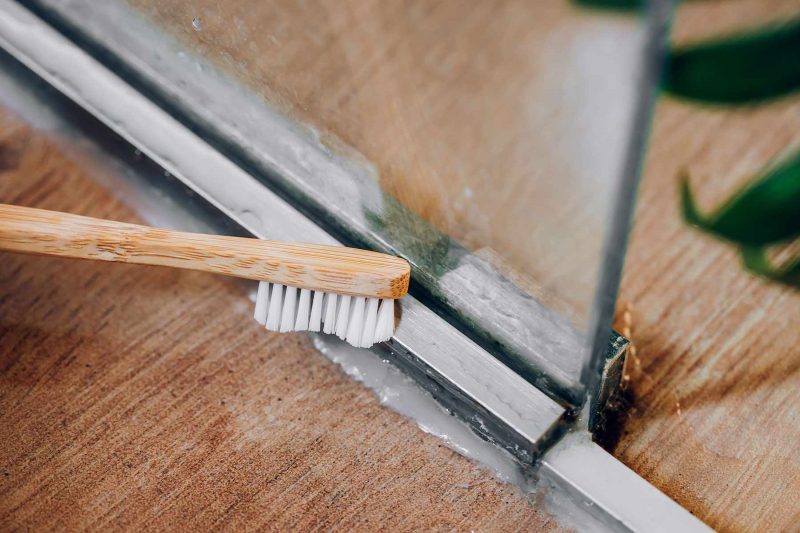 You can clean it using a stiff brush and some window cleaner to get the best results, instead of wiping it with a soft cloth or squeegee — both of which don't fully clean it. This will clean the soap scum and steam marks after the shower.
9. Deep can oven
After cooking several meals, your oven may look like it hasn't been cleaned for ages. The steam and heat may make it worse by solidifying food spills. To clean the oven, make a paste by mixing one cup of baking soda and dish soap.
Add some water to this mix to form a thick paste, the thickness of which should be similar to pancake batter. Apply this mixture on the insides of the oven over the dirty areas. Let it sit for fifteen to twenty minutes and wipe dry. 
10. Gas stove clean-up
Have you been putting off cleaning your gas stove? Don't worry, there's an easy cleaning hack to take care of it. Take an old bowl and add some baking soda with water and hydrogen peroxide. Form a thick paste of these ingredients to cover the stove.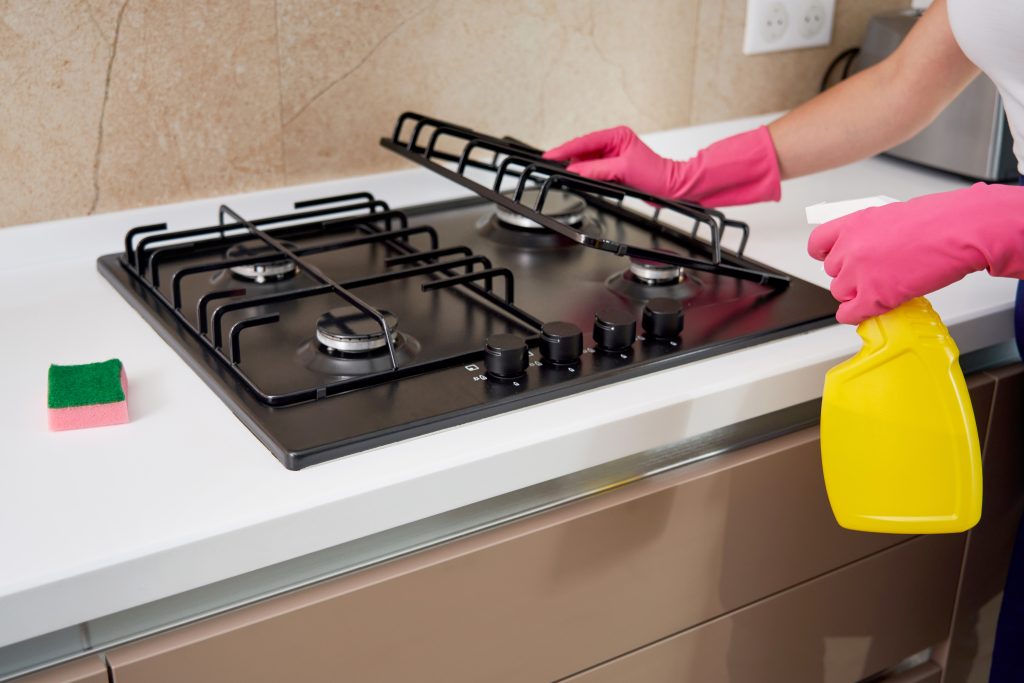 Apply this mixture, then let it sit on the stove and do its work to remove the food particles and dirt. Use a sponge or soft cloth to gently wipe away the mixture. Your stove will look clean and feel fresh to use again. 
11. Clear oven door
Your oven door may get foggy, and it's hard to see your food cook well. Baking soda can come in handy in cleaning the oven door. Sprinkle some baking soda on the surface and cover it with a damp towel or old t-shirt.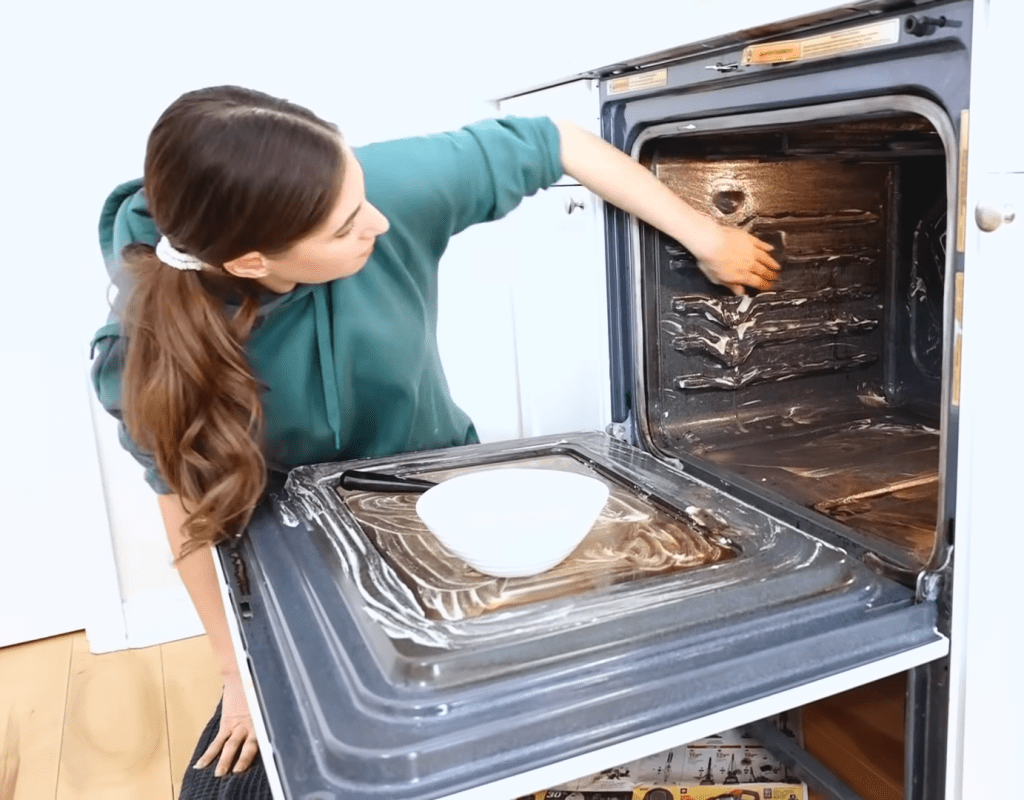 You can soak the towel in some soapy water to multiply the cleaning action. Let it work on the surface for fifteen minutes and wipe it with the same towel. Use small circular motions for the door to look clean without any streaks. 
12. Stove burners clean-up
Stovetop burners get dirty after cooking as the food spills all over them with each meal prepared. But you do not need to scrub them too much to clean them. Make a mix of baking soda and dish soap to form a thick paste.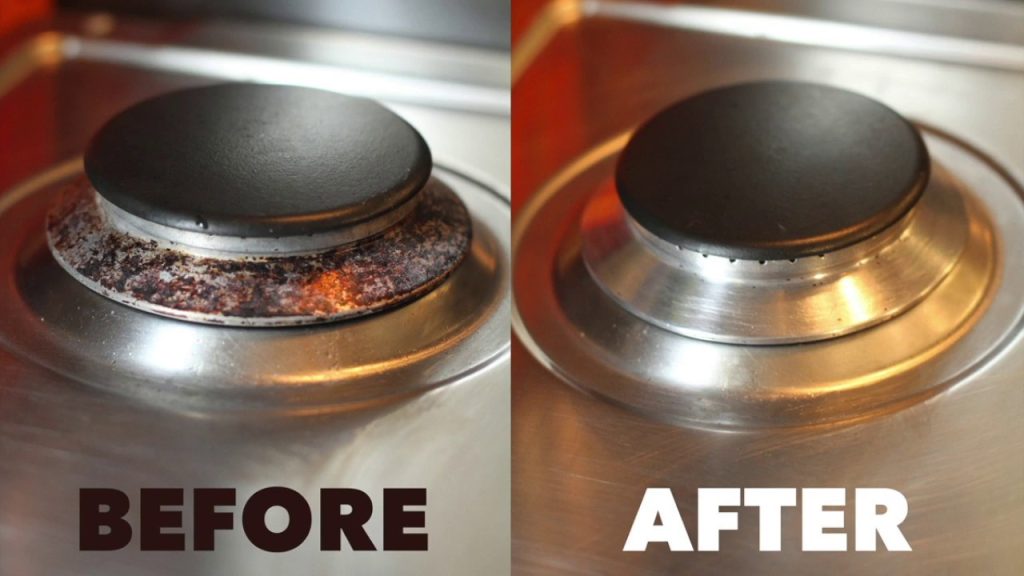 Apply this paste uniformly to the stove burners and leave it for roughly twenty minutes. No need to scrub as this mixture will work on the dirt and clean your stovetop for you. Use a soft, damp cloth to remove the dirt along with the mixture.
13. Bye-bye greasy stains
Steam and oil splatter may make your kitchen surfaces greasy and make it feel like it's beyond cleaning. Don't lose hope. Just get some mineral oil and a paper towel for this next hack that will have your kitchen grease-free.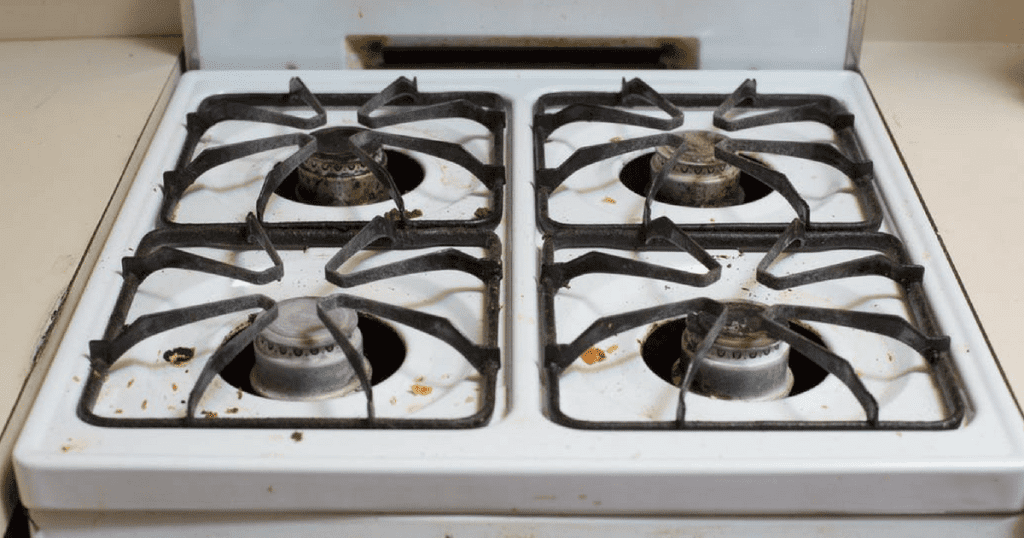 Add a few drops of mineral oil to a paper towel or cloth and use it to wipe the greasy surfaces and objects. The mineral oil will break down the grease and make cleaning up afterward easier. Once you are done rubbing the mineral oil, use the paper towel to wipe the surfaces again.
14. Clean your microwave oven
With regular use, your microwave will likely have a variety of watermarks and food splatters. When you notice stains, it's time to deep clean the inside before they fully set in. For this cleaning hack, you'll need a microwave-safe bowl.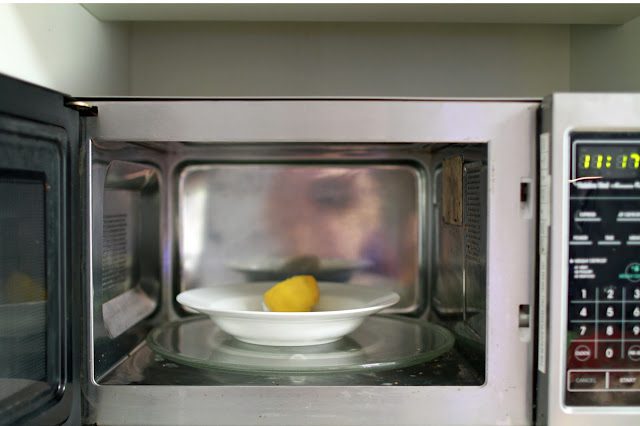 Fill the bowl with some water and lemon juice. Microwave the solution until it begins to boil and releases steam — the steam will loosen up the grime inside. Now gently wipe these stains and enjoy a fresh and clean microwave. 
15. Deep clean for bathtub
Every weekend, you should deep clean your bathtub to ensure it is free from bacteria and dust. You may do this using cleaning agents such as bleach. Make sure to wear gloves and properly ventilate the area when you use harsh materials.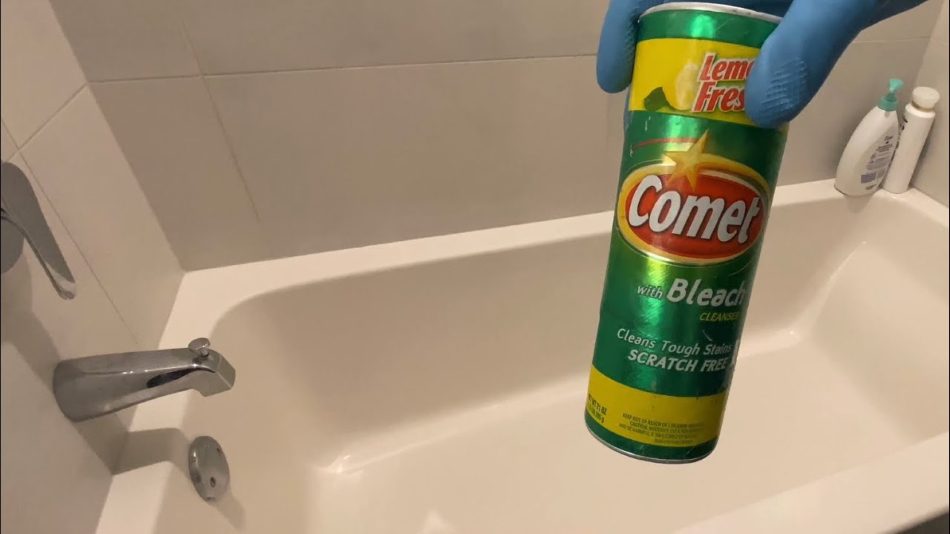 First, you have to fill your bathtub with hot water. Now, add a large scoop of oxygen bleach to the water and let it do its magic. Keep this mixture in the tub overnight and drain it the next morning. Spray the tub to remove any residues and enjoy a sparkling bathtub. 
16. Stress-free air conditioner vent cleaning
Air conditioner vents accumulate a lot of dust, and their position makes them hard to reach and even harder to clean. And you cannot call a professional each time to get them cleaned. However, you can use objects around the house to get the same results.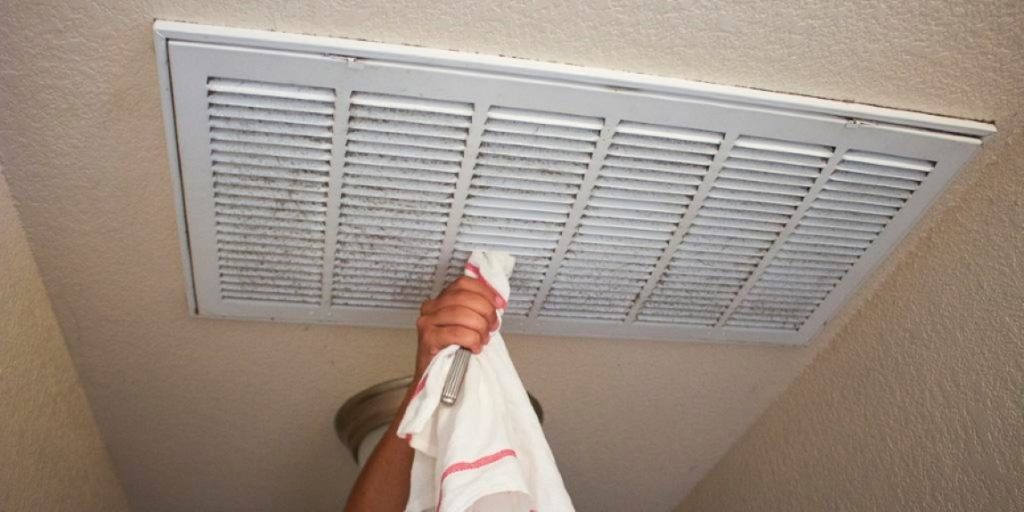 Soak a towel in the cleaning solution and wring out the excess, then tie it around a stick, such as a knife. Run the knife through the vents to grab and clean the dust. The towel will easily collect the dirt and dust, leaving the vent clean.
17. Plastic cutting boards clean-up
Plastic cutting boards are convenient in comparison to wooden ones, as they won't grow mold so easily. However, they may develop deep food stains that can be challenging to clean. Use this hack before you toss out your well-worn cutting board.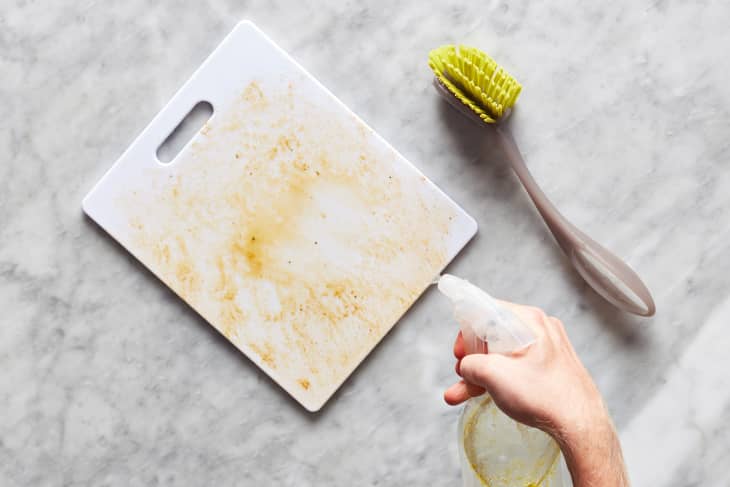 Soak the plastic cutting boards in a water and bleach mix. Let them sit in this mix for an hour or two for the bleach to work on the stain. Remove the boards and wash them with regular dish soap and leave them to air dry. 
18. Dust-free blinds
Few things are more frustrating to clean than blinds. Cleaning each slat can take hours. Fortunately, there's a simple way to clean those tricky dust collectors. Just take a pair of tongs and a damp cloth; secure the cloth around the utensil using rubber bands.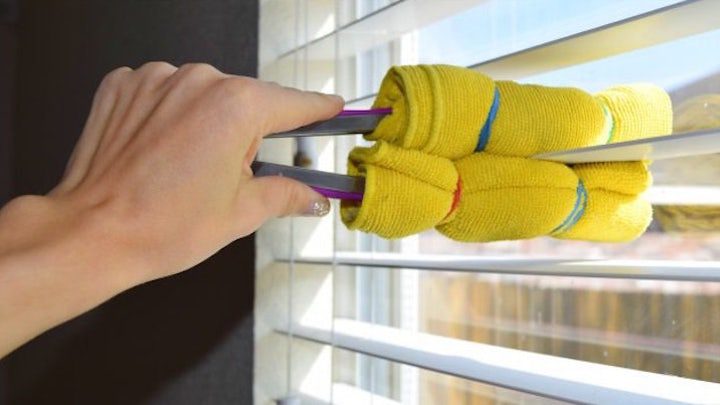 Use these tongs to gently wipe each blind and remove dust that's sitting on the surface. This is a smart way to clean the blinds as all the dust will stick to the damp towel, and you'll have way less cleaning to do once done. 
19. Effective floor carpet cleaning
Tired of your carpets being dirty? Use this simple trick to clean them up! Hydrogen peroxide and soap are all you need to get rid of stubborn carpet stains. Spray a few drops of hydrogen peroxide and soap, diluted in water, then scrub the problem area.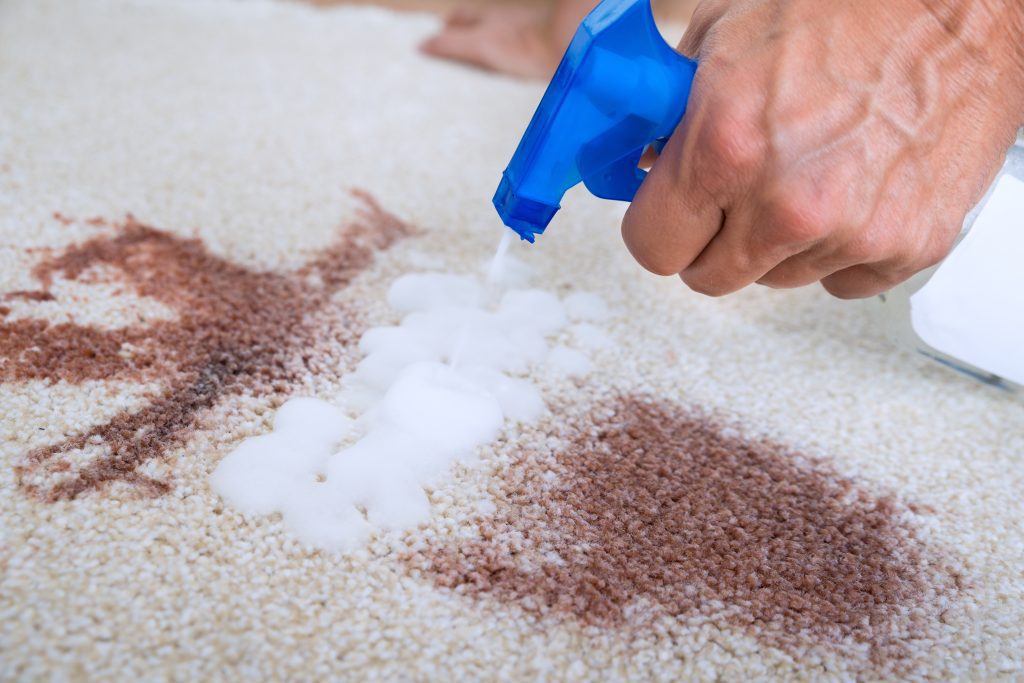 You may use a soft bristle toothbrush to work on the stains. This cleaning method will leave your carpet clean and free from stains — no need to replace carpets or call in professionals to do an expensive cleaning each time you want to clean up before guests come over.
20. Natural window washing
If you do not want to use harsh chemicals to clean the windows in your home, just grab an onion. It makes for a great window cleaner! Cut an onion in half to rub it all over the glass to remove stains.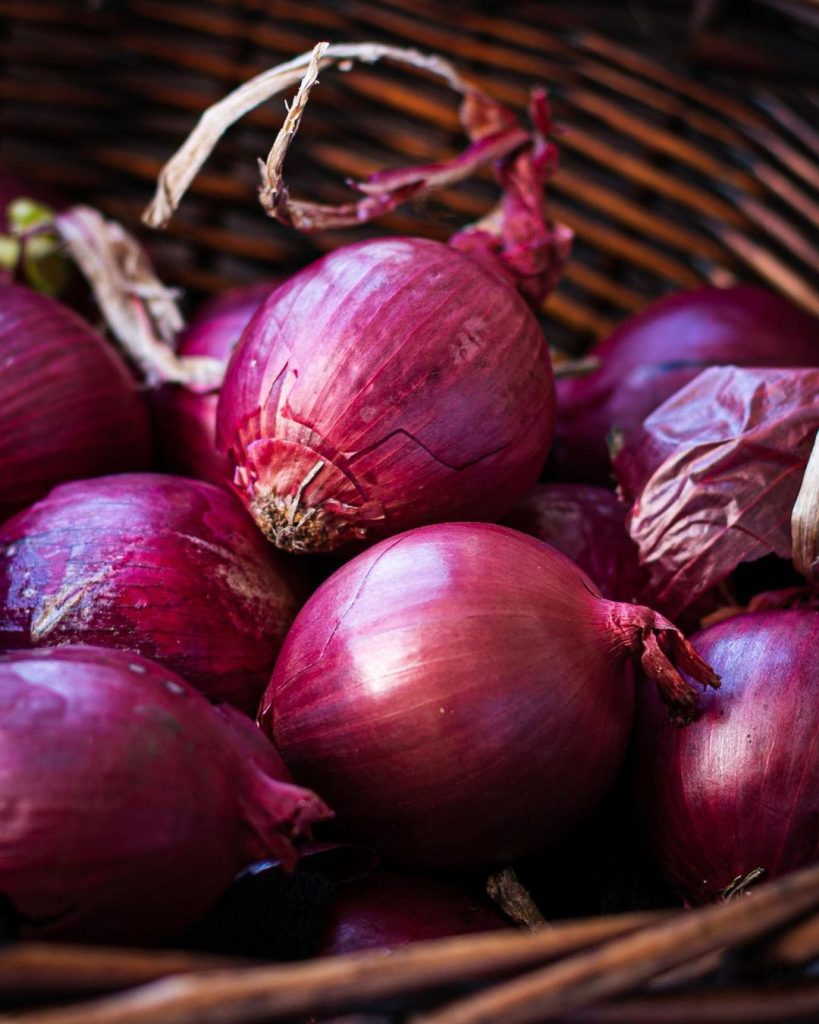 Wipe the windows with a soft cloth afterward, and you'll be amazed to see how clear and dirt-free the windows look. You might never go back to chemical cleaners after using this hack to achieve streak-free windows. Who would have thought that onions were so versatile?
21. Sparkling steel sink
Steel sinks sometimes develop brown spots due to hard water and get marks that are hard to clean with dish soap. If you want to get your steel sink clean, we have the hack for you! You'll be amazed that you do not need any heavy-duty cleansers or brushes for this one.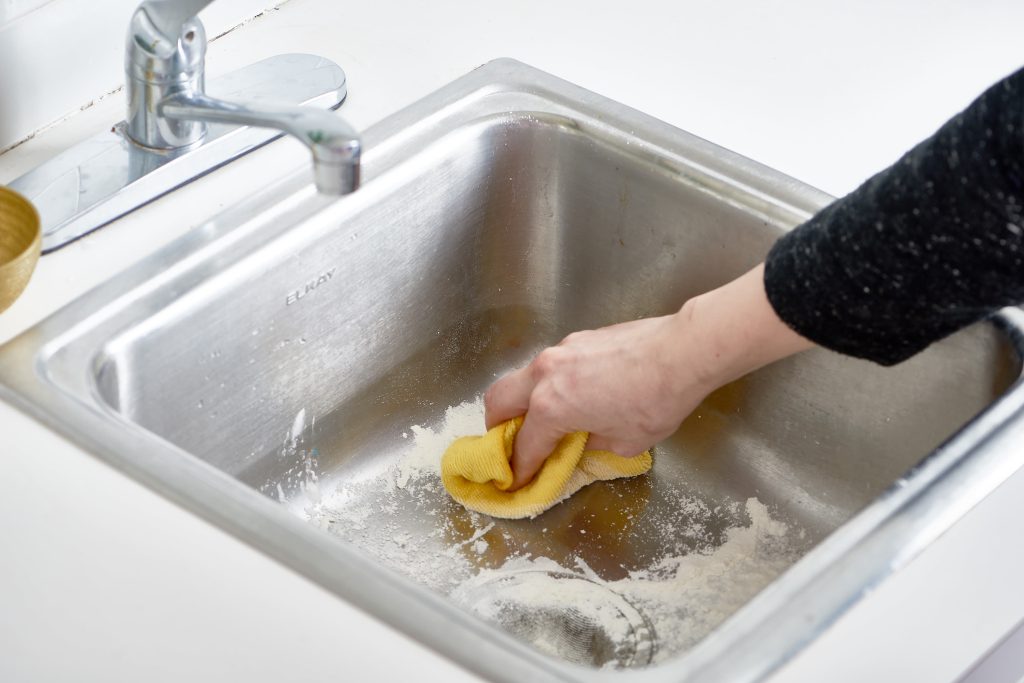 Clean your sink as usual and let it dry. Sprinkle some flour on the sink and let it sit for some time. Wipe the flour using a cloth or a towel and see that the sink looks polished, just like new. 
22. Clean iron soleplate
Irons are a staple household appliance, but they can be tricky to clean, and using metallic scrubbers and tools to clean its soleplate may damage it forever. To preserve the iron soleplate and have it working for longer, just use some baking soda or vinegar.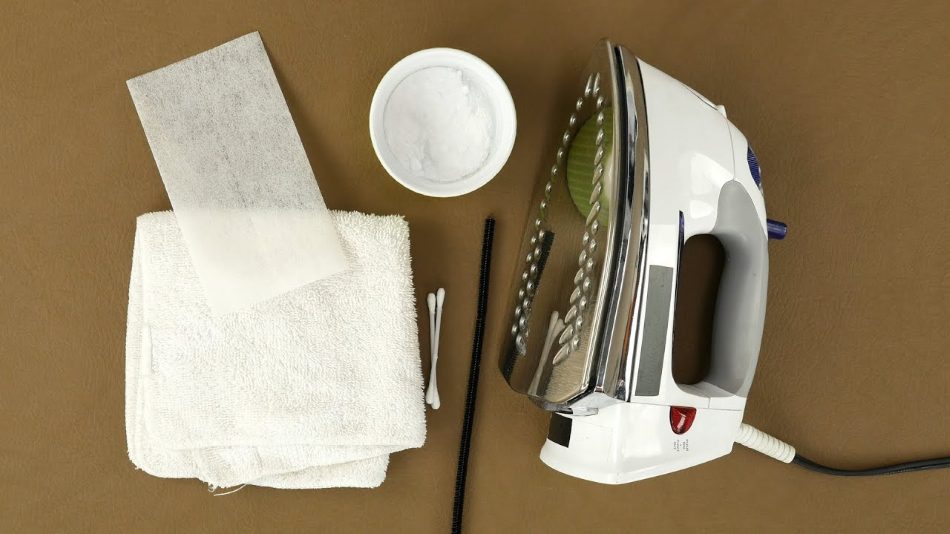 Dip a piece of cloth or tissue in vinegar and gently wipe away the dirt and burnt fabric residue from the soleplate. You may also use baking soda or salt. Rub it on the soleplate and be careful not to get it inside the steam holes.