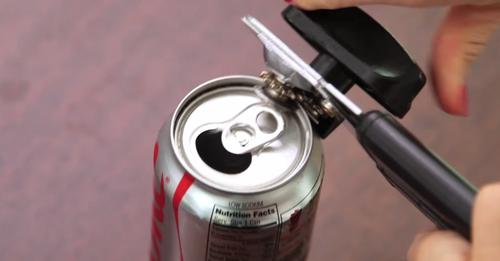 Whether you want to save money or just get creative and have a little fun with some common household products, you can try one or more of these fun tips to turn soda cans into clever creations for your home.
Brooke from What's Up Moms made a video that shows how to turn soda cans (in this case, Diet Coke cans, but any can will do) into a colorful herb garden, a money holder, and personalized candle holders. For all of these creations, you'll need a can opener, spray paint (Brooke doesn't use spray paint on the glass holder, but we will), and then a few other things depending on the creation (like glue, a metal punch, and paper-wrapped floral wire for the glass holder, and tape for the candle holders).
Here's the how-to of our personal favorite creation:
DIY Herb Garden
YOU'LL NEED
Soda cans
Can opener
Spray paint
Chalk labels (optional)
HOW TO
Step 1: Use a can opener to take off the top of your soda can.
Step 2: Spray your can the color of your choice, holding the spray can 8-12 inches away from the can. You'll need to do 2-4 coats, allowing the paint to dry a minute between each coat.
Step 3: Once the paint is dry, fill with a pre-grown herb or just some soil and seeds!
Step 4: Label your herbs! Brooke uses write-on chalk labels , but you can distinguish yours whichever way you'd like.
What do you think of these upcycling projects?