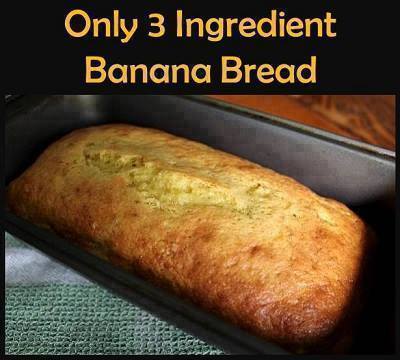 If you love easy recipes this 3 Ingredient Banana Bread recipe will become a new favorite. This one bowl sweet bread recipe is a great way to use up those ripened bananas that are sitting on your counter!
CAN YOU MAKE BANANA BREAD WITH ONLY 3 INGREDIENTS ?
When I look at my regular banana bread recipe it has a LOT of ingredients listed. Most of the banana bread recipes I see have at least 7 ingredients.
So when I heard that there was a 3 ingredient banana bread recipe floating around I knew I needed to try it out for myself.
The good news is that this DOES work and it is VERY good! My kids can even make banana bread with this easy recipe!
ONE BOWL BANANA BREAD
I love a good sweet bread recipe. Sweet breads work so perfectly for breakfast, snacks and when company is over.
One of my favorite sweet breads is Peanut Butter Chocolate Chip Bread. It is sweet and decadent.
Sometimes I just want a simple and quick sweet bread and that is where this 3 ingredient banana breadcomes into play.
Ingredients:
CLICK NEXT PAGE BELOW TO CONTINUE READING …