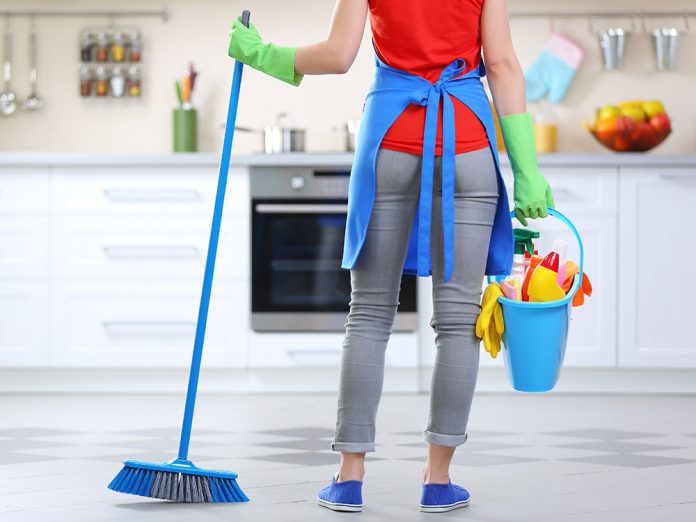 When it comes to deep cleaning your home, just the idea drives you crazy! But wait a minute, when you read this article, you're going to realize how easy cleaning your home actually is! And don't worry, you don't always have to scrub every inch of your house. Actually, deep cleaning your house is quite fun and satisfying, think of it that way.
Take the time of cleaning your house like a fun activity, play some music, ask your family members to help you and make it a family activity. Open your windows and start by cleaning every room with these life-changing hacks. These hacks will not only help you clean your home quickly, but they'll also bring some serious cleaning power to your space! So if you want to discover some time-saving cleaning hacks to make your whole house shine, read this article!
How to Deep Clean Your Kitchen
You should always start with your kitchen. The kitchen is the busiest place in your house, this makes it the perfect place to start your deep cleaning and try these hacks out.
Take control of your fridge and freezer. Empty your freezer and wipe down its shelves and drawers. then wipe down the bottles of condiments you want to keep and throw away the ones that are expired. Get you some fridge bins to keep your fridge organized. And you can do the same with your freezer.
Scrub cabinets. You can find plenty of DIY scrubs you can use to clean the grime out of your cabinets, this definitely makes a difference.
Clean your dishwasher using vinegar and baking soda. Using only these two ingredients, make a paste and scrub your dishwasher, this hack really works and it keeps your dishwasher clean for long.
Deep clean your oven. But don't use harsh chemicals, there are plenty of simple methods of cleaning your oven using only natural ingredients.
Clean small appliances.
Organize under the kitchen sink. Pull everything out from the cabinet under your sink and throw away the expired products and items. Pool all your cleaning supplies in a caddy to keep everything organized and nice.
Deep clean your vent hood. When was the last time you cleaned your range filter? If you can't remember, you're not the only one. Get under there and clean them.
Organize your pantry by zones. If you want to find that will save you time and effort every day, this way of organizing is the best for you.
Make your pans sparkle. Give them a good deep cleaning using only a lemon! This is a great hack for cleaning baking pans and cutting boards too.
Get your sink and disposal squeaky clean.
How to Deep Clean Your Bathroom
Now, when you're done with the kitchen, it's time to move on to the bathroom, it's the second busiest room of your house and it needs deep cleaning more than any other room.
Scour the mirror. Yes, your mirror may get a wipe down now and again when things are looking awful (actually).
Profound cleaning hacks for your shower. The shower and tub need some additional affection during Spring cleaning season. Here's a rundown of bit by bit headings on the most proficient method to do this right, starting with the shower head.
Make your grout sparkle. This convenient innovation transforms a drill into an amazing cleaning machine–route simpler than utilizing simply sheer self discipline.
Get out your cabinets. Pull everything out of your drawers, drug cupboards and out from underneath the sink. Gathering like things together at that point put just what should live in that spot back.
Face the toilet. Let's be straightforward. Out of the considerable number of things to clean in the washroom, the can may appear the most inauspicious. In any case, profound cleaning a can isn't that awful! Look at these accommodating steps full of profound cleaning hacks for your porcelain royal position.
Handle the restroom sink. Prepare to be stunned—your washroom sink harbors a greater number of microbes than your latrine seat. Yuck!
Invigorate your towels. Even the best towels need a little shot in the arm sometimes. Utilize this daily practice with preparing pop and vinegar to deep clean and de-scent them all.
Wash your shower blind and liner. Did you realize your shower window ornament and liner ought to be washed?
Clean your shower mats. Likewise, set aside the effort to clean your shower mats with this simple profound cleaning hack. Hurl your mats in the washer alongside a scoop or so of OxiClean, then let them air dry.
Sterilize your floors. The most effortless way you can purify any floor in your house is to steam mop. In the event that you don't as of now have a steam mop, this one has a great handheld variant too that can be used all over your home. Additionally, it proves to be useful with wrinkly garments!CLICK NEXT PAGE BELOW TO CONTINUE READING …