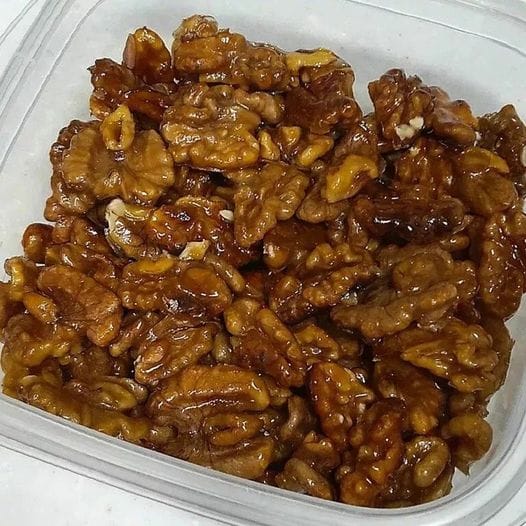 Craving a quick and irresistible treat? Look no further! These 5-Minute Caramel Walnuts are the ultimate snack that strikes a perfect balance between soft, crunchy, salty, and just the right amount of sweetness. Whether you're serving them as appetizers, giving them as end-of-year gifts, or adding them to your salads, these candied walnuts are sure to delight your taste buds in no time.
Ingredients:
1 cup of walnuts
1/4 cup plus 1 tablespoon of packed golden brown sugar (avoid using dark brown sugar)
1/4 cup of water
1 tablespoon of unsalted butter
1/8 teaspoon plus 2 pinches of salt
Instructions:
Prepare a Plate: Start by placing a sheet of parchment paper on a dinner plate, ensuring it covers the plate's surface. Set this aside for later use.
Combine Ingredients: In a medium-sized non-stick skillet, combine all the ingredients, excluding the 2 pinches of salt.
Heat and Stir: Set the skillet over high heat and cook, stirring occasionally, for 5 minutes. During the last minute, stir constantly and reduce the heat to medium. You'll witness the magic as the moisture evaporates, and the nuts turn darker, glossy, and start to clump together. Make sure every bit of liquid evaporates before proceeding.
Transfer to Plate: Without delay, transfer the caramelized nuts onto the prepared parchment paper. Scrape off any remaining caramel from the pan and spread the nuts into a single layer on the parchment paper.
Finishing Touch: While the nuts are still warm, evenly sprinkle the 2 pinches of salt over them. This enhances the delightful balance of sweet and salty flavors.
Cool and Enjoy: Let the candied walnuts cool to room temperature. Once they've cooled down, break them apart with your fingers. What you get is a delectable batch of Salted Caramel Walnuts, perfect for snacking, gifting, or elevating your salads.
Storage: Store these irresistible candied walnuts in a container. But beware, they might disappear faster than you expect due to their addictive nature!
In just 5 minutes, you've conjured up a delightful snack that lives up to its title—5 Minute Caramel Walnuts. They're a speedy and mouthwatering treat for all occasions. Enjoy!
Source of the picture : allwecook