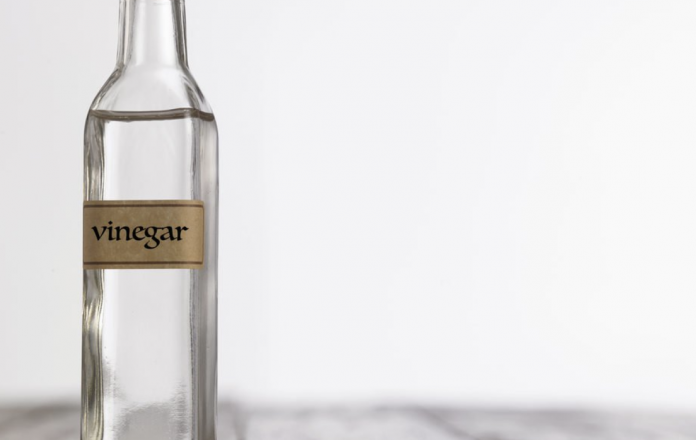 vinegar is an incredible product that is used widely for cooking, but if you are a frequent "GRANDMASTHING" reader, then you know that we include vinegar uses in almost every tips and tricks article we write simply because it is a miraculous product that can majorly impact your dishes and your home as well.
Because of its amazing properties, vinegar is considered as one of the best natural cleaning agents out there, and when it's mixed with some substances, the effects become even more noticeable, not to mention that vinegar is really cheap and it will end up saving you a lot of money. Without further ado, here are 8 vinegar cleaning tips you should know about.
1. Getting rid of sticky residues
Sometimes when pealing off a sticker, you end up with a residue that is really hard to get rid of. Luckily, vinegar is here to save the day, simply spray it on the area that has residue and let it sit for a few moments before scrubbing it off. It will come off easily.
2. Cleaning your Glasses
Hard water stains are hard to clean, even the dishwasher stands clueless against those stains. To solve this problem, don't put vinegar in the rinse-aid dispenser in your dishwasher because vinegar is strong enough to melt the rubber gaskets in the rinser-aid dispenser. The only thing that you can do is mix vinegar with water equally in a shallow pan, then soak the glasses in the solution and wipe them off with a clean cloth and let them dry. However, avoid using this method on eyeglasses because vinegar can damage the anti-scratch and the anti-glare layers.
3. Vinegar with baking soda for the Carpet
Carpets are one of those things that get washed rarely because of their size that doesn't fit inside washing machines and because it needs dry cleaning which is relatively expensive. However, you can use vinegar, borax, and baking soda to clean your carpet(s). Start by sprinkling equal parts of baking soda and borax on the carpet, then spray an equal part of vinegar. Let everything sit for an hour, then vacuum normally and you're all set.
4. Stained and dirty cookware
Cookware that has grease stains or any kind of stains on them are really difficult to clean up. But this vinegar method puts that rule behind bars. First, pour half a cup of vinegar and a cup of water in the cookware you wish to clean, then boil it for 7 minutes until the solution becomes hot so that vinegar can dissolve the grime and dirt. This way your cookware will look shiny and clean without that much of an effort.
CLICK NEXT PAGE BELOW TO CONTINUE READING …