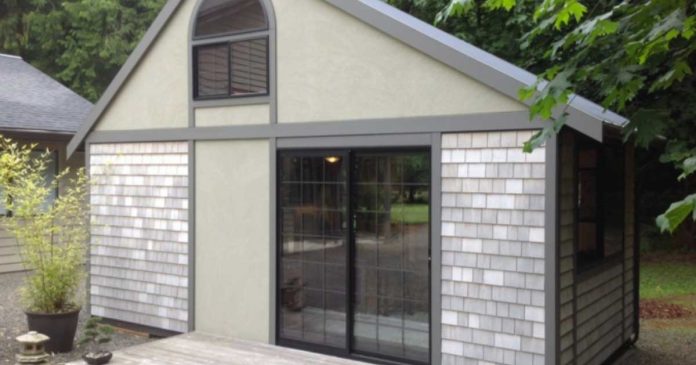 You don't need me to tell you that tiny houses have been extremely popular in recent years. Many people are attracted to the simplification and flexibility of living that they offer, and they have many benefits. If you're a fan of tiny homes, you're going to love this 280 square foot beauty located in Aurora, Oregon.
Builder Chris Heininge designed this unique tiny house with many elements of Japanese architecture in mind. For such a small home, Chris' tiny house has a ton of great space-saving features and design elements. Check out the living room with its large window and sliding door.
The kitchen includes a refrigerator, microwave, convection oven and a small dining area. There is also an electric fireplace hidden under the stairs.
Here's the other side of the kitchen, as well as the bedroom (located over top of the kitchen).
The bedroom is gorgeous with its large window, built-in lighting, and custom drawers for storage.
And of course, there's a tiny washroom complete with sink, toilet, shower/jacuzzi tub, and storage compartments.
Needless to say, Chris did a phenomenal job designing and building this little house. The Japanese influences make it stylish and modern, but it also manages to be warm and inviting. If you love this tiny house, it can be purchased for $70,000 and can be delivered within 50 miles of Portland, Oregon.
Thanks to Tree Hugger for sharing this great information and photos! You can also click here to check out Chris's website for more photos and other tiny homes he's built.