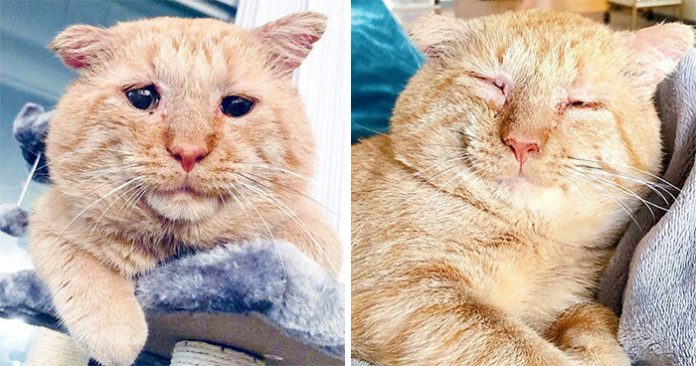 This is Mr. Bruce Willis. He's not the tough guy we used to see on the big screen, but he's also a fighter. Mr. Willis is a cat who started his story as "the saddest cat". He seemed to have written in his eyes the struggle of a stray cat that wanders the streets for years. It took him years to finally find a loving owner – Sandra, who, ironically, also had to overcome many obstacles to bring him home.
Mr. Willis, 6, had major health problems: scarring, eye injuries, chipped teeth, tested positive for the feline immunodeficiency virus and eventually contracted some infections at the shelter. Despite his rough appearance and unfortunate fate, he was "the sweetest, most loving boy there is," but he could not find a family willing to care for him. Sandra saw a message from the Minnesota Animal Protection Society about Mr. Willis on International Cat Day, and her heart broke. Sandra had no intention of making a furry friend, especially when no pets were allowed in her lease, but she couldn't leave him and continued to visit him regularly at the shelter in hopes that he would find his human. After a month, she was able to convince the owner that Mr. Willis deserved a loving home. He was perfect because of his imperfections.
In just one year with Sandra, the orange tabby cat changed beyond recognition – he went from being the "saddest" cat to the "happiest" cat, which is now a stirring 94.4k on Instagram.
Read Mr. Willis' full story below!
Bruce Willis was wandering the streets for years until at around 6 years old, he was rescued by the local humane society
He had battle scars, an eye injury, chipped teeth, and was FIV positive, which led to catching a cold and upper respiratory infection at the shelter
But the most heartbreaking thing about him was the saddest look in his eyes
The weeks passed by and he was still at the shelter, so they labeled him as a "forget me not"
Until one day, Sandra, who had no intentions of getting a cat, saw him in an Instagram post and her heart sank
Image credits: mrwillisthecat
"I first saw Mr. Willis in a post that the Minnesota Animal Protection Society published last August. "There was something in his eyes that spoke to me. He looked so sad. I knew there was nothing I could do about it since my lease didn't allow pets and I had no intention of getting a cat. Still, I had to go see him. He looked even sadder in real life and I had to leave after only a few minutes because it was so heartbreaking. For some reason, I went back to see him again. He is HIV positive, which is not serious, but because he was in an animal shelter with many other animals, he contracted an upper respiratory infection. He was very sick for a while. I was hoping someone would adopt him, but he was always there, week after week," Sandra told Bored Panda.
Image credits: mrwillisthecat
CLICK NEXT PAGE BELOW TO CONTINUE READING …