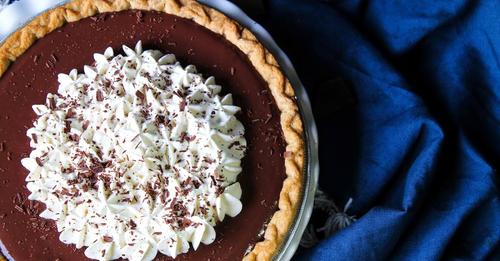 I know some of you are saying, "Oh no, not from SCRATCH at all", but trust me, nothing compares to the taste of scratch. This pudding is such an easy recipe that you'll wonder why you ever bought a box. This chocolate pudding is so creamy it's my all-time favorite. Top it with sweetened whipped cream and you have a delicious pie. My mom says it came from a box of Hersheys cocoa. I have no idea, but it's been a family favorite for a very long time.
SERVES (1) 9″ pie or 6-8 Cups
PREP TIME 5 Min
COOK TIME 25 Min
METHOD Stove Top
Ingredients For All-Time Favorite Chocolate Pudding And Pie Filling
1/2 cHershey's cocoa powder
1 1/8 csugar (add sparingly, then taste test if you need more add more)
1/3 ccorn starch
1 tspsalt
3 cmilk
3 Tbspbutter
1 1/2 tspgood vanilla extract
pre-made deep dish pie crust
How To Make All-Time Favorite Chocolate Pudding And Pie Filling
1In a medium saucepan, mix all dry ingredients. Whisk well.
2Gradually add milk to dry ingredients in the saucepan. Whisk until smooth and well blended.
3Cook over medium-high heat. Stir constantly. Mixture will come to a boil. Boil 1 minute or until the pudding is thick. The pudding will not thicken up when it cools.
4Remove from heat. Add butter and vanilla. Whisk to blend.
5Pour into serving dishes.
6For a pie, pour into a cooled and baked 9″ pie crust.
7Cover with plastic wrap. Cool in refrigerator for 4-6 hrs or until firm.
8Top with chilled sweetened whipped cream.