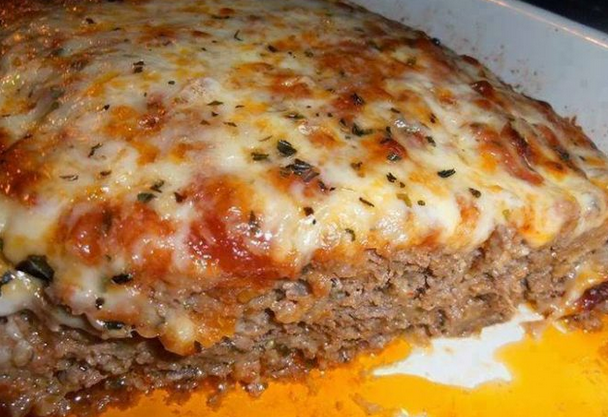 Indulge in the savory creation of our Italian-Style Meatloaf, a delectable fusion of ground beef and mild Italian sausage, harmoniously blended with a medley of flavors and spices. This dish is bound to become a family favorite!
Ingredients:
1 pound of ground beef
1/2 pound of ground mild Italian sausage
1 small onion, finely chopped
1/2 cup of finely chopped bell pepper (opt for your favorite color)
1 teaspoon of olive oil
1 teaspoon of Worcestershire sauce
1 clove of garlic, minced
1/2 teaspoon of oregano
1/2 teaspoon of basil
1/2 teaspoon of parsley
1 egg, beaten
3/4 cup of Italian bread crumbs
2 slices of white bread, crumbled
1 tablespoon of milk
8 ounces of mozzarella cheese, shredded (reserve 3/4 cup for topping)
1/4 cup of parmesan cheese
1 cup of marinara sauce, plus an additional 1/2 to 3/4 cup for topping
Directions:
Begin by heating the olive oil in a small skillet over medium-high heat. Sauté the finely chopped onion and bell pepper for 3-4 minutes until they become tender and aromatic. Remove from heat and set aside.
In a spacious mixing bowl, combine the ground beef, mild Italian sausage, sautéed onion and bell pepper, along with all the remaining ingredients. Ensure that you reserve 3/4 cup of mozzarella cheese for later.
Dive into the mixture with your hands, the best tools nature gave us, and thoroughly blend all the ingredients together until they form a cohesive mixture.
Shape and mold the mixture into a loaf shape and place it in a baking dish of your choice. You can use any oven-safe dish you prefer.
Spoon 1/2 to 3/4 cup of marinara sauce over the top of your meatloaf and evenly spread it.
Bake your creation in a preheated 400°F (200°C) oven for approximately 50 minutes. The baking time may vary depending on the thickness of your meatloaf; mine was about 2 inches thick.
Once you remove it from the oven, sprinkle the reserved 3/4 cup of mozzarella cheese over the top and add a dash of dried basil for that final touch.
Return the dish to the oven for an additional 10 minutes or until the cheese is beautifully melted and bubbly.
Before serving, make sure the meatloaf is fully cooked without any pinkness in the center. Savor the unique flavors of this Italian-Style Meatloaf, sure to delight your taste buds and warm your heart. Enjoy!
picture source : buzzinherald.com