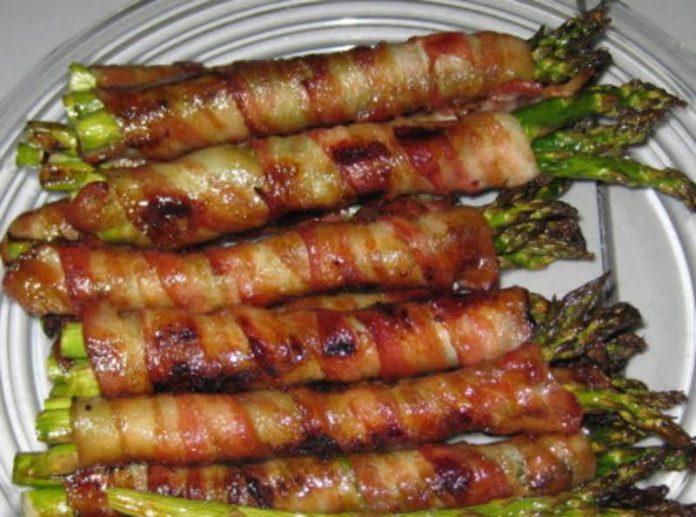 This bacon wrapped asparagus is a fun way to dress up your favorite veggie! You can make this bacon wrapped asparagus recipe for a tasty side dish for dinner or you can make them for an easy appetizer for a party. Either way, they're delicious!
HOW LONG DO YOU COOK BACON WRAPPED ASPARAGUS IN THE OVEN?
You cook asparagus for 18-22 minutes in the oven, depending on how crunchy you like your bacon.
WHAT TEMPERATURE TO COOK BACON WRAPPED ASPARAGUS?
Bake the bacon wrapped asparagus at 400ºF.
HOW DO YOU COOK BACON WRAPPED ASPARAGUS ON THE GRILL?
Heat grill to 400ºF and then place a piece of tin foil down on the grill. Next, lay bacon wrapped asparagus on tin foil. Grill for 18-20 minutes.
HOW DO YOU TRIM ASPARAGUS SPEARS?
Usually, if you bend asparagus, it will break where the tender part of the asparagus meets a thicker portion of the asparagus that is not that appetizing to eat. Otherwise, use a knife to cut off the ends of the asparagus. Cut where the asparagus begins to get a bit thicker. It sometimes has a slightly different color.
To Make this Recipe You'Il Need the following ingredients:
CLICK NEXT PAGE BELOW TO CONTINUE READING …