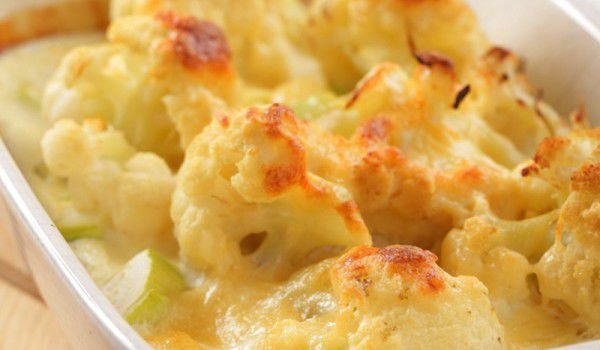 Preparation : 20 min.
Cooking : 40 min.
Тotal : 60 min.
Servings : 4-5
"A tasty meatless dish that you can make in literally half an hour!"
INGREDIENTS
cauliflowers – 1 and 1/2 head
leeks – 2 sprigs, the light parts
breadcrumbs – 3 tablespoons
sour cream – 1 cup
butter – 2 tbsp
salt
black pepper
white pepper
parmesan – 1 cup, grated
cheese – 1 cup
HOW TO COOK
Clean the cauliflower and chop it into florets. Blanch for 2-3 minutes in boiling water, then drain it. In a pan, melt the butter and sauté the chopped leek rings. Once slightly softened, add the breadcrumbs, stir, and pour sour cream in.
Wait for it to bubble and season it with salt, black pepper and white pepper. Arrange the cauliflower in a greased oven dish and pour the cream mixture in. Put them in a moderate oven for about 10-15 minutes to bake.
Then remove, sprinkle them with grated cheese and top them with parmesan. Return to the oven and bake until you get a tasty crust.